Release
PARAMOUNT+ REVEALS THE SPINE-TINGLING OFFICIAL TRAILER FOR ORIGINAL HORROR FILM PET SEMATARY: BLOODLINES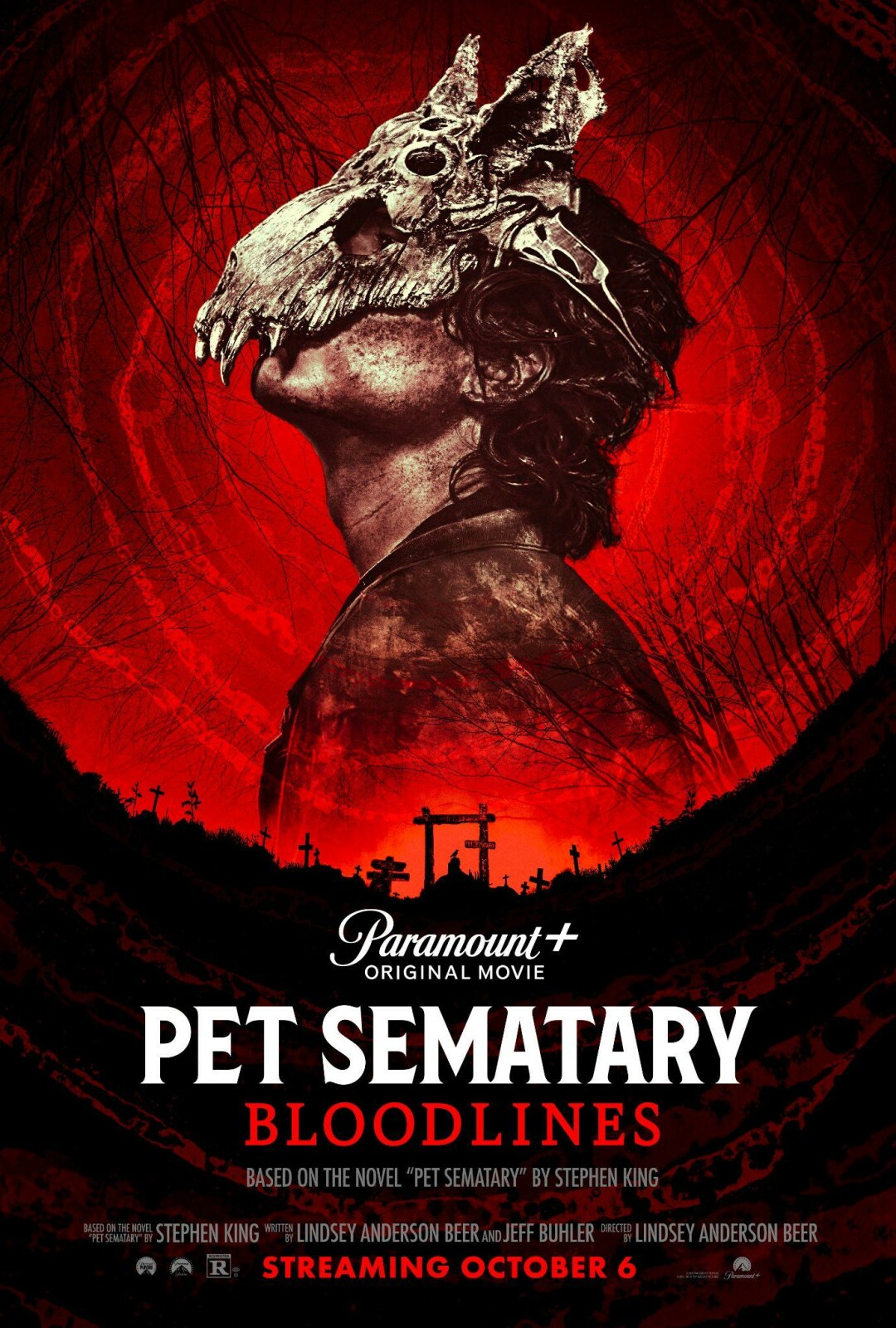 Based on the Untold Chapter from Stephen King's Chilling Novel Pet Sematary, The Paramount+ Original Movie Stars Jackson White, Forrest Goodluck,
Jack Mulhern, Henry Thomas, Natalie Alyn Lind, Isabella Star LaBlanc,
Samantha Mathis, with Pam Grier and David Duchovny
The Film Is Directed by Lindsey Anderson Beer,
Written by Lindsey Anderson Beer and Jeff Buhler,
And Produced by Lorenzo di Bonaventura and Mark Vahradian,
In Association with Paramount Pictures' Players Label
PET SEMATARY: BLOODLINES Will Premiere on Friday, October 6,
Exclusively on Paramount+
Click HERE to Watch The Trailer
Click HERE to Download Key Art
September 12, 2023 – Paramount+ today released the official trailer and key art for its upcoming original horror film PET SEMATARY: BLOODLINES, based on the terrifying and untold chapter from Stephen King's novel Pet Sematary. A spine-chilling prequel that explores the origins of how death became different in the small town of Ludlow, Maine, PET SEMATARY: BLOODLINES will premiere Friday, October 6, exclusively on Paramount+ in the U.S., Canada, Latin America and Brazil, and Saturday, October 7, in all other Paramount+ international markets.
The highly anticipated film will hold its world premiere at this year's Fantastic Fest, the world's largest genre and horror festival based in Austin, Texas, and will be featured in the Paramount+ Peak Screaming, a curated collection of fan-favorite horror movies and iconic Halloween episodes from beloved series.
PET SEMATARY: BLOODLINES stars Jackson White (Tell Me Lies, Mrs. Fletcher) Forrest Goodluck (LAWMEN: BASS REEVES, The Revenant), Jack Mulhern (The Boys in the Boat, Mare of Easttown), Henry Thomas (The Fall of the House of Usher, Gangs of New York), Natalie Alyn Lind (The Goldbergs, The Gifted), Isabella Star LaBlanc (True Detective: Night Country, Long Slow Exhale), Samantha Mathis (BILLIONS), with Pam Grier (Cinnamon, Jackie Brown) and David Duchovny (Bucky F*cking Dent and CALIFORNICATION).
In 1969, a young Jud Crandall has dreams of leaving his hometown of Ludlow, Maine behind, but soon discovers sinister secrets buried within and is forced to confront a dark family history that will forever keep him connected to Ludlow. Banding together, Jud and his childhood friends must fight an ancient evil that has gripped Ludlow since its founding, and once unearthed has the power to destroy everything in its path. Based on the untold chapter from Pet Sematary, Stephen King's chilling novel, PET SEMATARY: BLOODLINES is a terrifying prequel and the story of why sometimes dead is better…
PET SEMATARY: BLOODLINES, a Paramount+ original movie, in association with Paramount Pictures' Players Label, is a di Bonaventura Pictures Production and based on the novel Pet Sematary by Stephen King. The film is directed by Lindsey Anderson Beer, in her directorial debut, with a script written by Beer and Jeff Buhler, and produced by Lorenzo di Bonaventura and Mark Vahradian.
Facebook and Instagram: @PetSemataryMovie X: @PetSemataryMov
#PetSematary
About Paramount+
Paramount+, a direct-to-consumer digital subscription video on-demand and live streaming service, combines live sports, breaking news and a Mountain of Entertainment™. The premium streaming service features an expansive library of original series, hit shows and popular movies across every genre from world-renowned brands and production studios, including BET, CBS, Comedy Central, MTV, Nickelodeon, Paramount Pictures and the Smithsonian Channel. Paramount+ with SHOWTIME, the service's cornerstone plan, is also home to SHOWTIME® content, including scripted hits, critically acclaimed nonfiction projects, SHOWTIME SPORTS® (including industry-leading SHOWTIME BOXING®) and films. This premium plan includes unmatched events and sports programming through the local live CBS stream, including golf, basketball and more, plus streaming access to CBS News Network for 24/7 news and CBS Sports HQ for sports news and analysis.
For more information about Paramount+, please visit www.paramountplus.com and follow @ParamountPlus on social platforms.
***
Paramount+ Domestic Press Contacts:
Morgan Seal – Morgan.Seal@paramount.com
Tiffany Girardi – Tiffany.Girardi@paramount.com
Kylie Burnett – Kylie.Burnett@paramount.com
Paramount+ International Press Contacts:
Christina Ringstrom – Christina.Ringstrom@paramount.com
Courtney Hardin – Courtney.Hardin@paramount.com
Debbie Bonora – Debbie.Bonora@paramount.com