Release
PARAMOUNT+ ORIGINAL SOCCER DOCUMENTARY SERIES "DESTINATION: EUROPEAN NIGHTS" TO PREMIERE EXCLUSIVELY ON JUNE 6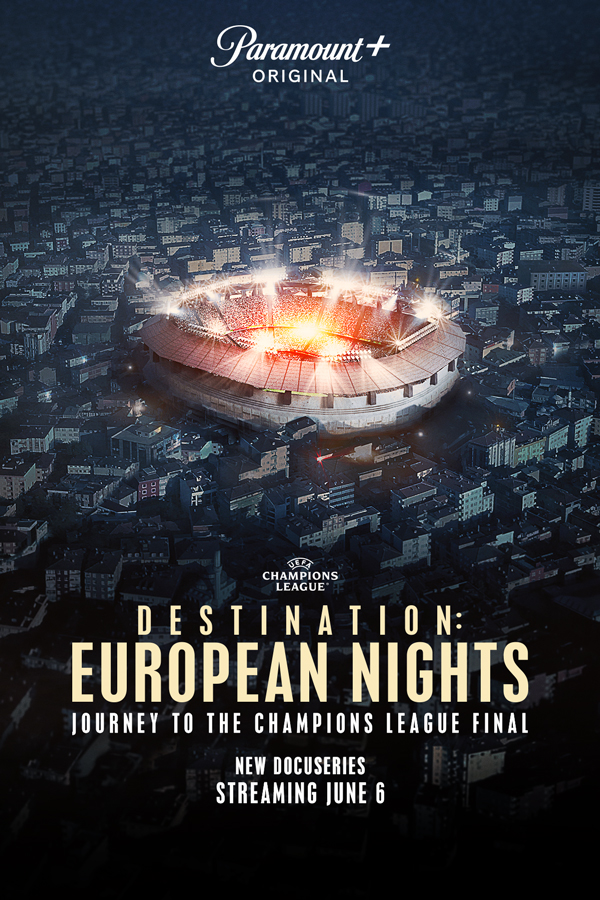 Five-Part Docuseries Follows Journalist Guillem Balagué's Path Through Europe for the 2022-2023 UEFA Champions League Season
Film Expands Paramount+'s "Stories from the Beautiful Game" Soccer Documentary Collection
Click Here to Watch the Official Trailer
May 16, 2023 – Paramount+ announced today the five-part original soccer documentary series DESTINATION: EUROPEAN NIGHTS will premiere exclusively in the U.S. on Tuesday, June 6, giving fans an opportunity to catch up on all the UEFA Champions League season's pulsating action before the final on Saturday, June 10.
In DESTINATION: EUROPEAN NIGHTS, award-winning soccer journalist and CBS Sports analyst Guillem Balagué, through his months-long travels crisscrossing Europe, offers an exclusive and intimate look at the world's most prestigious annual soccer tournament, the UEFA Champions League.
The first four episodes of DESTINATION: EUROPEAN NIGHTS will premiere on Tuesday, June 6, with the final fifth episode premiering in the weeks following the UEFA Champions League Final on Saturday, June 10, airing on the CBS Television Network and streaming live on Paramount+.
Beginning with September's season-opening kickoff, Balagué travels tens of thousands of miles, from Scotland to Israel to Finland to Georgia as well as all the powerhouse cathedrals of the game. Whether pitch side, in family homes or meeting local heroes in the places that define their towns and fandom, Balagué takes viewers on a unique journey with all of Europe buzzing on UEFA Champions League match nights.
DESTINATION: EUROPEAN NIGHTS is a travelogue covering a passion play unlike any other. It provides viewers with unique access and insight to the scenes, the people and the players that provide the genius, drama and thrills that make the UEFA Champions League a must-see destination for every football fan in the world.
DESTINATION: EUROPEAN NIGHTS is a Paramount+ Original and the latest installment from STORIES FROM THE BEAUTIFUL GAME, Paramount+'s expanding soccer documentary collection that also includes THE ONLY and Paramount+ Exclusives such as SIR ALEX FERGUSON: NEVER GIVE IN and BLACK AND WHITE STRIPES: THE JUVENTUS STORY.
Paramount+ will also release an additional STORIES FROM THE BEAUTIFUL GAME original documentary later in 2023.
About Paramount+
Paramount+, a direct-to-consumer digital subscription video on-demand and live streaming service, combines live sports, breaking news and a mountain of entertainment. The premium streaming service features an expansive library of original series, hit shows and popular movies across every genre from world-renowned brands and production studios, including BET, CBS, Comedy Central, MTV, Nickelodeon, Paramount Pictures and the Smithsonian Channel. The service is also the streaming home to unmatched sports programming, including every CBS Sports event, from golf to football to basketball and more, plus exclusive streaming rights for major sports properties, including some of the world's biggest and most popular soccer leagues. Paramount+ also enables subscribers to stream local CBS stations live across the U.S. in addition to the ability to stream CBS News Network for 24/7 news and CBS Sports HQ for sports news and analysis.
For more information about Paramount+, please visit www.paramountplus.com and follow @ParamountPlus on social platforms.
Press Contact:
Paul-Michael Ochoa – paulmichael.ochoa@paramount.com