Release
PARAMOUNT+ LAUNCHES OFFICIAL TRAILER FOR THE DOCUMENTARY "KING CHARLES, THE BOY WHO WALKED ALONE" PREMIERING EXCLUSIVELY ON PARAMOUNT+ MAY 2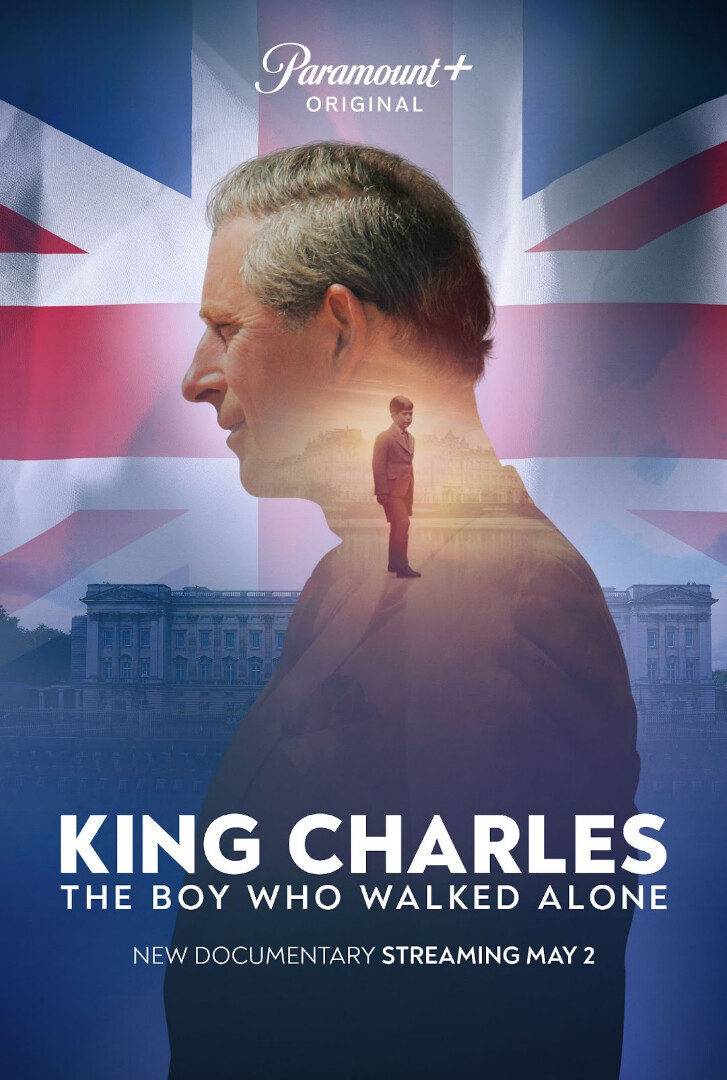 Watch Official Trailer Here
Download Key Art Here
April 25, 2023 – Paramount+ today released the official trailer for KING CHARLES, THE BOY WHO WALKED ALONE, the all-new documentary giving viewers an unprecedented look at the life of King Charles, premiering Tuesday, May 2.
The 90-minute documentary features exclusive interviews, never-before-seen photos, and letters with former girlfriends, schoolmates, royal watchers and staff, with many speaking for the first time, disclosing new details about the life of King Charles. KING CHARLES, THE BOY WHO WALKED ALONE is partly a coming-of-age tale, bringing to life an intimate portrait of England's future king. New insights include a memory from King Charles' former boarding schoolmate Johnny Stonborough, who recalls how "Charles was the boy who walked alone," in response to ongoing bullying and isolation. The all-new documentary also shares previously unreported details about King Charles' relationship with the late Princess Diana and how they have impacted his relationship with his youngest son, Prince Harry.
Offering new insight into the life of King Charles are India Hicks, King Charles' goddaughter; Mervyn Wycherley, former head chef to the Prince of Wales and Lady Diana Spencer; former classmate Johnny Stonborough; squadron leader Graham Laurien, who flew King Charles more than 760 times; and former girlfriends Janet Jenkins and Jane Ward.
KING CHARLES, THE BOY WHO WALKED ALONE is produced from See It Now Studios and Blink Films. From Blink films, Dan Chambers and Tom Adams serve as executive producers, with Jim Nally as producer-director. From See It Now Studios, Susan Zirinsky and Terence Wrong serve as executive producers, with Aysu Saliba as supervising producer and Adam Goldfried as executive director.
About Paramount+
Paramount+, a direct-to-consumer digital subscription video on-demand and live streaming service, combines live sports, breaking news and a mountain of entertainment. The premium streaming service features an expansive library of original series, hit shows and popular movies across every genre from world-renowned brands and production studios, including BET, CBS, Comedy Central, MTV, Nickelodeon, Paramount Pictures and the Smithsonian Channel. The service is also the streaming home to unmatched sports programming, including every CBS Sports event, from golf to football to basketball and more, plus exclusive streaming rights for major sports properties, including some of the world's biggest and most popular soccer leagues. Paramount+ also enables subscribers to stream local CBS stations live across the U.S. in addition to the ability to stream CBS News Network for 24/7 news and CBS Sports HQ for sports news and analysis.
For more information about Paramount+, please visit www.paramountplus.com and follow @ParamountPlus on social platforms.
About See It Now Studios
See It Now Studios develops and produces original documentaries and docuseries for Paramount+, CBS, the Paramount Global television networks, international providers and third-party platforms. Since launching in September 2021, See It Now Studios has produced such projects as 11 MINUTES, FBI TRUE, NEVER SEEN AGAIN, THE GIFT: KINDNESS GOES VIRAL WITH STEVE HARTMAN, RACE AGAINST TIME: THE CIA AND 9/11, THE 26th STREET GARAGE: THE FBI'S UNTOLD STORY OF 9/11, SECRETS OF THE OLIGARCH WIVES, INDIVISIBLE – HEALING HATE, GHISLAINE – PARTNER IN CRIME, WATERGATE: HIGH CRIMES IN THE WHITE HOUSE, and interview specials with Halle Berry, Chris Rock and Prince Harry. Susan Zirinsky is the president of See It Now Studios. Follow See It Now Studios on Twitter, Facebook, Instagram and Linkedin.
Press Contacts:
Richard Huff – Huffr@viacomcbs.com
Kylie Burnett – Kylie.Burnett@paramount.com