Release
PARAMOUNT+ ANNOUNCES "FBI TRUE" DOCUSERIES WILL CONTINUE WITH A SECOND INSTALLMENT AVAILABLE TO STREAM BEGINNING APRIL 11
10 All-New Episodes of "FBI True" Will Be Available to Stream Exclusively on Paramount+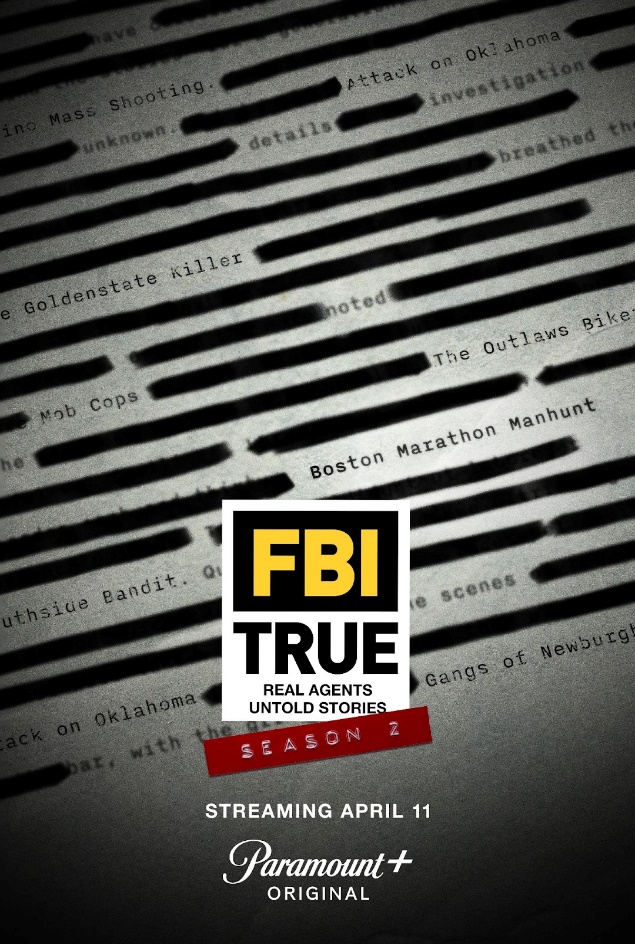 The Second Installment Includes Never-Before-Revealed Details of the Boston Marathon Bombing 10 Years After the Tragedy
Watch a Preview Here
April 6, 2023 – Paramount+ today announced the FBI TRUE docuseries will continue with a second installment taking viewers deeper into some of the most significant and astonishing cases in FBI history. 10 all-new heart-pounding episodes of FBI TRUE will be available to stream exclusively on the service beginning Tuesday, April 11 in the U.S. The first season of FBI TRUE is the #1 streaming original docuseries since its debut across Paramount+.
The second installment of FBI TRUE starts with never-before-heard details on the search for the Boston Marathon bombing suspects in a two-part edition on the investigation. On April 15, 2013, two homemade explosions went off near the finish line of the marathon, leaving three dead and 280 injured. The bombs set off a hunt to capture those responsible. Now, 10 years later, in emotional agent-to-agent conversations, those intimately involved with the case reveal new details about what it was like to be in a deadly race against time. Retired special agent Richard DesLauriers, who headed up the FBI investigation into the bombing, is among those featured in the Boston editions.
Every half-hour edition of FBI TRUE features insider conversations between FBI agents meeting at the agency's favorite bar, the Arts & Crafts Beer Parlor, sharing stories about their greatest triumphs and their agonizing tragedies. The second season will give viewers an inside look at the investigations behind some of the biggest cases handled by the FBI, such as the bombing of the Alfred P. Murrah Federal Building in Oklahoma City; the Golden State Killer; the San Bernardino mass shooting; a raid on a gang stronghold in Newburgh, N.Y.; the bust of the American Outlaws Association Motorcycle gang for racketeering and murder; and a Boston bank robber known as the South Side Bandit.
From creators Craig Turk, the co-creator of CBS' hit drama FBI, and Anne Beagan, a retired FBI special agent-turned-producer, FBI TRUE is an inside look into the life and death world FBI agents face every day, told in their words, featuring previously unseen surveillance video, interrogations with hostage takers and terrorists, and personal photos from the agents' collections.
FBI TRUE is produced by Efran Films Canada for See It Now Studios. For Efran Films Canada, Mike Schultz is the series producer and showrunner, Solly Granatstein is the co-executive producer and Shawn Efran, Craig Turk, Anne Beagan and Azadeh de Leon are the executive producers. For See It Now Studios, Susan Zirinsky and Terence Wrong are the executive producers, Aysu Saliba is the supervising producer and Adam Goldfried is the executive director.
Facebook/Twitter/Instagram: @ParamountPlus
About Paramount+
Paramount+, a direct-to-consumer digital subscription video on-demand and live streaming service, combines live sports, breaking news, and a mountain of entertainment. The premium streaming service features an expansive library of original series, hit shows and popular movies across every genre from world-renowned brands and production studios, including BET, CBS, Comedy Central, MTV, Nickelodeon, Paramount Pictures and the Smithsonian Channel. The service is also the streaming home to unmatched sports programming, including every CBS Sports event, from golf to football to basketball and more, plus exclusive streaming rights for major sports properties, including some of the world's biggest and most popular soccer leagues. Paramount+ also enables subscribers to stream local CBS stations live across the U.S. in addition to the ability to stream CBS News Network for 24/7 news and CBS Sports HQ for sports news and analysis.
For more information about Paramount+, please visit www.paramountplus.com and follow @ParamountPlus on social platforms.
About See It Now Studios
See It Now Studios develops and produces original documentaries and docuseries for Paramount+, CBS, the Paramount Global television networks, international providers and third-party platforms. Since launching in September 2021, See It Now Studios has produced such projects as 11 MINUTES, NEVER SEEN AGAIN, THE GIFT: KINDNESS GOES VIRAL WITH STEVE HARTMAN, RACE AGAINST TIME: THE CIA AND 9/11, THE 26th STREET GARAGE: THE FBI'S UNTOLD STORY OF 9/11, SECRETS OF THE OLIGARCH WIVES, INDIVISIBLE – HEALING HATE, GHISLAINE – PARTNER IN CRIME, WATERGATE: HIGH CRIMES IN THE WHITE HOUSE, and interview specials with Halle Berry, Chris Rock, and Prince Harry. Susan Zirinsky is the president of See It Now Studios.
About Efran Films Canada Inc
Efran Films Canada is an Emmy-winning production company with offices in Toronto and New York. The company produces high-quality factual and unscripted series for linear and digital distribution. It was founded by Emmy- and Peabody-winning producer Shawn Efran. www.efranfilms.com
Press Contacts:
Richard Huff – Huffr@viacomcbs.com
Kylie Burnett – Kylie.Burnett@paramount.com
*FBI TRUE had the #1 opening debut for a Paramount+ Original Docuseries