Release
PARAMOUNT+ INTRODUCES PEAK ROMANCE COLLECTION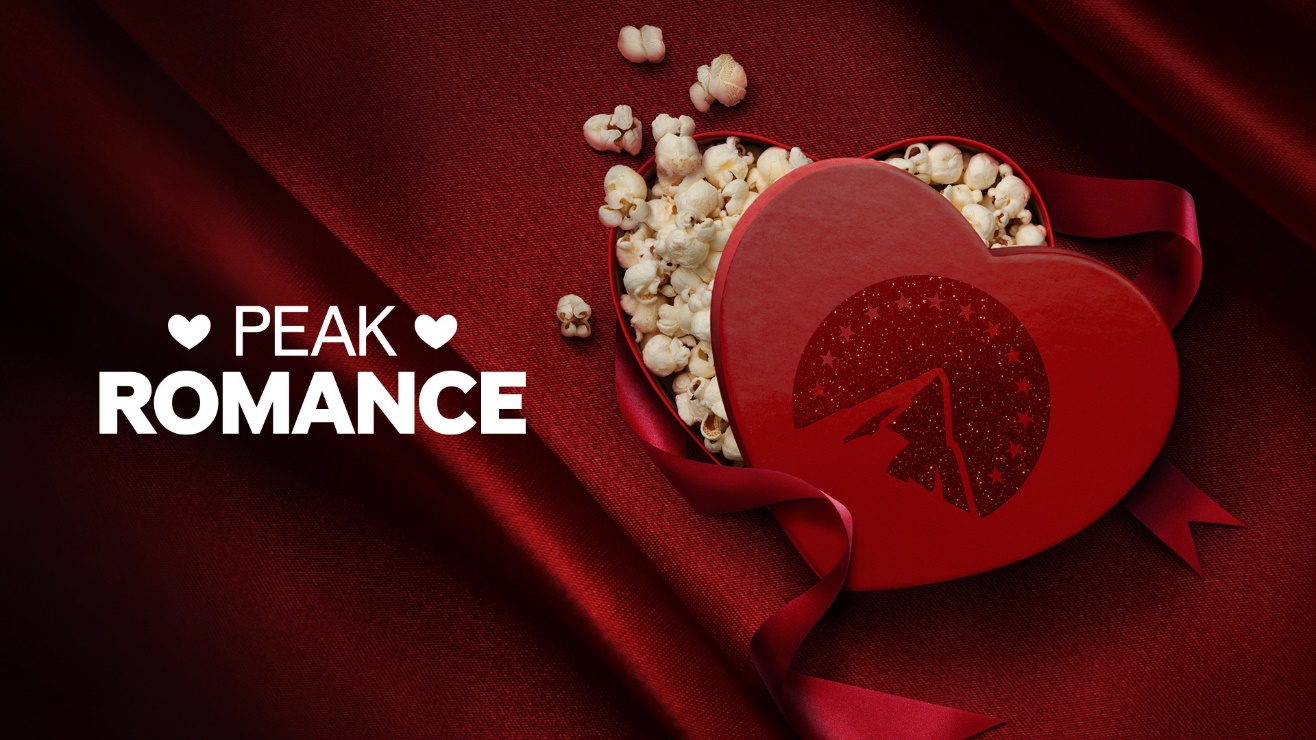 The First-Ever Valentine's Day-Inspired Collection Includes Over 200 of the Best Rom-Coms and Love Stories, Such as the New Paramount+ Original "At Midnight"
Featuring Over 10 Curated Carousels Exploring Different Genres of Romance Including Modern Love, Classic Romances, '90s Love or Something Like It, Twisted Romances and More
Stream the Valentine's Day Collection Here
Watch the Trailer Promoting Paramount+ with SHOWTIME® Content Here
NEW YORK – Feb. 6, 2023 – Paramount+ today debuted Peak Romance, an all-new seasonal collection featuring over 200 romance-themed movies and seasonal episodes from beloved series. Just in time for Valentine's Day, the swoon-worthy library includes a curated assortment of love stories spanning from tales of modern love and popular rom-coms to nostalgic '90s films and twisted romances. The upcoming new rom-com AT MIDNIGHT, premiering exclusively on Paramount+ on Friday, Feb. 10, will join the collection as well as a special Valentine's Day episode of GHOSTS on Thursday, Feb. 16*. The Peak Romance collection can be streamed now here.
The picture-perfect collection of genre-defining rom-coms features more than 10 creative carousels that will enhance discovery of the diverse portfolio. From epic romances and timeless love stories to oddball couples and star-crossed lovers, Paramount+ has expertly themed carousels for everyone this holiday:
Classic Romance: Iconic love stories for the ages such as GREASE, DIRTY DANCING, BREAKFAST AT TIFFANY'S, THE GREAT GATSBY (1974), FUNNY FACE, SOME LIKE IT HOT and more.

'90s Love or Something Like It: Nostalgic rom-coms including CLUELESS, RUNAWAY BRIDE, SHAKESPEARE IN LOVE, ALMOST FAMOUS, HOME FOR THE HOLIDAYS, SOAPDISH and more.

2000s Rom-Coms: Favorite early 2000s romantic comedies including HOW TO LOSE A GUY IN 10 DAYS, MEAN GIRLS, THE WEDDING PLANNER, SAVE THE LAST DANCE, NO STRINGS ATTACHED, SHE'S THE MAN and more.

Modern Love: Broad and popular films including THE LOST CITY, LICORICE PIZZA, ELIZABETHTOWN, LAST HOLIDAY and shows including BOB HEARTS ABISHOLA, THE NEIGHBORHOOD and more.

Twisted Romance: Movies and shows exploring the darker side of love such as SIGNIFICANT OTHER, BASIC INSTINCT, HOUSE OF GUCCI, WHY WOMEN KILL, VANILLA SKY and more.

LOL (Lots of Love): Valentine's-themed episodes that will have audiences crying from laughter from shows including FRASIER, DRUNK HISTORY, WORKAHOLICS, EVERYBODY LOVES RAYMOND, SABRINA THE TEENAGE WITCH, I LOVE LUCY and more.

From SHOWTIME with Love: A look at the many sides of love for Paramount+ with SHOWTIME bundle subscribers featuring shows and movies such as FATAL ATTRACTION, THE HOLIDAY, THE TWILIGHT SAGA, THE CHI, GEORGE & TAMMY, MOONSTRUCK, MIDSOMMAR, LIKE WATER FOR CHOCOLATE and more.

Heartthrobs & Heartbreak: Unscripted dramas including ARE YOU THE ONE?, ALL STAR SHORE, LOVE & HIP HOP, THE REAL WORLD, THE REAL LOVE BOAT, CATFISH: TROLLS and more.

Valentine's Yay!: Episodes for Cupid's smallest valentines such as HEY ARNOLD!, RUGRATS, PEPPA PIG, BLUE'S CLUES, PAW PATROL, BIG NATE, SPONGEBOB SQUAREPANTS and more.

Swoon-Worthy: Romantic dramas and period stories including IF BEALE STREET COULD TALK, THE CIDER HOUSE RULES, BECOMING JANE, A WALK ON THE MOON, WUTHERING HEIGHTS, JANE EYRE and more.

Offbeat Relationships: Odd-ball and quirky love stories such as EDWARD SCISSORHANDS, SUPERSTAR, THE SWITCH, HEAVEN CAN WAIT, ELECTION, LOVE SICK, A NIGHT AT THE ROXBURY and more.
Paramount+ subscribers will also be treated to the premiere of the all-new original romantic comedy film AT MIDNIGHT, premiering Friday, Feb. 10. AT MIDNIGHT centers on Alejandro (Diego Boneta, "Father of the Bride"), a hotel manager, and Sophie (Monica Barbaro, TOP GUN: MAVERICK), a movie star. He's focused on opening his own hotel; she's trying to concentrate on her new superhero film. When Sophie catches her co-star and boyfriend (Anders Holm) cheating, fate strikes when the shoot brings them all to Alejandro's hotel in Mexico. Despite their radically different lives, Alejandro and Sophie begin to secretly meet "At Midnight."
Sparks will also fly in a romantic episode of the CBS Original series GHOSTS on Thursday, Feb. 16. In "A Date to Remember," Sam and Jay help Thorfinn create a perfect first date with Flower. And, be sure to catch a special themed episode of THE PRICE IS RIGHT AT NIGHT, with "Date Night" (Wednesday, Feb. 22) featuring couples getting a chance to win amazing prizes including romantic getaways for two.
The Paramount+ Valentine's Day Collection is available to stream now here.
*Paramount+ Premium subscribers will have access to stream live via the live feed of their local CBS affiliate on the service as well as on-demand. Essential tier subscribers will have access to on-demand the day after the episode airs.
About Paramount+
Paramount+, a direct-to-consumer digital subscription video on-demand and live streaming service, combines live sports, breaking news and a mountain of entertainment. The premium streaming service features an expansive library of original series, hit shows and popular movies across every genre from world-renowned brands and production studios, including BET, CBS, Comedy Central, MTV, Nickelodeon, Paramount Pictures and the Smithsonian Channel. The service is also the streaming home to unmatched sports programming, including every CBS Sports event, from golf to football to basketball and more, plus exclusive streaming rights for major sports properties, including some of the world's biggest and most popular soccer leagues. Paramount+ also enables subscribers to stream local CBS stations live across the U.S. in addition to the ability to stream CBS News Streaming Network for 24/7 news, CBS Sports HQ for sports news and analysis.
For more information about Paramount+, please visit www.paramountplus.com and follow @ParamountPlus on social platforms.
***
Paramount+ Press Contacts:
Stephanie Clark
Alexis Madrigal