Release
ASHTON KUTCHER, OPRAH WINFREY, MARIA SHRIVER, NICK CANNON, AMY SCHUMER, HOWIE MANDEL, JANE FONDA AND LILY TOMLIN SHARE THEIR PERSONAL STORIES IN THE PARAMOUNT+ EXCLUSIVE DOCUSERIES "THE CHECKUP WITH DR. DAVID AGUS"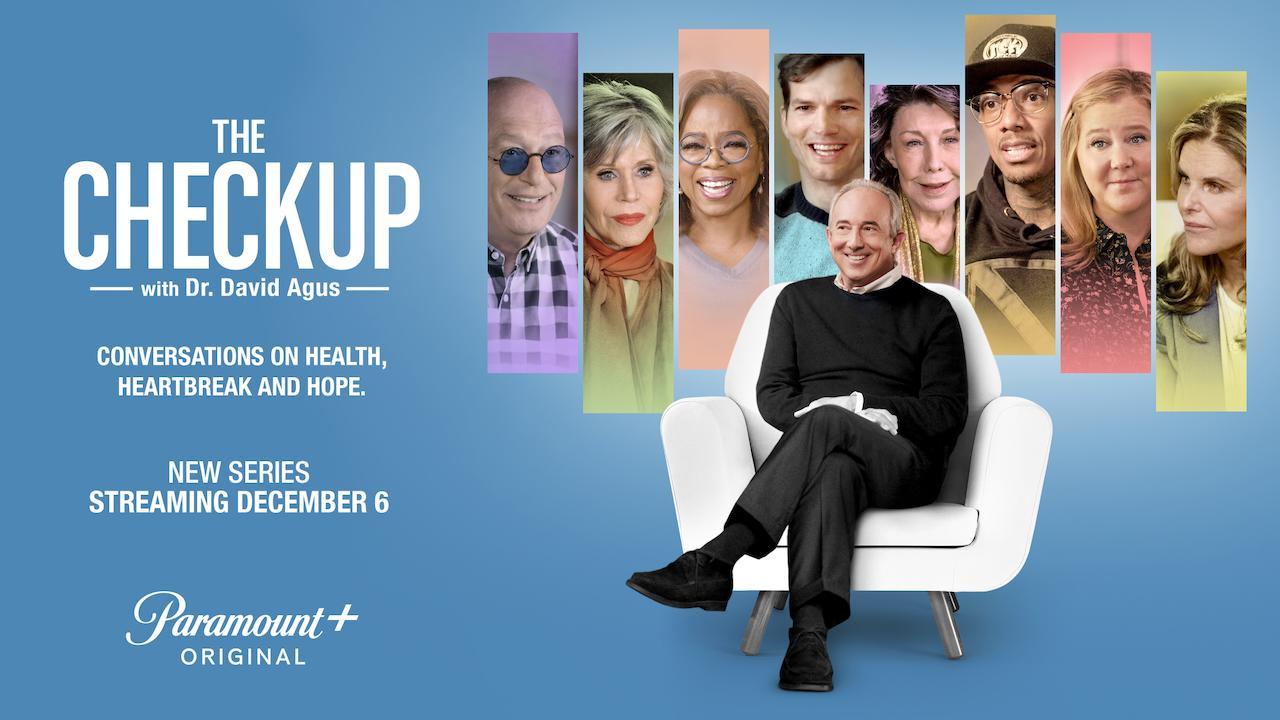 Nov. 29, 2022 – Paramount+ announced today it will exclusively premiere THE CHECKUP WITH DR. DAVID AGUS, a six-episode docuseries featuring some of the entertainment world's biggest names as they sit down for intimate conversations about their personal health struggles with the world-renowned doctor. THE CHECKUP WITH DR. DAVID AGUS will debut the series' first three episodes on Paramount+ Tuesday, Dec. 6, with the final three episodes debuting on Tuesday, Dec. 13.
Each half-hour edition of THE CHECKUP WITH DR. AGUS features Agus, a cancer specialist, CBS News medical contributor, and one of the world's leading innovative medical authorities, talking with A-list celebrities in emotionally revealing conversations about their personal and sometimes frightening health issues and the impact on their lives and families.
"These artists were willing to take us deep into their own health stories, often for the first time in such a revealing way," says Agus. "Their stories are captivating and scary, though ultimately uplifting and inspiring."
Actor Ashton Kutcher discloses his terrifying battle with a rare life-threatening disease and sits for his first interview with twin brother Michael, who was born with cerebral palsy and had a heart transplant.

Oprah Winfrey and Maria Shriver provide an unflinching look at women's health issues, talking candidly with Agus about how menopause is often misunderstood and mistreated.

Howie Mandel opens up to Agus about his debilitating life-long struggle with obsessive-compulsive disorder. Mandel's daughter Jackelyn joins them for a frank discussion of what it was like growing up with her dad and her own panic attacks and anxieties.

Amy Schumer confides the harrowing details of her decades-long reproductive health struggles and the difficult childhood that led to battles with depression and a tendency to get "blackout drunk."

Nick Cannon tells Agus about the crushing loss of his son, Zen, to a malignant brain tumor. Cannon also reveals his own near-fatal lupus diagnosis. Cannon explains how these life-altering events were profound lessons that led him to reprioritize what was important.

Jane Fonda and Lily Tomlin share their secrets to longevity and aging gracefully. The discussion ranges from sex in their 80s, their very different sense of self, to the foods that keep them young. We look at Fonda's most recent diagnosis with non-Hodgkin lymphoma.
In THE CHECKUP WITH DR. DAVID AGUS, Agus' encounters with these celebrated personalities take viewers on an intimate and inspirational journey that sheds new light on some of the health and wellness crises facing millions of Americans. Along the way, he shares information on game-changing technologies and treatments, information that will change and potentially even save lives.
THE CHECKUP WITH DR. DAVID AGUS is produced by Skydance Television and See It Now Studios. The series is executive produced by Dr. David Agus and Amy Coleman along with David Ellison and Dana Goldberg for Skydance Television. For See It Now Studios, Susan Zirinsky and Terence Wrong are the executive producers, Aysu Saliba is the supervising producer and Adam Goldfried is the executive director.
About Paramount+
Paramount+, a direct-to-consumer digital subscription video on-demand and live streaming service, combines live sports, breaking news and a mountain of entertainment. The premium streaming service features an expansive library of original series, hit shows and popular movies across every genre from world-renowned brands and production studios, including BET, CBS, Comedy Central, MTV, Nickelodeon, Paramount Pictures and the Smithsonian Channel. The service is also the streaming home to unmatched sports programming, including every CBS Sports event, from golf to football to basketball and more, plus exclusive streaming rights for major sports properties, including some of the world's biggest and most popular soccer leagues. Paramount+ also enables subscribers to stream local CBS stations live across the U.S. in addition to the ability to stream the company's other live channels: The CBS News Streaming Network, for 24/7 news, CBS Sports HQ for sports news and analysis, and ET Live for entertainment coverage.
For more information about Paramount+, please visit www.paramountplus.com and follow @ParamountPlus on social platform
About Skydance
Skydance is the diversified media company founded by David Ellison in 2010 to create high-quality, event-level entertainment for global audiences. The Company first launched with Feature Films and has since strategically expanded to include Television, Interactive, Animation, New Media and Sports, with studios in Los Angeles, Silicon Valley, Spain and Canada. Skydance's films includes the box office record-breaking Top Gun: Maverick, The Adam Project which debuted as the number one movie on Netflix, The Tomorrow War on Amazon Prime Video which became the number one streaming film upon its release, as well as the critically-acclaimed The Old Guard on Netflix. The studio's upcoming film slate includes The Greatest Beer Run Ever, Ghosted, The Family Plan, The Gorge for Apple TV+; Heart of Stone, The Old Guard 2 and a reboot of the Spy Kids film franchise for Netflix; and the seventh and eighth installments of the Mission: Impossible global franchise. In total, Skydance's films have earned more than $7 billion at the worldwide box office. Skydance Television is a leading supplier of premium scripted content across a range of platforms including Netflix, Amazon Prime Video and Apple TV+. The studio's current slate includes the Emmy-nominated series Grace and Frankie, which became Netflix's longest running series following the release of its final season earlier this year, as well as Foundation, Reacher, Tom Clancy's Jack Ryan, Condor, The Big Door Prize and an untitled spy series starring Arnold Schwarzenegger in his first ever scripted television series. Skydance Interactive creates and publishes original and IP-based virtual reality and other immersive video games including the top-selling The Walking Dead: Saints & Sinners, which received several award nominations, including "Best VR/AR Game" at the 2020 Game Awards. Skydance New Media creates narratively focused interactive experiences crafted as original series, putting the audience at the center of the action and adventure, with the first two productions being with Marvel Entertainment and Lucasfilm Games respectively. Skydance Sports develops premium scripted and unscripted sports-related content, documentaries and events. Skydance Sports is currently in production on two projects for Amazon Prime Video: the docuseries Good Rivals and an untitled film about the origins of the Air Jordan brand starring Ben Affleck and Matt Damon and directed by Affleck. Skydance Animation develops and produces high-end feature films and television series with full production capability across two studios in Los Angeles and Madrid. The first two slated movies are Luck and Spellbound, the first short film is Blush, and the first series is Wondla, all premiering on Apple TV+. The Company's investment partners include Tencent Holdings, Redbird Capital, CJ ENM, and the Ellison Family.
About See It Now Studios
See It Now Studios develops and produces original documentaries and docuseries for Paramount+, CBS, the Paramount Global television networks, international providers and third-party platforms. Since launching in September 2021, See It Now Studios has produced such projects as 11 MINUTES, RACE AGAINST TIME: THE CIA AND 9/11, THE 26th STREET GARAGE: THE FBI'S UNTOLD STORY OF 9/11, SECETS OF THE OLIGARCH WIVES, INDIVISIBLE – HEALING HATE, GHISLAINE – PARTNER IN CRIME, WATERGATE: HIGH CRIMES IN THE WHITE HOUSE, and interview specials with Halle Berry and Chris Rock. Susan Zirinsky is the president of See It Now Studios.
***
Press Contacts:
Richard Huff – Huffr@viacomcbs.com
Kylie Burnett – Kylie.Burnett@cbsinteractive.com