Release
"INSIDE THE NFL" MAKES SEASON PREMIERE TONIGHT ON PARAMOUNT+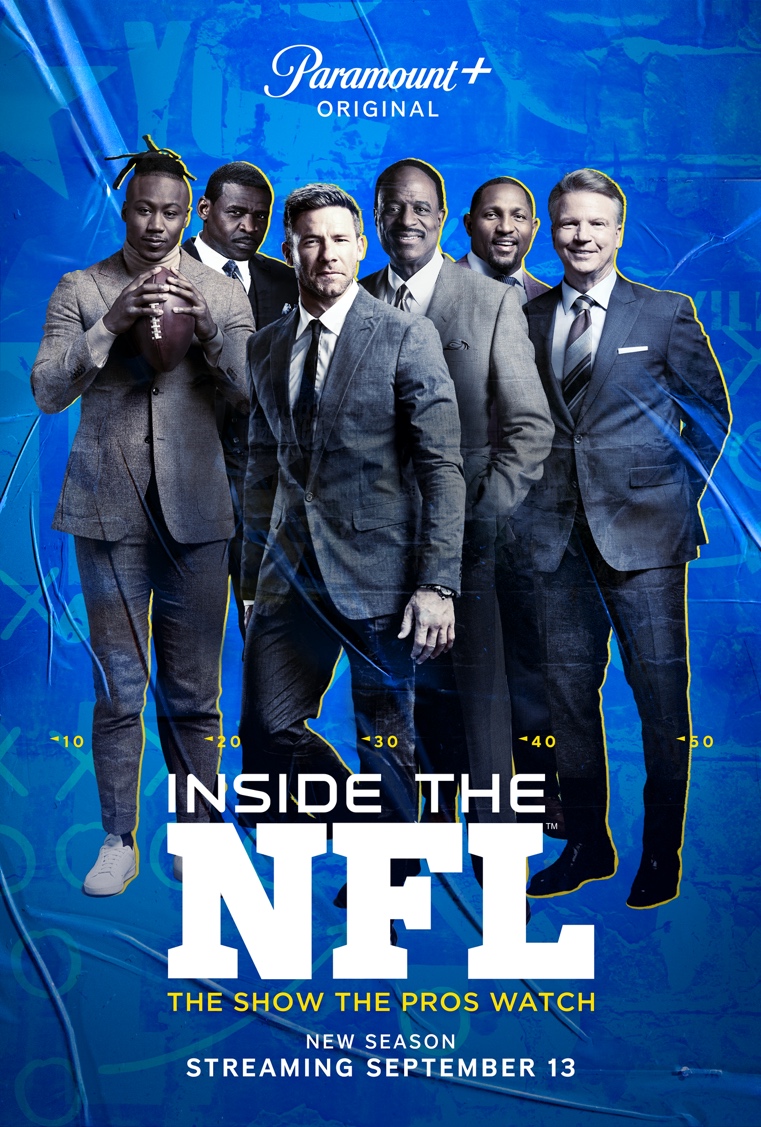 CLICK HERE FOR PHOTOS
NEW YORK – September 13, 2022 – The Emmy® Award-winning studio show INSIDE THE NFL kicks off its 46th season tonight, September 13 at 9:30 p.m. ET/6:30 p.m. PT, streaming on Paramount+.
This season features the return of three-time Super Bowl champion and Super Bowl LIII MVP Julian Edelman, alongside two-time Super Bowl champion and Super Bowl XXI MVP Phil Simms, who is in his 15th year on the show, six-time Pro Bowler Brandon Marshall, two-time Super Bowl champion and Hall of Fame linebacker Ray Lewis and three-time Emmy Award-winner and Sports Broadcasting Hall of Famer James Brown.
Tonight's premiere episode dives into what went wrong for the Super Bowl LVI participants, including a troublesome Los Angeles Rams defense and a turnover-prone Cincinnati Bengals offense. The crew analyzes next steps for the Dallas Cowboys following Dak Prescott's injury and examines how Russell Wilson can rebound from a season-opening loss with his new team, the Denver Broncos.
The crew also honors the legacy of the late Len Dawson, Hall of Fame quarterback for Kansas City and beloved former co-host of INSIDE THE NFL from 1977-2001. Dawson passed away last month.
Minnesota Vikings wide receiver Justin Jefferson, Tennessee Titans head coach Mike Vrabel, Chicago Bears linebacker Roquan Smith, Washington Commanders wide receiver Terry McLaurin, and Carolina Panthers linebacker Frankie Luvu are wired for sound.
Click HERE for a clip of Tampa Bay Buccaneers quarterback Tom Brady, HERE for a clip of Miami Dolphins head coach Mike McDaniel and quarterback Tua Tagovailoa, and HERE for top moments from Week 1.
Following are quotes from tonight's premiere episode:
On how the Dallas Cowboys will cope without Dak Prescott…
Simms – "Here's the thing that's come up - 'Dak Prescott, he might be back in three or four weeks.' There's no way that you have surgery on your right thumb and think you're going to come back and do that, because for a quarterback, your right thumb is the most important finger if you're right-handed. The most important finger for throwing the football, there's no doubt. Now, Cooper Rush is going to come in and take his place. Cooper Rush has a good arm, he's got experience, he led the team to a victory last year. He can make the plays, so it's not going to be a huge drop-off to me."
On the Los Angeles Rams defensive shortcomings in Week 1…
Lewis – "When you talk about the Rams, the first thing you must talk about is arguably the best defensive player in the game right now, Aaron Donald. When you lose Von Miller, now all you have to focus on is Aaron Donald and getting him blocked. They have to go back from the defensive perspective and say 'what did we not do'."
On the Cincinnati Bengals' offensive line protecting Joe Burrow…
Edelman – "Cincinnati is going to have to learn quick, you're a target now. You're not flying under the radar. Joe Burrow can't be picking himself up off the ground seven times a game. He's been sacked 24 times the last three games. I don't care if it's a new offensive line or not. That's your franchise quarterback. … I think they're in a lot better position than the Rams, but I'm still worried."
On Russell Wilson's Broncos debut…
Edelman – "I think he's Russell. You had him in the right situation at the end of the game. If they would have went for it, would he have got it? I don't know. But he was in plug-and-play out there. He was hitting his guys. We heard about Jerry Jeudy. We heard about [Courtland] Sutton. We haven't heard them since they got in the league, because they had no one distributing the football to them. First time they had gains."
On the impact of Von Miller and Khalil Mack on new teams…
Lewis – "Listen, when you take a Khalil Mack and put him on the opposite side of [Joey] Bosa, that's a problem. … If you got Justin Herbert on the other side and he's putting up 20, 30, however many points and you come back and that's the pass rush you're letting loose, that's a problem. Let me go to another problem: Von Miller. You add Von Miller to Leslie Frazier's defense, which is a bend-but-don't-break defense, but then you slide the entire defensive line to the left and let Von Miller be on the right side, by himself, isolated on the tackle. The last time he's done that, he was a Super Bowl MVP. … I'm just telling you guys, two of the biggest offseason moves this season, they have a chance to be in the AFC Championship, because of those moves."
INSIDE THE NFL covers every game, every week, with trademark highlights from NFL Films, special in-depth features and spirited debate on the game's hottest topics. The show is produced by CBS Sports, SHOWTIME Sports® and NFL Films, with new episodes streaming Tuesday nights on Paramount+ throughout the 2022 NFL season to Super Bowl LVII.
Past cast members of the storied program dating back to 1977 have included Dan Marino, Chuck Bednarik, Nick Buoniconti, Cris Carter, Cris Collinsworth, Bob Costas, Jerry Glanville, Jimmy Johnson, Boomer Esiason and the late Len Dawson.
The executive producers are Sean McManus, Chairman, CBS Sports and SHOWTIME Sports' Stephen Espinoza, as well as Ross Ketover and Pat Kelleher of NFL Films. Pete Radovich Jr., the award-winning Creative Director for CBS Sports, serves as coordinating producer alongside CBS Sports' award-winning producer Jawn Morales.
For more information about INSIDE THE NFL, visit Paramountplus.com, follow us on Twitter, Instagram and Facebook and join the conversation using #INSIDETHENFL.
# # #
CONTACTS:
Paramount+
Paul-Michael Ochoa
paulmichael.ochoa@viacomcbs.com
CBS Sports
Bailey Knecht
bailey.knecht@viacomcbs.com
SHOWTIME Sports
Kate Howard
kate.howard@showtime.com