Release
"BOLDLY BE" WITH "STAR TREK" AND KID CUDI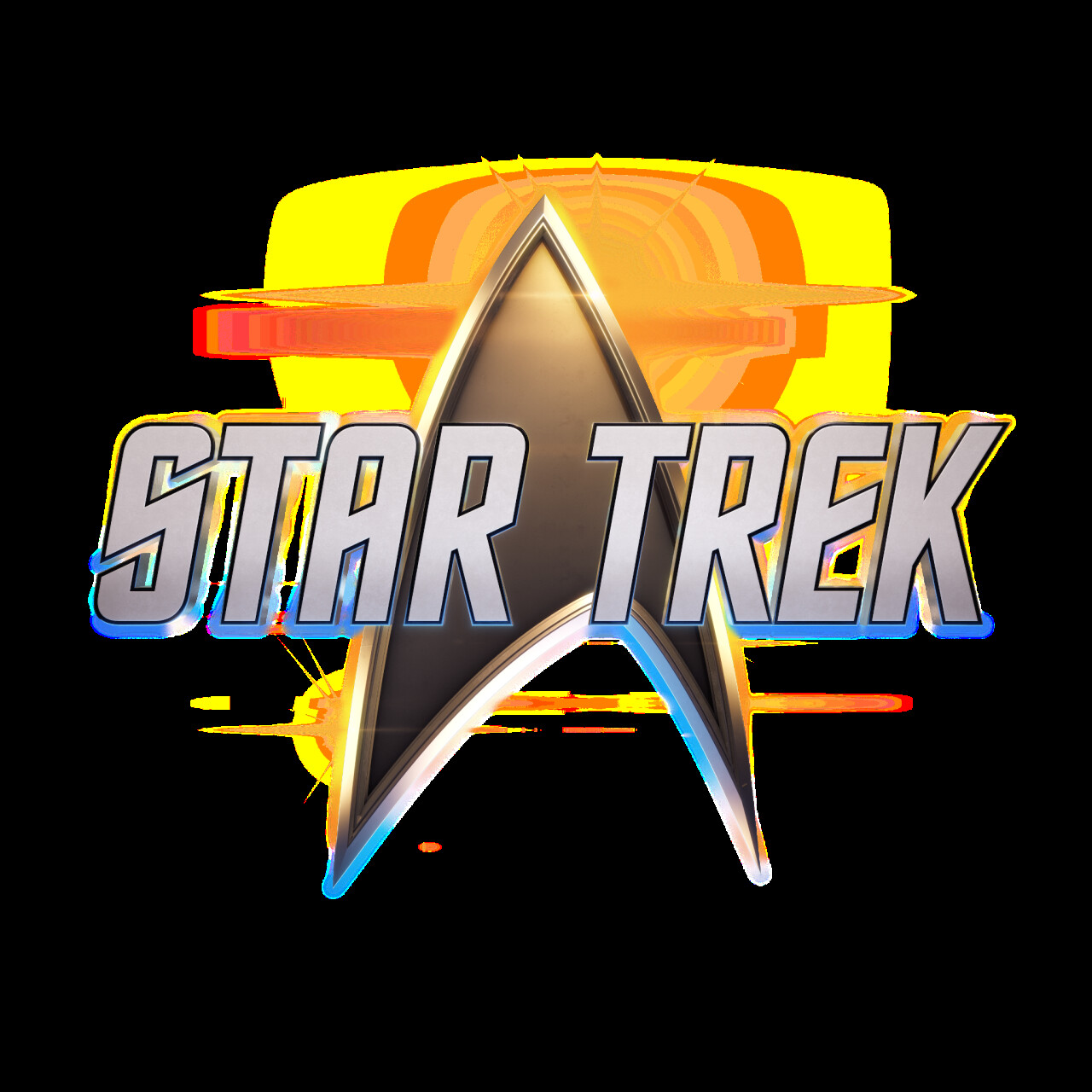 The Multi-Faceted Partnership Between "Star Trek" and
Kid Cudi Launches Oct. 12 During New York Comic Con with a New Kid Cudi Single, Immersive Fortnite Gaming Experience and a Capsule Streetwear Collection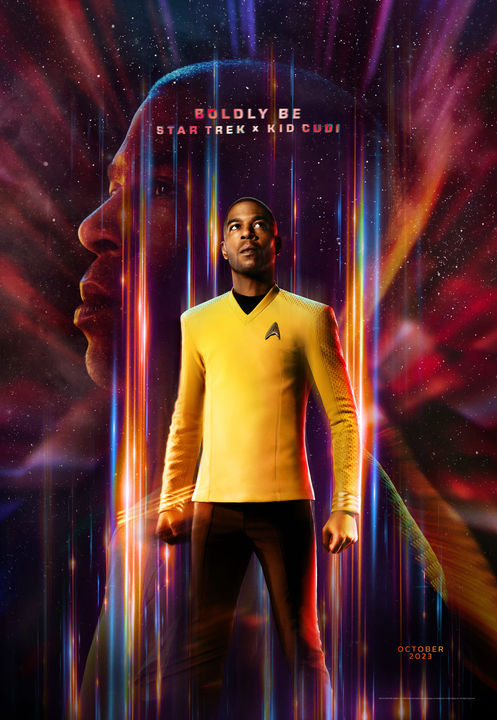 Download "Star Trek" x Kid Cudi Hero Art Here
Download First Look at "Star Trek" x Kid Cudi Mirror Mayhem Teaser Art Here
Download First Look at the "Star Trek" x Kid Cudi Merchandise Here
Oct. 5, 2023– "Star Trek" and Scott Mescudi, better known by his stage name, Kid Cudi, announce details of their one-of-a-kind collaboration, kicking off "Star Trek's" all-new "Boldly Be" campaign.
The collaboration will launch on Oct. 12 at the start of New York Comic Con with the release of an original Kid Cudi song inspired by "Star Trek" titled "Heaven's Galaxy." Fans can also visit the "Star Trek" x Kid Cudi booth that will showcase the capsule collection and a first look at the Fortnite gaming experience at NYCC on the Javits show floor from Oct. 12-15, booth 2653.
"Heavens Galaxy" was written by Cudi, produced by longtime collaborator Dot Da Genius and inspired by Cudi's own fandom of "Star Trek." It will be available beginning Thursday, Oct. 12 on all streaming platforms.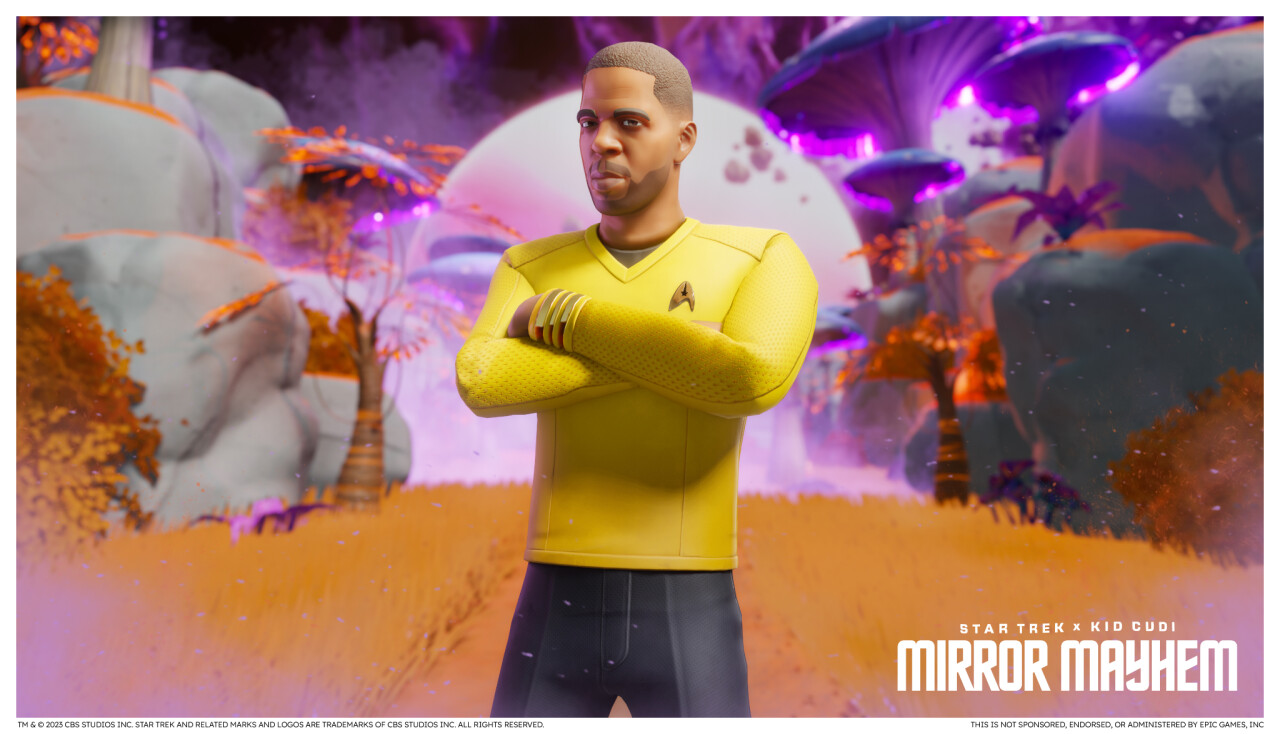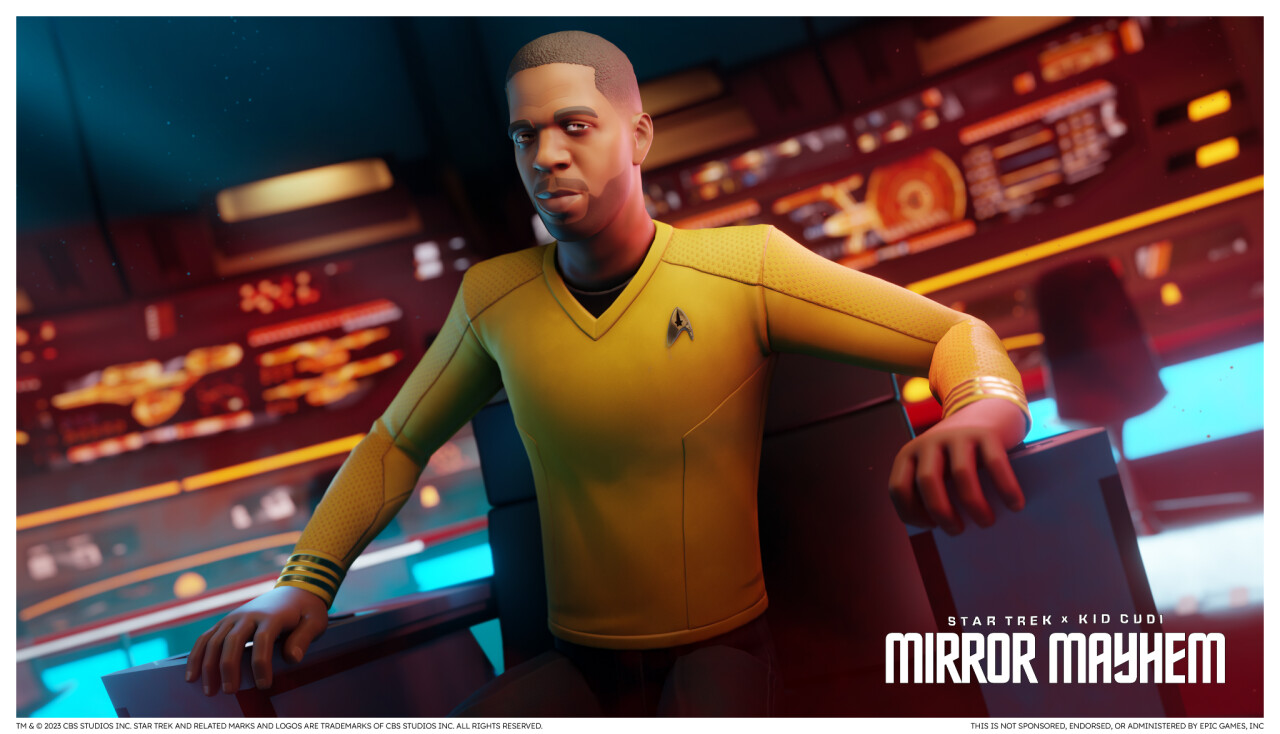 Fans can also join "Star Trek," Kid Cudi and Fortnite as they embark on an out-of-this-world music and gaming collaboration like nothing this Galaxy has seen before! STAR TREK X KID CUDI: MIRROR MAYHEM brings Kid Cudi into the worlds of both "Star Trek" and Fortnite to perform his brand-new "Star Trek"-themed music collaboration, "Heaven's Galaxy," as well as never-before-heard songs from his new album, INSANO. Boldly Go as you partner with Captain Skyles (Kid Cudi) on a mission to uncover the source of a sonic anomaly that threatens the peaceful planet Vada. Beam down to explore, discover and defend a world these forces are threatening to tear apart. It's up to you and other Starfleet recruits to work together with Captain Skyles to uncover the source of this musical malady and restore the harmony of Vada while there's still time! STAR TREK X KID CUDI: MIRROR MAYHEM will launch later this month.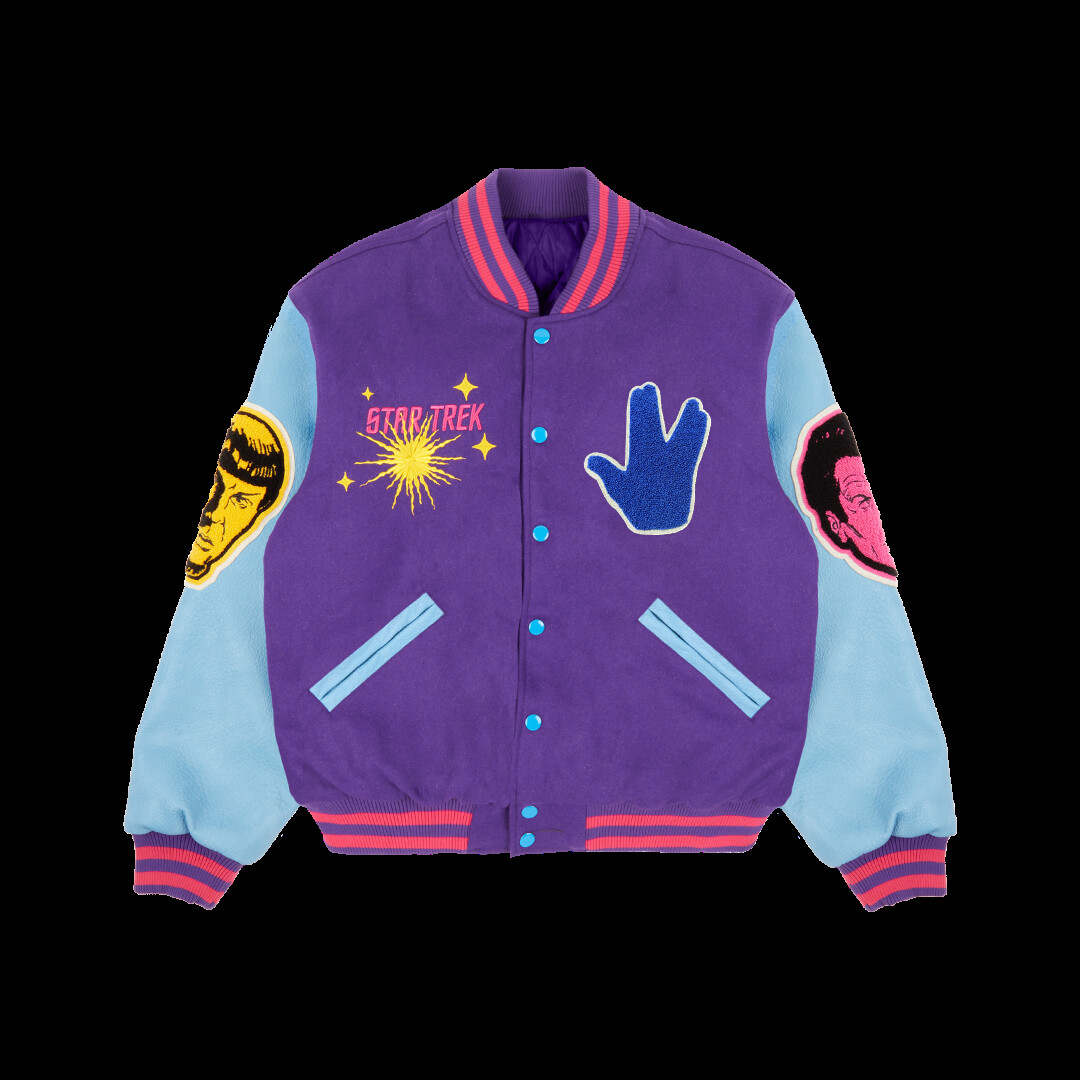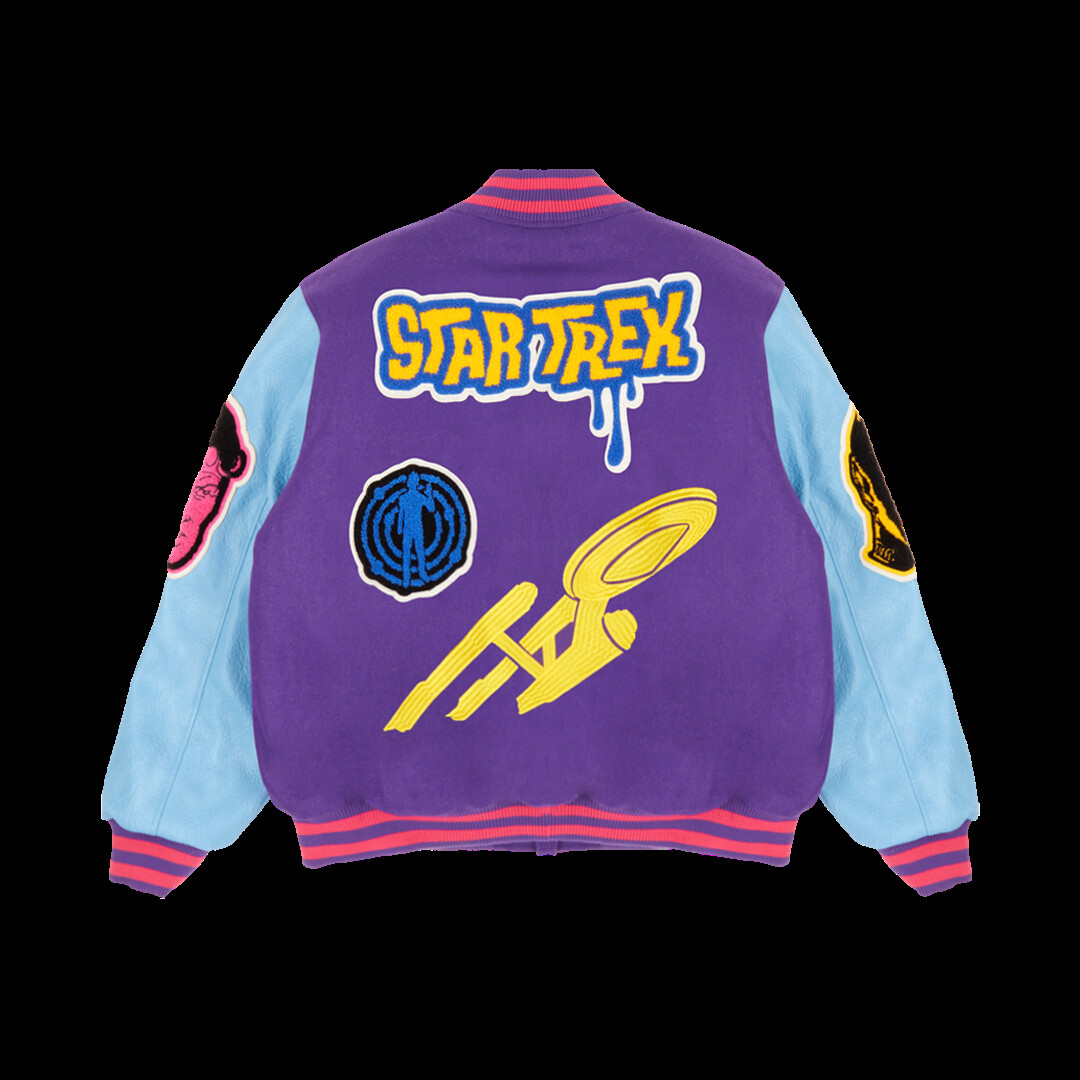 Featuring "Star Trek"-inspired mantras like "Live Long and Rage," the Kid Cudi x "Star Trek" capsule collection will include tees, crewnecks, hoodies, a custom button-up t-shirt and a colorful leather varsity jacket with robust chenille and embroidery details. The collection will debut at New York Comic Con on Oct. 12 with a preorder window exclusively for attendees, followed by the global release on shop.kidcudi.com on Oct. 16.
"Boldly Be" takes its inspiration from "Star Trek's" ethos of IDIC (Infinite Diversity in Infinite Combinations), the basis of Vulcan philosophy that the vast variables create truth, beauty and strength.
Follow @StarTrek on social and stay tuned to StarTrek.com for more details on how to get involved with "Boldly Be."
About CBS Studios
CBS Studios is one of the world's leading suppliers of entertainment programming, with more than 60 series currently in production for broadcast and cable networks, streaming services, and other emerging platforms. The Studio's expansive portfolio spans a diverse slate of commercially successful and critically acclaimed scripted programming, which includes genre-defining franchises such as NCIS, CSI, and the ever-growing "Star Trek" universe, award-winning late-night and daytime talk shows, as well as an extensive library of iconic intellectual property. The Studio also develops and produces local language and international content originating outside of the U.S., with series in the U.K., Europe, the Middle East, and Australia.
About Paramount Consumer Products
Paramount Consumer Products oversees all licensing and merchandising for Paramount (Nasdaq: PARA, PARAA), a leading global media and entertainment company that creates premium content and experiences for audiences worldwide. Driven by iconic consumer brands, Paramount Consumer Products' portfolio includes a diverse slate of brands and content from BET, CBS (including CBS Television Studios and CBS Television Distribution), Comedy Central, MTV, Nickelodeon, Paramount Pictures, and SHOWTIME®. With properties spanning animation, live-action, preschool, youth, and adult, Paramount Consumer Products is committed to creating the highest quality product for some of the world's most beloved, iconic franchises. To view our range of consumer products and Paramount-branded apparel, visit ParamountShop.com.
@StarTrek
#StarTrekBoldlyBe
***
Press Contacts:
CBS Studios/"Star Trek" Franchise
Jennifer Verti: Jennifer.Verti@viacomcbs.com
Rachael Wesolowski: Rachael.Wesolowski@viacomcbs.com
Sunshine Sachs Morgan & Lylis
Mia Ammer, Ross Adair, Kara Croke, Shelby Stiner: StarTrek@ssmandl.com