Release
CBS SPORTS ANNOUNCES 2023 "SEC ON CBS" COLLEGE FOOTBALL GAMES AND WINDOWS
All Games to be Broadcast on the CBS Television Network and Streamed on Paramount+
SEC ON CBS Schedule Kicks Off Sept. 16 with Defending National Champion Georgia Hosting South Carolina
CBS Sports Schedule Also Features Annual Army-Navy Classic on Dec. 9
CBS Sports has announced its 2023 SEC ON CBS college football broadcast schedule and windows, which presents a total of 15 games including the SEC Championship on Saturday, Dec. 2 (4:00 PM, ET).
Coverage will be available to viewers across the country on the CBS Television Network and will stream live on Paramount+.
This year's SEC ON CBS schedule begins on Sept. 16 with defending National Champion Georgia hosting South Carolina.
The annual rivalry game between Georgia and Florida will take place on Oct. 28. As previously announced, Missouri-Arkansas will air on Friday, Nov. 24 (4:00 PM, ET).
In addition to the traditional Saturday SEC ON CBS Game of the Week at its familiar 3:30 PM, ET time slot, there will be an afternoon SEC ON CBS doubleheader on Oct. 14 and a primetime SEC ON CBS doubleheader on Nov. 4. SEC ON CBS games are announced six-to-12 days prior to their broadcast date.
CBS Sports' college football schedule will also feature two Commander-in-Chief's Trophy games, with Air Force at Navy on Oct. 21 and the annual Army-Navy classic from Gillette Stadium in New England on Dec. 9 (3:00 PM, ET). The schedule concludes with the Tony the Tiger Sun Bowl on Friday, Dec. 29, (2:00 PM, ET).
Additionally, CBS Sports' broadcast schedule of Big Ten and Mountain West games will be announced at a later date.
COLLEGE FOOTBALL TODAY returns as the Network's pre-game, halftime and post-game studio show.
CBS Sports Digital will also provide additional college football coverage throughout the season on a variety of platforms, including CBSSports.com, the CBS Sports app, and CBS Sports HQ, the 24/7 streaming sports news service.
Following is CBS Sports' 2023 SEC ON CBS college football broadcast schedule and windows:
| | | |
| --- | --- | --- |
| DATE | TIME (ET) | GAME |
| Saturday, Sept. 16 | 3:30 PM | SOUTH CAROLINA at GEORGIA |
| | | |
| Saturday, Sept. 23 | 3:30 PM | SEC ON CBS GAME OF THE WEEK |
| | | |
| Saturday, Sept. 30 | 3:30 PM | SEC ON CBS GAME OF THE WEEK |
| | | |
| Saturday, Oct. 7 | 3:30 PM | SEC ON CBS GAME OF THE WEEK |
| | | |
| Saturday Oct. 14 | 12:00 NOON | SEC ON CBS |
| | 3:30 PM | SEC ON CBS GAME OF THE WEEK |
| | | |
| Saturday, Oct. 21 | 12:00 NOON | AIR FORCE at NAVY |
| | 3:30 PM | SEC ON CBS GAME OF THE WEEK |
| | | |
| Saturday, Oct. 28 | 3:30 PM | GEORGIA vs. FLORIDA |
| | | |
| Saturday, Nov. 4 | 3:30 PM | SEC ON CBS |
| | 7:45 PM | SEC ON CBS GAME OF THE WEEK |
| | | |
| Saturday, Nov. 11 | 3:30 PM | SEC ON CBS GAME OF THE WEEK |
| | | |
| Saturday, Nov. 18 | 3:30 PM | SEC ON CBS GAME OF THE WEEK |
| | | |
| Friday, Nov. 24 | 4:00 PM | MISSOURI at ARKANSAS |
| | | |
| Saturday, Nov. 25 | 3:30 PM | SEC ON CBS GAME OF THE WEEK |
| | | |
| Saturday, Dec. 2 | 4:00 PM | SEC CHAMPIONSHIP |
| | | |
| Saturday, Dec. 9 | 3:00 PM | ARMY – NAVY |
| | | |
| Friday, Dec. 29 | 2:00 PM | TONY THE TIGER SUN BOWL |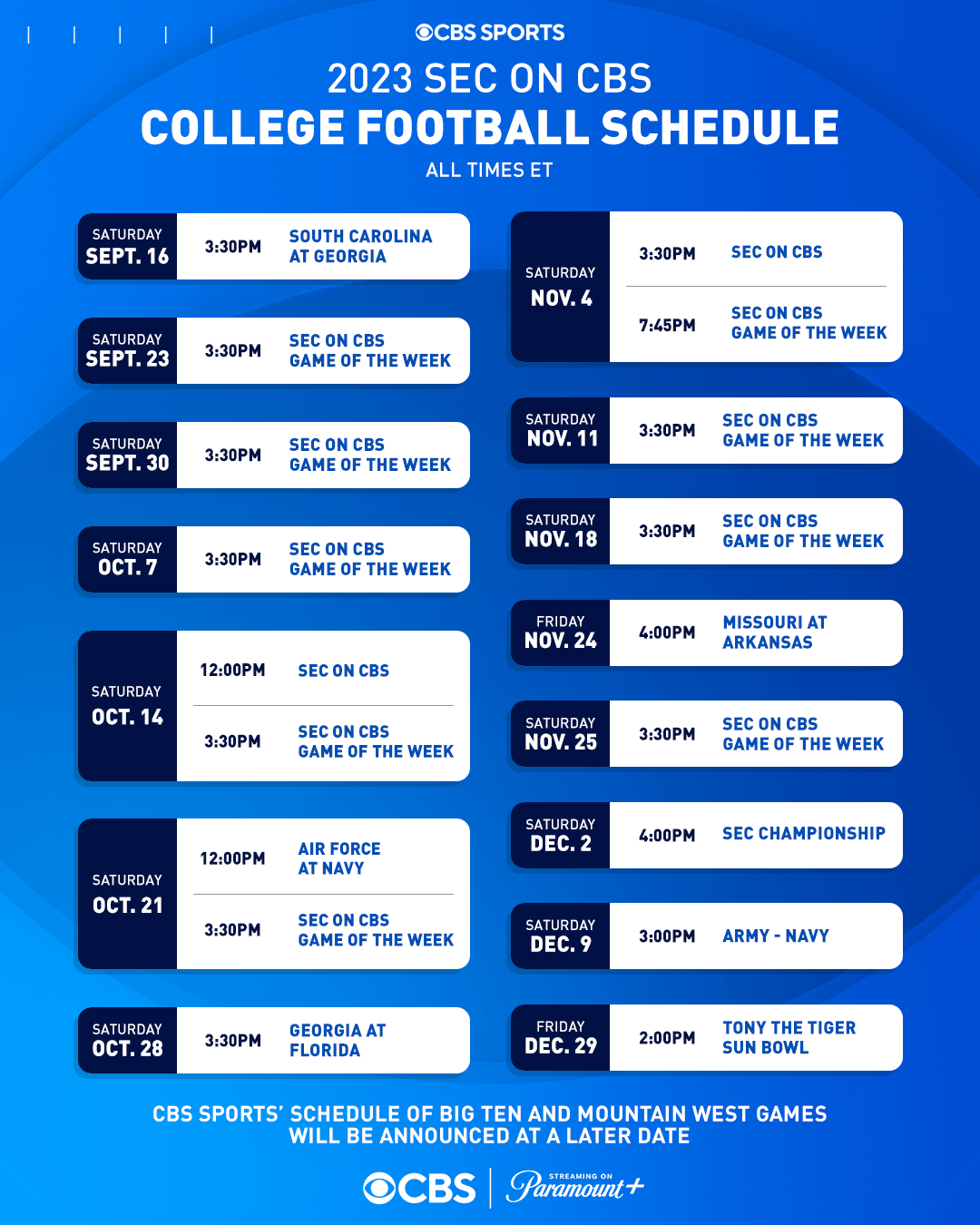 ***