Release
CBS SPORTS UNVEILS 2022 "NFL ON CBS" SCHEDULE FEATURING MARQUEE NATIONAL GAMES, EPIC PLAYOFF REMATCHES, TOP QUARTERBACKS AND HOLIDAY CONTESTS ON THANKSGIVING AND CHRISTMAS
National Games in TV's Most-Watched Window Highlighted by Thrilling Playoff Rematches with Bills-Chiefs, Chiefs-Bengals and Rams-Buccaneers
Multiple National Appearances by Chiefs, Packers, Rams, Buccaneers, Cowboys and Bengals
All "NFL ON CBS" Games to be Broadcast on the CBS Television Network and Streamed Live on Paramount+
CBS Sports has announced its NFL ON CBS broadcast schedule for the 2022 NFL season, featuring marquee match-ups in the Sunday 4:25 PM, ET national game window, the most-watched window in all of television. Among the highlights are rematches of last year's epic AFC postseason overtime thrillers with Buffalo-Kansas City and Kansas City-Cincinnati, a cross-flex playoff rematch between the past two Super Bowl champions with Los Angeles Rams-Tampa Bay, and multiple appearances by Kansas City, Green Bay, Tampa Bay, Dallas and Cincinnati. Including the Christmas Day game, the Rams will have two national appearances on CBS.
The NFL ON CBS schedule is the television home for the young star quarterbacks in the American Football Conference (AFC), including Kansas City's Patrick Mahomes, Buffalo's Josh Allen, Cincinnati's Joe Burrow, Baltimore's Lamar Jackson and the Los Angeles Chargers' Justin Herbert, and has added veteran Pro Bowl QBs Russell Wilson of Denver and Matt Ryan of Indianapolis. This year's schedule also boasts top National Football Conference (NFC) teams and prominent cross-flex matchups, with Tampa Bay's Tom Brady and Green Bay's Aaron Rodgers making multiple appearances.
Additionally, the NFL ON CBS will feature holiday games on Thanksgiving and Christmas as well as three postseason contests, including the AFC Championship.
The NFL ON CBS' 2022 regular season schedule begins on Sunday, Sept. 11 with a national doubleheader and will be broadcast to viewers all season across the country on the CBS Television Network and streamed live on Paramount+, who can watch the NFL ON CBS games shown in their local market. Last year, CBS Sports led all networks averaging 21.053 million viewers across the regular season and playoffs, the best viewership for the NFL ON CBS in six years, and Paramount+ delivered its most-streamed NFL season ever.
MARQUEE NATIONAL GAMES HIGHLIGHT TV'S MOST-WATCHED WINDOW AT 4:25 PM, ET
CBS Sports will have 10 national Sunday doubleheader windows at 4:25 PM, ET. Last year, the NFL ON CBS averaged 21.698 million viewers for its 10 national Sunday game windows, which was more than any primetime television sports, entertainment or news series on any network.
The 2022 schedule is bookended with national Sunday doubleheaders in Week 1 and Week 18.
Highlighting the slate are three highly-anticipated rematches from last year's memorable postseason. Buffalo visits Kansas City in a rematch of the AFC Divisional Playoff in Week 6 (Oct. 16). Kansas City and Cincinnati will meet in a rematch of last year's AFC Championship Game in Week 13 (Dec. 4). And the past two Super Bowl champions will meet on Nov. 6 when Tampa Bay hosts the Los Angeles Rams in a cross-flex rematch of last year's NFC Divisional Playoff.
Among the other prominent matchups are Cincinnati at Dallas in Week 2 (Sept. 18), New England at Green Bay in Week 4 (Oct. 2) and Cincinnati at Tampa Bay in Week 15 (Dec. 18).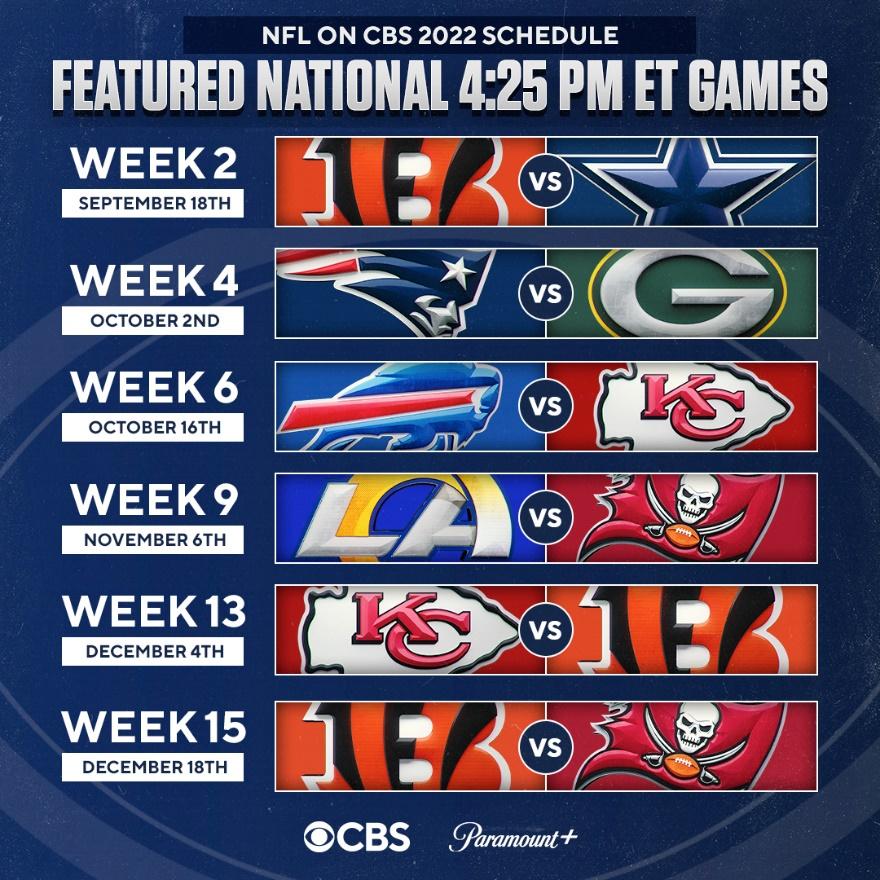 THANKSGIVING AND CHRISTMAS GAMES…PLUS SPONGEBOB
The NFL ON CBS will celebrate the holidays with fans by presenting national games on Thanksgiving and Christmas. The Network will broadcast Buffalo at Detroit on Thanksgiving Day (Thursday, Nov. 24) at 12:30 PM, ET.
On Christmas Day (Sunday, Dec. 25), CBS Sports and Nickelodeon will once again team up – this year on Christmas – to deliver a present to fans of all ages with the Denver at Los Angeles Rams game at 4:30 PM, ET. In addition to the NFL ON CBS broadcast on CBS, Nickelodeon will air its annual slime-filled presentation tailored for family viewing fun.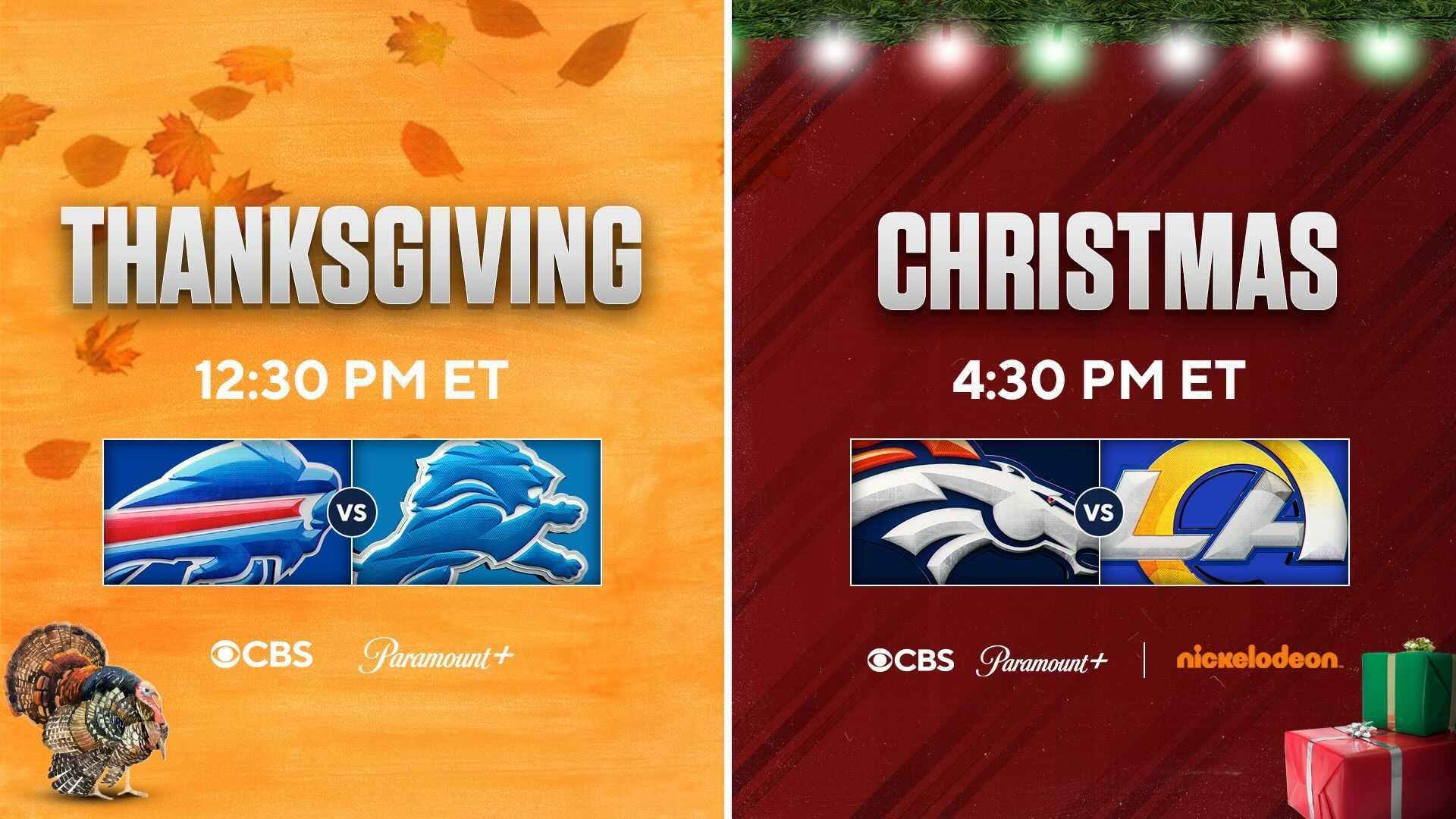 HIGHLIGHTED 1:00 PM, ET GAMES
The NFL ON CBS schedule is anchored in the 1:00 PM, ET window with a strong slate of matchups which includes New England at Pittsburgh in Week 2 (Sept. 18), Kansas City at Indianapolis in Week 3 (Sept. 25), Pittsburgh at Buffalo in Week 5 (Oct. 9), Pittsburgh at Philadelphia in Week 8 (Oct. 30), Cincinnati at Tennessee in a rematch of last year's AFC Divisional Playoff in Week 12 (Nov. 27), Denver at Baltimore in Week 13 (Dec. 4), Baltimore at Pittsburgh in Week 14 (Dec. 11), Cincinnati at New England in Week 16 (Dec. 24) and Denver at Kansas City in Week 17 (Jan. 1).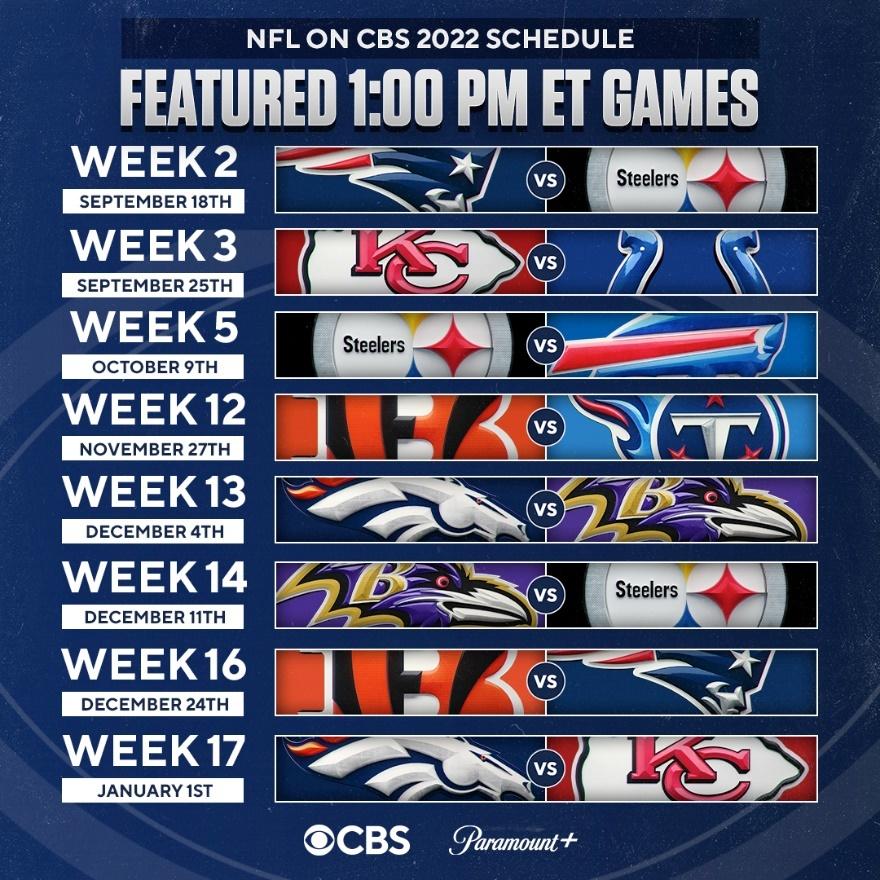 The regular-season schedule is followed by a postseason slate which includes a Wild Card playoff game on either January 14 or 15, an AFC Divisional playoff game on either January 21 or 22 and the AFC Championship Game on January 29.
The NFL ON CBS' announce team of Jim Nantz, Tony Romo and Tracy Wolfson lead CBS' 63rd year of coverage of the NFL as the Network is scheduled to broadcast more than 100 games during 18 weeks of the regular season, as well as the AFC playoffs.
CBS will present one preseason game with Pittsburgh hosting Detroit on Sunday, August 28 at 4:30 PM, ET.
Sean McManus is Chairman, CBS Sports and serves as the Executive Producer of CBS Sports' coverage of the NFL. David Berson is President, CBS Sports. Harold Bryant is Executive Producer and Executive Vice President, Production, CBS Sports. Jim Rikhoff is Coordinating Producer, NFL ON CBS.
The complete NFL ON CBS 2022 schedule is here:
All times ET
WEEK 1 - SUNDAY, SEPT. 11

CBS DOUBLEHEADER

Pittsburgh at Cincinnati

1:00

New England at Miami

1:00

Indianapolis at Houston

1:00

Baltimore at NY Jets

1:00

Cleveland at Carolina

1:00

Kansas City at Arizona

4:25

Las Vegas at LA Chargers

4:25
WEEK 2 - SUNDAY, SEPT. 18

CBS DOUBLEHEADER

New England at Pittsburgh

1:00

Miami at Baltimore

1:00

NY Jets at Cleveland

1:00

Indianapolis at Jacksonville

1:00

Cincinnati at Dallas

4:25

Arizona at Las Vegas

4:25

Houston at Denver

4:25
WEEK 3 - SUNDAY, SEPT. 25

Kansas City at Indianapolis

1:00

Buffalo at Miami

1:00

Houston at Chicago

1:00

Cincinnati at NY Jets

1:00

Jacksonville at LA Chargers

4:05
WEEK 4 - SUNDAY, OCT. 2

CBS DOUBLEHEADER

Buffalo at Baltimore

1:00

NY Jets at Pittsburgh

1:00

Jacksonville at Philadelphia

1:00

LA Chargers at Houston

1:00

Cleveland at Atlanta

1:00

New England at Green Bay

4:25

Denver at Las Vegas

4:25
WEEK 5 - SUNDAY, OCT. 9

Pittsburgh at Buffalo

1:00

Tennessee at Washington

1:00

LA Chargers at Cleveland

1:00

Miami at NY Jets

1:00

Houston at Jacksonville

1:00

San Francisco at Carolina

4:05
WEEK 6 - SUNDAY, OCT. 16

CBS DOUBLEHEADER

New England at Cleveland

1:00

Cincinnati at New Orleans

1:00

Baltimore at NY Giants

1:00

Jacksonville at Indianapolis

1:00

Buffalo at Kansas City

4:25
WEEK 7 - SUNDAY, OCT. 23

Detroit at Dallas

1:00

Cleveland at Baltimore

1:00

Indianapolis at Tennessee

1:00

Houston at Las Vegas

4:05

NY Jets at Denver

4:05
WEEK 8 - SUNDAY, OCT. 30

Pittsburgh at Philadelphia

1:00

Las Vegas at New Orleans

1:00

New England at NY Jets

1:00

Miami at Detroit

1:00

Tennessee at Houston

4:05
WEEK 9 - SUNDAY, NOV. 6

CBS DOUBLEHEADER

Indianapolis at New England

1:00

Miami at Chicago

1:00

Buffalo at NY Jets

1:00

Las Vegas at Jacksonville

1:00

LA Rams at Tampa Bay

4:25
WEEK 10 - SUNDAY, NOV. 13

Denver at Tennessee

1:00

Jacksonville at Kansas City

1:00

Cleveland at Miami

1:00

Houston at NY Giants

1:00

Indianapolis at Las Vegas

4:05
WEEK 11 - SUNDAY, NOV. 20

CBS DOUBLEHEADER

Philadelphia at Indianapolis

1:00

Cleveland at Buffalo

1:00

NY Jets at New England

1:00

Dallas at Minnesota

4:25

Kansas City at LA Chargers

4:25
WEEK 12 - THURSDAY, NOV. 24

THANKSGIVING DAY

Buffalo at Detroit

12:30
WEEK 12 - SUNDAY, NOV. 27

Cincinnati at Tennessee

1:00

Houston at Miami

1:00

Baltimore at Jacksonville

1:00

LA Chargers at Arizona

4:05

Las Vegas at Seattle

4:05
WEEK 13 - SUNDAY, DEC. 4

CBS DOUBLEHEADER

Denver at Baltimore

1:00

Pittsburgh at Atlanta

1:00

NY Jets at Minnesota

1:00

Cleveland at Houston

1:00

Kansas City at Cincinnati

4:25

LA Chargers at Las Vegas

4:25
WEEK 14 - SUNDAY, DEC. 11

Baltimore at Pittsburgh

1:00

Cleveland at Cincinnati

1:00

NY Jets at Buffalo

1:00

Jacksonville at Tennessee

1:00

Miami at LA Chargers

4:05
WEEK 15 - SUNDAY, DEC. 18

CBS DOUBLEHEADER

Kansas City at Houston

1:00

Pittsburgh at Carolina

1:00

Cincinnati at Tampa Bay

4:25

Tennessee at LA Chargers

4:25
WEEK 16 - SATURDAY, DEC. 24

Cincinnati at New England

1:00

New Orleans at Cleveland

1:00

Buffalo at Chicago

1:00

Houston at Tennessee

1:00

Washington at San Francisco

4:05
WEEK 16 - SUNDAY, DEC. 25

CHRISTMAS DAY

Denver at LA Rams

4:30

WEEK 17 - SUNDAY, JAN. 1

CBS DOUBLEHEADER

Denver at Kansas City

1:00

Pittsburgh at Baltimore

1:00

Miami at New England

1:00

Indianapolis at NY Giants

1:00

Jacksonville at Houston

1:00

Minnesota at Green Bay

4:25
WEEK 18 - SUNDAY, JAN. 8
CBS DOUBLEHEADER
CBS Games TBD