Release
CBS SPORTS ANNOUNCES SCHEDULE FOR INAUGURAL "BIG TEN ON CBS" SEASON
CBS Sports to Air Seven Select Big Ten Football Games in 2023; Full Season in Marquee 3:30 PM, ET Window Begins in 2024
The BIG TEN ON CBS Kicks off September 2 with Ohio State at Indiana
CBS Sports has announced its 2023 BIG TEN ON CBS college football broadcast schedule and windows for the Network's inaugural season of Big Ten football. CBS Sports will air seven select games in various windows in 2023, with a full season of traditional marquee coverage in the 3:30 PM, ET window beginning in 2024.
The BIG TEN ON CBS will be available to viewers across the country on the CBS Television Network and will stream live on Paramount+.
CBS Sports' opening weekend will be highlighted by two Big Ten match-ups as Ohio State plays Indiana on Saturday, Sept. 2, (3:30 PM, ET), followed by Northwestern visiting Rutgers on Sunday, Sept. 3 (Noon, ET).
Michigan, which has won the Big Ten title in each of the past two seasons, will host UNLV on Sept. 9 (3:30 PM, ET). As previously announced, Penn State will face Iowa in the Nittany Lions' annual White Out game on Sept. 23 in primetime. Iowa at Nebraska will play on Friday, Nov. 24 (Noon, ET).
Additionally, CBS will air games on Oct. 28 and Nov. 4 both at Noon, ET. Matchups will be announced on a 12- or 6-day basis.
In addition to the BIG TEN ON CBS, the CBS Television Network's 2023 college football schedule also includes previously announced SEC ON CBS games as well as games from the Mountain West and the Army-Navy game, Air Force at Navy and the Sun Bowl, to conclude the season.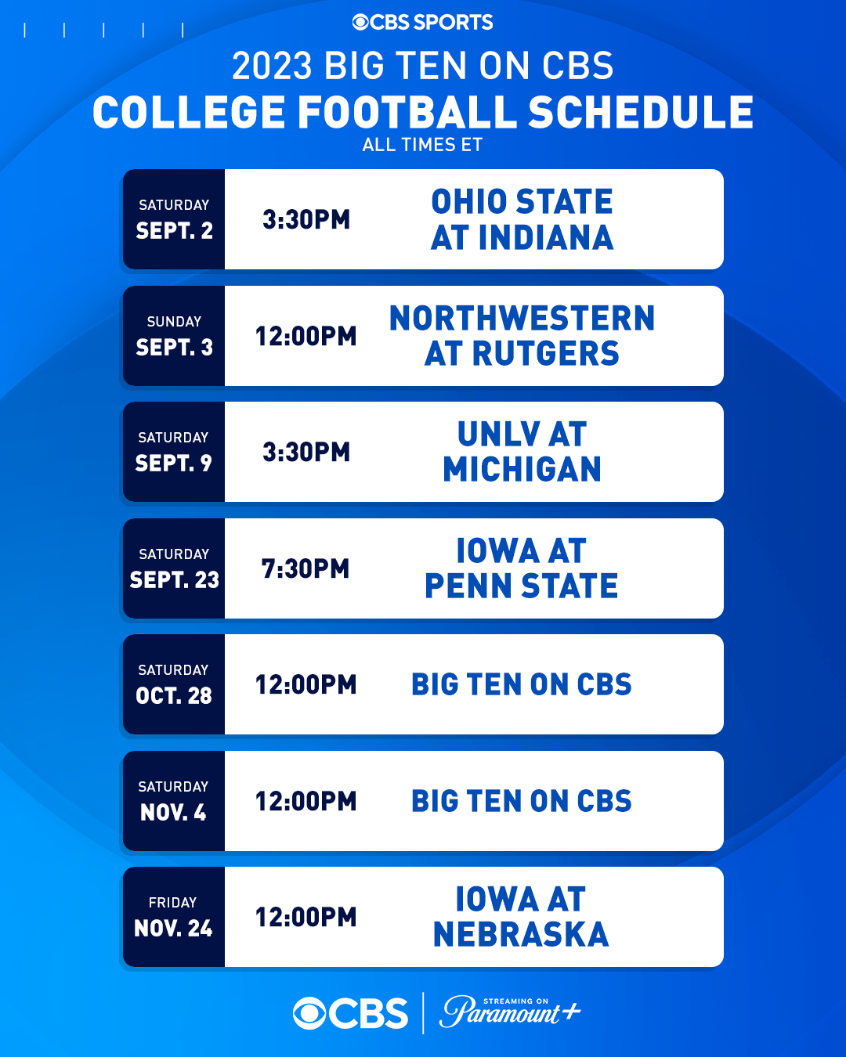 COLLEGE FOOTBALL TODAY serves as the Network's pre-game, halftime and post-game studio show.
CBS Sports Digital will also provide additional college football coverage throughout the season on a variety of platforms, including CBSSports.com, the CBS Sports app, and CBS Sports HQ, the 24/7 streaming sports news service.
* * *