Release
CBS SPORTS' ORIGINAL SERIES "BEYOND LIMITS" RETURNS WITH THREE NEW EPISODES CELEBRATING DIVERSE ATHLETES LIVING BEYOND SPORTS AND INFLUENCING CULTURE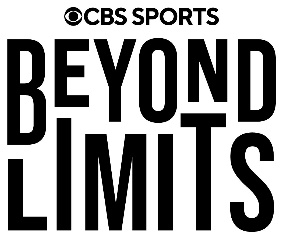 First Episode "BEYOND LIMITS: Name, Image and Likeness" Premieres Saturday, August 13 at 3:30 PM, ET on the CBS Television Network and Paramount+
Episode Features LSU Basketball Player and Rap Artist Flau'jae Johnson, Former NFL Player Terrelle Pryor, Cincinnati Bengals RB Trayveon Williams and Sociology of Sport Expert Dr. Billy Hawkins
CBS Sports returns with its original franchise, BEYOND LIMITS, a series celebrating diverse athletes living beyond the confines of sports and society. This season features three half-hour episodes, all airing on the CBS Television Network and streaming live on Paramount+.
The first episode, "BEYOND LIMITS: Name, Image and Likeness", premieres on Saturday, Aug. 13 at 3:30 PM ET. BEYOND LIMITS explores the Name, Image, and Likeness (NIL) legislation that revolutionized the business of college sports through in-depth conversations. Host A.J. Ross talks with LSU freshman Flau'jae Johnson, a top-ranked women's basketball star and rising rap artist signed to a distribution deal with Jay Z's Roc Nation label, and Cincinnati Bengals RB Trayveon Williams, who will soon be teaching an NIL course at his alma mater, Texas A&M. The episode also includes a first-hand account of how former Ohio State football player Terrelle Pryor believes current NIL legislation could have changed the course of his career, along with insight from expert Dr. Billy Hawkins, PhD, who has devoted his life's work to studying the wealth transfer in collegiate sports.
Click here for a clip from the premiere episode.
The second episode airs on Saturday, Sept. 17 (2:00 PM, ET), with the third episode set for Saturday, Oct. 15 (2:30 PM, ET). Below is a breakdown of episodes two and three.
"BEYOND LIMITS: This Is Football"– Saturday, Sept. 17 at 2:00 PM, ET
This episode explores the Women's National Football Conference (WNFC), an amateur full-contact women's football league in the U.S. Host A.J. Ross examines the players at the center of this league and their goal of transcending the game they love, while delving into their mission: creating more equity in sports for women and girls and being serious contenders in the world of tackle football. The episode also highlights the league's founder, former NFL coach and National Women's Football Hall of Famer Odessa Jenkins.
"BEYOND LIMITS: Racing Toward History"– Saturday, Oct. 15 at 2:30 PM, ET

Through engaging interviews and vivid behind-the-scenes access, Ross explores the historic milestones a new generation of Black NASCAR drivers, pit crews, and owners are accomplishing. This episode features Rajah Caruth, a young rising star who is currently leading in the Automobile Racing Club of America Menard Series and is also a full-time HBCU student atWinston-Salem State University.
Ade Ellis, Niya Walker, Yaw Ofori-Atta, Ellis Williams, and David Cummings produce. Sarah M. Kazadi is Coordinating Producer, and Emilie Deutsch is VP, Original Programming and Features, CBS Sports.
Follow us on Twitter: @CBSSportsGang
Media Contact:
LeToya Bacon, 212-975-3548, LeToya.Bacon@viacomcbs.com