Release
VIEWERS HAVE WATCHED MORE THAN 752 BILLION MINUTES OF CBS THIS SEASON – FAR MORE THAN ANY OTHER BROADCASTER
They've Also Spent Nearly +35% More Time with CBS than the Combined Total Minutes Across Amazon, Hulu, Disney+ and Apple TV+.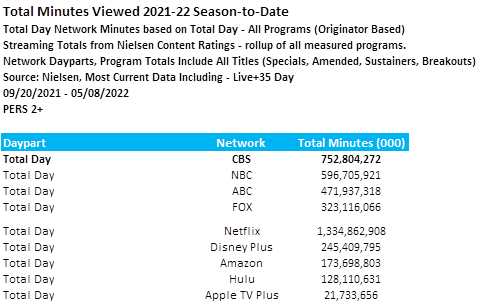 According to Nielsen Total Day "Most Current" data for the first 33 weeks of the 2021-2022 broadcast season, viewers have watched over 752 billion minutes of CBS programming across all dayparts, far more than any other broadcaster. CBS also surpasses the combined minutes watched on Nielsen-rated streaming services Disney+, Amazon Prime Video, Hulu and Apple TV+ by nearly +35%.
This aggregate viewership includes over 255 billion minutes watched of CBS primetime entertainment programming – nearly 90 billion more than the closest competitor.
"These audience engagement numbers speak loudly to the broad appeal of CBS programming across entertainment, news and sports and the strength of our broadcast platform," said George Cheeks, president and CEO of CBS. "All of this popular content is available live, and most is available on-demand to our streaming partner Paramount+, providing a marketing and programming differentiator to our fast-growing streaming service."
In sports, so far this season, viewers have spent nearly 211 billion minutes watching THE NFL ON CBS, college football, college basketball and the NCAA Men's Basketball Tournament, THE MASTERS, THE PGA TOUR, UEFA Champions League, NWSL and other events.
News content on the Network has aggregated over 137 billion minutes thus far this season, with CBS MORNINGS amassing over 48 billion minutes of viewing.
The Tuesday FBI franchise (FBI, FBI: INTERNATIONAL and FBI: MOST WANTED) leads all other network franchises with 43 billion minutes watched. The long-running NCIS franchise is also near the top with over 38 billion minutes.
CBS' success is also driven by having four of the top five scripted primetime series: FBI (17.0b), NCIS (16.1b), BLUE BLOODS (14.5b) and FBI: MOST WANTED (13.7b).
In late night, THE LATE SHOW with STEPHEN COLBERT has amassed 22.5 billion minutes, beating its closest competition by +55%.
Daytime is also dominant with nearly 134 billion minutes consumed. THE PRICE IS RIGHT leads all daytime shows with 43.5 billion minutes, and THE YOUNG AND THE RESTLESS is the top daytime drama with 36.6 billion minutes so far this season.
A fun fact regarding minutes spent with CBS programming is that CBS' top five primetime scripted programs (FBI, NCIS, BLUE BLOODS, FBI: MOST WANTED and NCIS: HAWAI'I) earn more total minutes watched combined than Netflix's top five original programs ("Ozark," "Squid Game" [English + Korean], "You," "Inventing Anna," "The Witcher").
(Source for all metrics: Nielsen Total Day P2+ Most Current Data 9/20/21-5/8/22)
***
Press Contact: