Release
CBS SPORTS TEES OFF 65th CONSECUTIVE SEASON OF PGA TOUR COVERAGE FEATURING 20 PGA TOUR EVENTS ORIGINATING FROM FOUR COUNTRIES

CBS Sports' 2022 PGA TOUR Season Begins with Farmers Insurance Open on Friday, Jan. 28 and Features a Special Saturday Finish
Increased Drone Usage, More Tracer Coverage than Ever Before, Graphic Enhancements and Virtual Interview Area Highlight 2022 Coverage Advancements
CBS Sports begins its 65th consecutive year of PGA TOUR coverage, as once again the network features the most comprehensive lineup in network television, with 20 total PGA TOUR events originating from four countries.
CBS Sports tees off its 2022 PGA TOUR season at the Farmers Insurance Open from Torrey Pines Golf Course in San Diego, Calif., with play concluding with a special Saturday finish. The third-round on Friday, Jan. 28 (5:00-8:00 PM, ET) and final-round on Saturday, Jan. 29, (4:30-8:00 PM, ET), will be broadcast on the CBS Television Network and streamed live on Paramount+.
Jim Nantz serves as CBS golf anchor, beginning with the Farmers Insurance Open, broadcasting the event live from the site of the AFC Championship game. Lead analyst Sir Nick Faldo, along with Ian Baker-Finch, Frank Nobilo and Trevor Immelman, handle announcing and analysis from the Super Tower throughout the season. Lead on-course reporter Dottie Pepper, with Mark Immelman and Colt Knost in an expanded role, along with reporter Amanda Balionis, round out the CBS golf announce team. Andrew Catalon will host select CBS broadcasts as well.
CBS Sports continues its legacy as the gold standard for broadcasting and innovation in golf television, building off last season's successful elements and enhancements including the constant leaderboard and rules official in conjunction with the PGA TOUR, among others.
This year, the network will add additional technology and equipment throughout the course of the season to enhance the broadcast and better serve viewers. Some of those developments include increased drone usage that present picturesque and never before seen views of the course to provide overviews of holes; additional cameras and more tracer coverage than ever before to showcase ball flight information and shot shaping on key holes; graphic enhancements – including utilizing more Shotlink data to provide additional data on a given player or hole through virtual overlays – and a new, virtual interview area for Balionis with augmented reality to better contextualize different holes and shots on the course.
Sellers Shy is lead producer, with Steve Milton as lead director, for CBS Sports' golf coverage. Sean McManus is Chairman, CBS Sports. David Berson is President, CBS Sports. Harold Bryant is Executive Producer and Executive Vice President, Production, CBS Sports.
CBS SPORTS' MULTI-PLATFORM COMPLEMENTARY GOLF PROGRAMMING
CBS Sports will provide multi-platform, complementary golf programming throughout the season as well. Beginning Monday, Jan. 24 (11:00 PM, ET), CBS Sports Network will air COURSE RECORD WITH MICHAEL BREED, featuring renowned golf instructor Michael Breed and co-host Greg DuCharme discussing the latest in the golf world.
Additionally, CBS Sports Network will air both classic PGA TOUR telecasts each week leading up to the tournament on CBS, as well as encores of CBS' final round coverage on Monday nights.
The CBS Television Network will broadcast, with Paramount+ streaming live, five PGA TOUR Specials and six Korn Ferry Tour Specials, multiple COURSE RECORD WITH MICHAEL BREED and FALDO FORMULA episodes, along with additional golf programming throughout the season leading into live golf coverage.
The CBS Television Network and CBS Sports Network will also each air an hour special highlighting the Advocates Professional Golf Association (APGA) Tour this summer, highlighting the stories of the golfers and the rich history of the Tour.
For all PGA TOUR events this year, CBS Sports' full coverage will be available to stream live in markets across the U.S. on Paramount+ with additional coverage on CBSSports.com, the CBS Sports app, and CBS Sports HQ, the 24/7 streaming sports news network.
The full 2022 CBS Sports PGA TOUR schedule is below: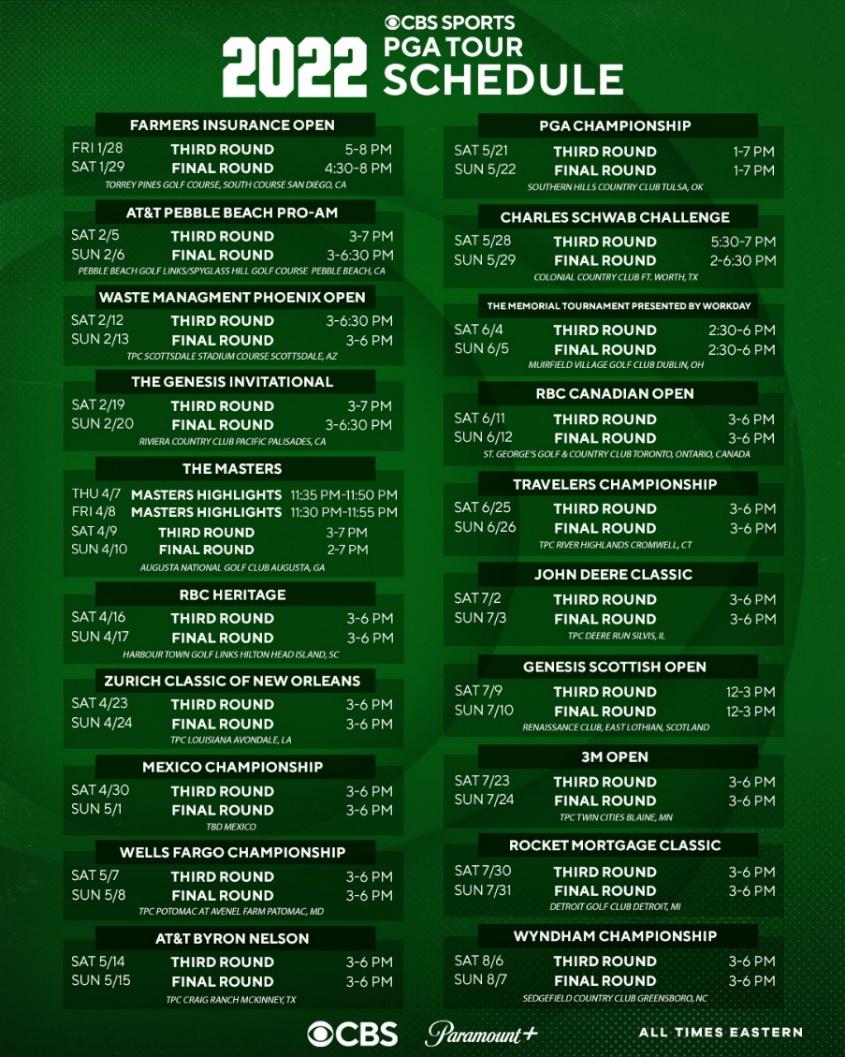 Follow us on Twitter: @CBSSportsGang and @GOLFonCBS
# # #