Release
Paramount+'s "Destination Miami" Brings CBS Sports' UEFA Champions League Studio Show to U.S. on Nov. 28-29
Kate Abdo, Thierry Henry, Jamie Carragher, Micah Richards and Peter Schmeichel to Lead CBS Sports' "UEFA Champions League Today" Studio Show from Miami's The Deck at Island Gardens
Former U.S. Men's National Team Stars and CBS Sports Soccer Analysts Clint Dempsey and Charlie Davies to Join Festivities
Paramount+ to Live Stream All UEFA Champions League Group Stage Matches at Special Two-Day Fan Experience "Destination Miami"
Click HERE to Register to Attend
NEW YORK – Oct. 24, 2023 – Paramount+, the home of every UEFA Champions League match, is bringing the world's most prestigious club tournament directly to American soccer fans with DESTINATION MIAMI, a special matchday viewing party on November 28-29. Against the backdrop of downtown Miami's waterfront, the two-day event brings CBS Sports' UEFA Champions League studio show back to the U.S. for the second consecutive year and provides soccer fans the opportunity to watch matches on Paramount+ surrounded by fellow fans.
Host Kate Abdo, alongside analysts Thierry Henry, Jamie Carragher, Micah Richards and Peter Schmeichel will lead CBS Sports' UEFA CHAMPIONS LEAGUE TODAY studio show coverage live in front of fans on-site at The Deck at Island Gardens in Miami, with televised coverage beginning at 1:00 PM, ET, each day. The two-hour pre-match and hour-long post-match studio shows will stream live on Paramount+ and air on CBS Sports Network each day.
Joining the on-set crew both days will be former U.S. Men's National Team soccer stars and hosts of CBS Sports' new show KICKIN' IT Clint Dempsey and Charlie Davies.
Paramount+, a leading destination for U.S. soccer fans, will provide a matchday experience for attendees that includes viewing areas displaying all UEFA Champions League matches from start to finish each day with watch party locations for fans of every club. THE GOLAZO SHOW, CBS Sports' live whip-around program highlighting every goal from the day's fixtures, will also be shown in fan viewing areas. In addition to being able to enjoy the matches and studio show in a live atmosphere with fellow fans, Paramount+ will also showcase the UEFA Champions League trophy and additional photo op and fan activations throughout. Food and drink will be available for purchase to event attendees.
Access to the event at The Deck at Island Gardens will open to fans at 11:00 AM, ET, each day and will continue until the conclusion of post-match coverage. Fans can register to attend by clicking here.
Additional details around CBS Sports' UEFA Champions League coverage on Nov. 28-29 will be announced at a later date.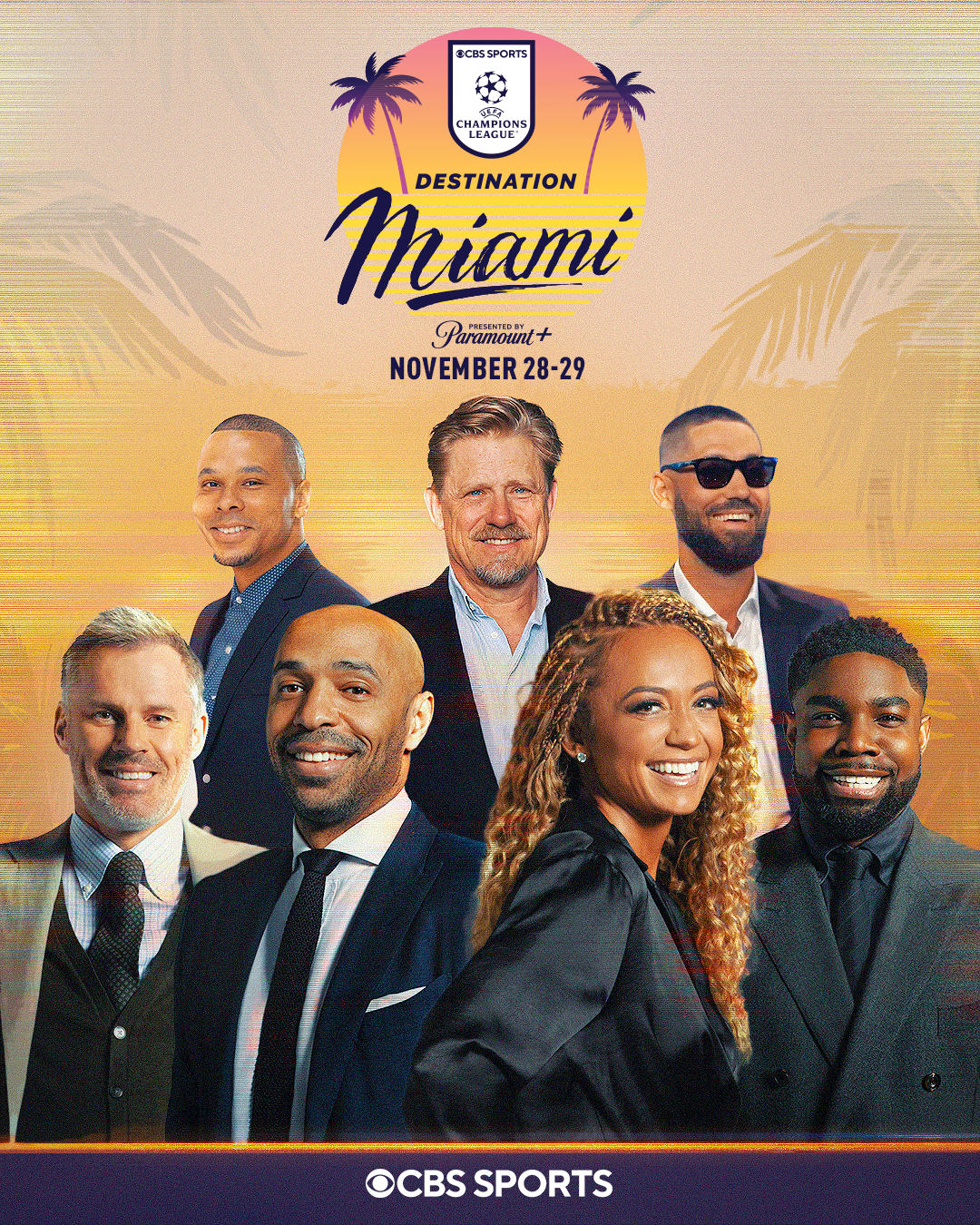 Press Contacts:
Paul-Michael Ochoa
paulmichael.ochoa@paramount.com
Caroline Goldberg