Release
CBS SPORTS' OCT. 4 UEFA CHAMPIONS LEAGUE STUDIO COVERAGE TO ORIGINATE LIVE FROM NEWCASTLE, ENGLAND
"UEFA Champions League Today" Studio Set to be Pitchside at St. James' Park Led by Kate Abdo, Thierry Henry, Jamie Carragher and Micah Richards
CBS Sports' UEFA CHAMPIONS LEAGUE TODAY studio show heads to Newcastle, England, on Wednesday, Oct. 4, with live pitchside coverage of the day's action coming from St. James' Park for Newcastle United's first UEFA Champions League home match in 20 years when they take on Paris Saint-Germain.
UEFA CHAMPIONS LEAGUE TODAY, CBS Sports' live pre-match, halftime and post-match studio show, will stream on Paramount+ and air on CBS Sports Network, with every match on Paramount+ and select matches airing on CBS Sports Network and CBS Sports Golazo Network, the free 24-hour soccer streaming network.
UEFA CHAMPIONS LEAGUE TODAY will originate from London on Tuesday, Oct. 3 and from Newcastle on Wednesday, Oct. 4, featuring host Kate Abdo alongside analysts Thierry Henry, Jamie Carragher and Micah Richards. Guillem Balagué will be on-site on Tuesday in Madrid while both Peter Schmeichel and Anita Jones are on-site in Manchester. Jones will also be pitchside in Newcastle on Wednesday.
Clive Tyldesley will lead play-by-play duties alongside match analyst Rob Green for Real Madrid vs. Napoli on Tuesday, while Dre Cordero will conduct play-by-play with match analyst Ray Hudson for Newcastle vs. PSG on Wednesday. CBS Sports' rules analyst Christina Unkel will contribute to coverage across all UEFA competitions.
Nico Cantor and Freddie Ljungberg lead THE GOLAZO SHOW, a live whip-around program showing every goal from every UEFA Champions League match on Paramount+. Cantor will be joined by Poppy Miller, Charlie Davies and Nigel Reo-Coker for Thursday's Europa League version of THE GOLAZO SHOW on Paramount+ and CBS Sports Network.
In addition to select live match coverage, CBS Sports Golazo Network will provide in-depth analysis of all UEFA club competitions across its live studio programming, including MORNING FOOTY, BOX 2 BOX and SCORELINE. The Network will also provide continued coverage and analysis with THE CHAMPIONS CLUB at 6:00 PM, ET, on each UCL matchday. KICKIN' IT, CBS Sports Golazo Network's new unfiltered interview show's third episode will air on Wednesday at 7 PM, ET, featuring U.S. Men's National Team and Premier League starting goalkeeper Matt Turner. CBS Sports will also provide additional editorial coverage on CBSSports.com, the Golazo Starting XI newsletter and across its @CBSSportsGolazo social accounts.
Below is next week's schedule for CBS Sports' coverage of UEFA Champions League, UEFA Europa League and UEFA Europa Conference League. Additional upcoming programming information will be announced at a later date.
UEFA Champions League Schedule
(All times ET)
Tuesday, Oct. 3
| | | |
| --- | --- | --- |
| Union Berlin vs. Braga | 12:45 PM | Paramount+ |
| Red Bull Salzburg vs. Real Sociedad | 12:45 PM | Paramount+ |
| UEFA Champions League Today Pre-Match | 2:00 PM | Paramount+ / CBS Sports Network |
| The Golazo Show | 3:00 PM | Paramount+ |
| Napoli vs. Real Madrid | 3:00 PM | Paramount+ |
| Manchester United vs. Galatasaray | 3:00 PM | Paramount+ |
| Lens vs. Arsenal | 3:00 PM | Paramount+ |
| Inter vs. Benfica | 3:00 PM | Paramount+ |
| PSV vs. Sevilla | 3:00 PM | Paramount+ / CBS Sports Golazo Network |
| Copenhagen vs. Bayern Munich | 3:00 PM | Paramount+ / CBS Sports Network |
| UEFA Champions League Today Post-Match | 5:00 PM | Paramount+ / CBS Sports Network |
| The Champions Club | 6:00 PM | CBS Sports Golazo Network |
Wednesday, Oct. 4
| | | |
| --- | --- | --- |
| Atlético Madrid vs. Feyenoord | 12:45 PM | Paramount+ / CBS Sports Golazo Network |
| Antwerp vs. Shakhtar Donetsk | 12:45 PM | Paramount+ |
| UEFA Champions League Today Pre-Match | 2:00 PM | Paramount+ / CBS Sports Network |
| The Golazo Show | 3:00 PM | Paramount+ |
| Newcastle vs. PSG | 3:00 PM | Paramount+ |
| Borussia Dortmund vs. AC Milan | 3:00 PM | Paramount+ |
| RB Leipzig vs. Manchester City | 3:00 PM | Paramount+ |
| Porto vs. Barcelona | 3:00 PM | Paramount+ |
| Crvena zvezda vs. Young Boys | 3:00 PM | Paramount+ / CBS Sports Golazo Network |
| Celtic vs. Lazio | 3:00 PM | Paramount+ / CBS Sports Network |
| UEFA Champions League Today Post-Match | 5:00 PM | Paramount+ / CBS Sports Network |
| The Champions Club | 6:00 PM | CBS Sports Golazo Network |
| Kickin' It Episode 3 | 7:00 PM | CBS Sports Golazo Network |
UEFA Europa League Schedule
(All times ET)
Thursday, Oct. 5
| | | |
| --- | --- | --- |
| UEFA Europa League Pre-Match Show | 12:00 PM | Paramount+ / CBS Sports Network |
| The Golazo Show | 12:45 PM | Paramount+ / CBS Sports Network |
| Freiburg vs. West Ham | 12:45 PM | Paramount+ |
| Marseille vs. Brighton | 12:45 PM | Paramount+ |
| AEK Athens vs. Ajax | 12:45 PM | Paramount+ |
| Real Betis vs. Sparta Praha | 12:45 PM | Paramount+ |
| Raków Częstochowa vs. Sturm Graz | 12:45 PM | Paramount+ |
| Bačka Topola vs. Olympiacos | 12:45 PM | Paramount+ |
| Aris Limassol vs. Rangers | 12:45 PM | Paramount+ |
| Sporting CP vs. Atalanta | 12:45 PM | Paramount+ / CBS Sports Golazo Network |
| Liverpool vs. Union Saint-Gilloise | 3:00 PM | Paramount+ |
| Roma vs. Servette | 3:00 PM | Paramount+ |
| Toulouse vs. LASK | 3:00 PM | Paramount+ |
| Maccabi Haifa vs. Panathinaikos | 3:00 PM | Paramount+ |
| Häcken vs. Qarabağ | 3:00 PM | Paramount+ |
| Molde vs. Bayer Leverkusen | 3:00 PM | Paramount+ |
| Slavia Praha vs. Sheriff | 3:00 PM | Paramount+ |
| Villarreal vs. Stade Rennais | 3:00 PM | Paramount+ / CBS Sports Golazo Network |
| UEFA Europa League Post-Match Show | 5:00 PM | Paramount+ / CBS Sports Network |
UEFA Europa Conference League Schedule
(All times ET)
Thursday, Oct. 5
| | | |
| --- | --- | --- |
| Astana vs. Viktoria Plzeň | 10:30 AM | Paramount+ |
| Beşiktaş vs. Lugano | 12:45 PM | Paramount+ |
| Bodø/Glimt vs. Club Brugge | 12:45 PM | Paramount+ |
| Gent vs. Maccabi Tel-Aviv | 12:45 PM | Paramount+ |
| Ballkani vs. Dinamo Zagreb | 12:45 PM | Paramount+ |
| Breiðablik vs. Zorya Luhansk | 12:45 PM | Paramount+ |
| KÍ Klaksvik vs. Lille | 12:45 PM | Paramount+ |
| Olimpija Ljubljana vs. Slovan Bratislava | 12:45 PM | Paramount+ |
| Aston Villa vs. Zrinjski | 3:00 PM | Paramount+ |
| Fiorentina vs. Ferencváros | 3:00 PM | Paramount+ |
| FC Spartak Trnava vs. Fenerbahçe | 3:00 PM | Paramount+ |
| FK Čukarički vs. Genk | 3:00 PM | Paramount+ |
| Nordsjælland vs. Ludogorets | 3:00 PM | Paramount+ |
| Aberdeen FC vs. HJK Helsinki | 3:00 PM | Paramount+ |
| AZ Alkmaar vs. Legia Warsaw | 3:00 PM | Paramount+ |
| PAOK vs. Eintracht Frankfurt | 3:00 PM | Paramount+ |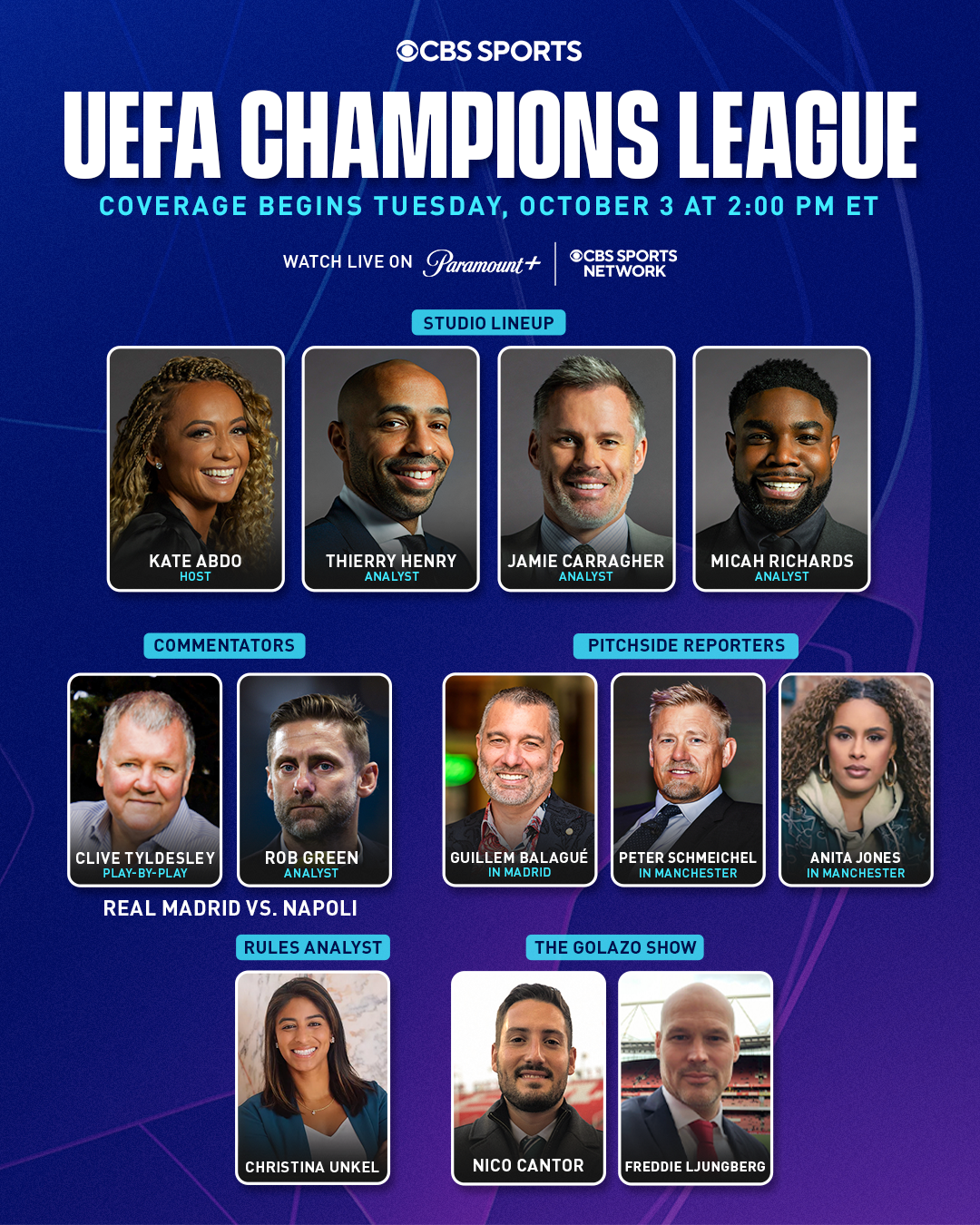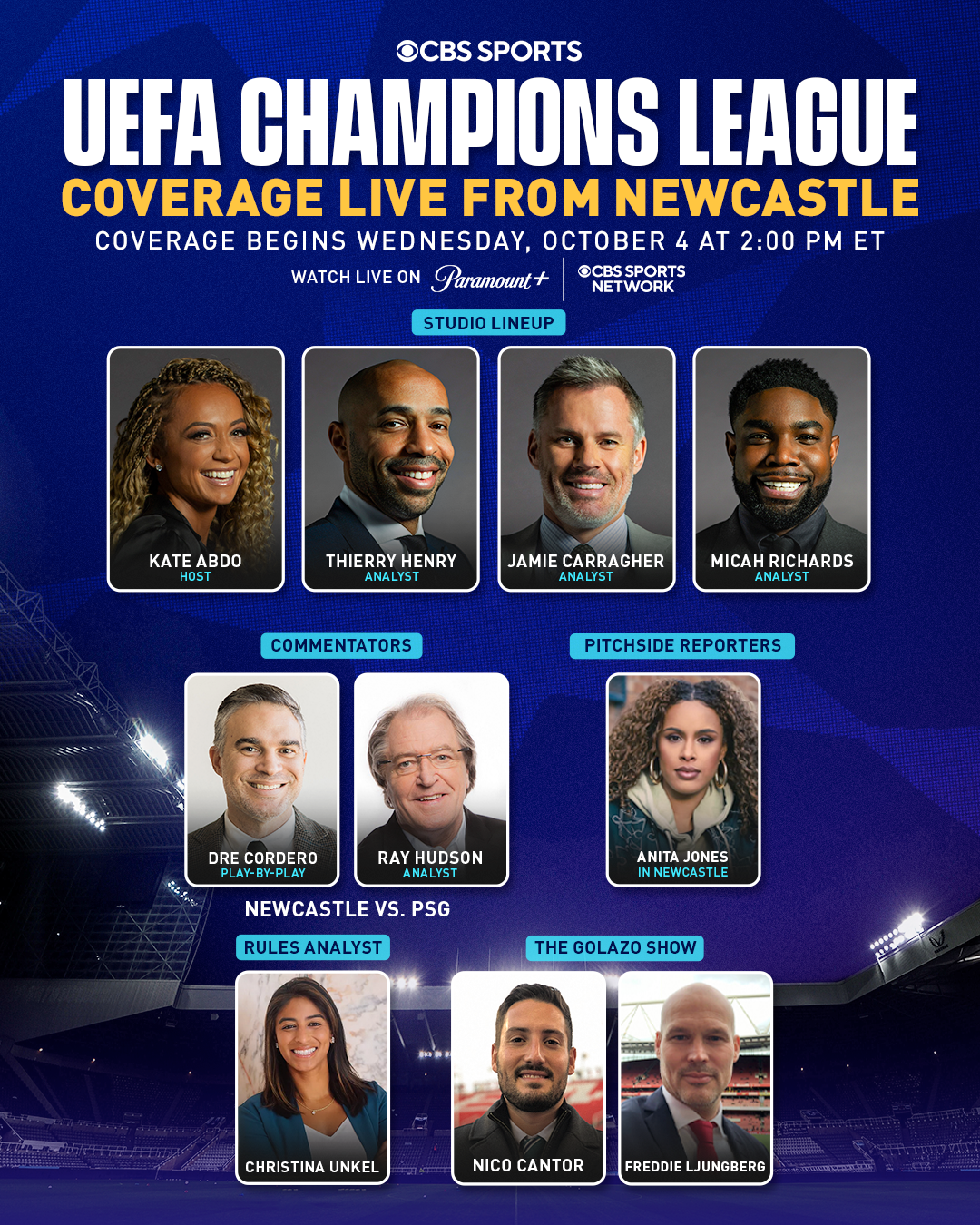 * * *
Press Contacts:
| | |
| --- | --- |
| Paul-Michael Ochoa | |
| Caroline Goldberg | |