Release
FIRST-OF-ITS-KIND CBS SPORTS GOLAZO NETWORK LAUNCHES ON APRIL 11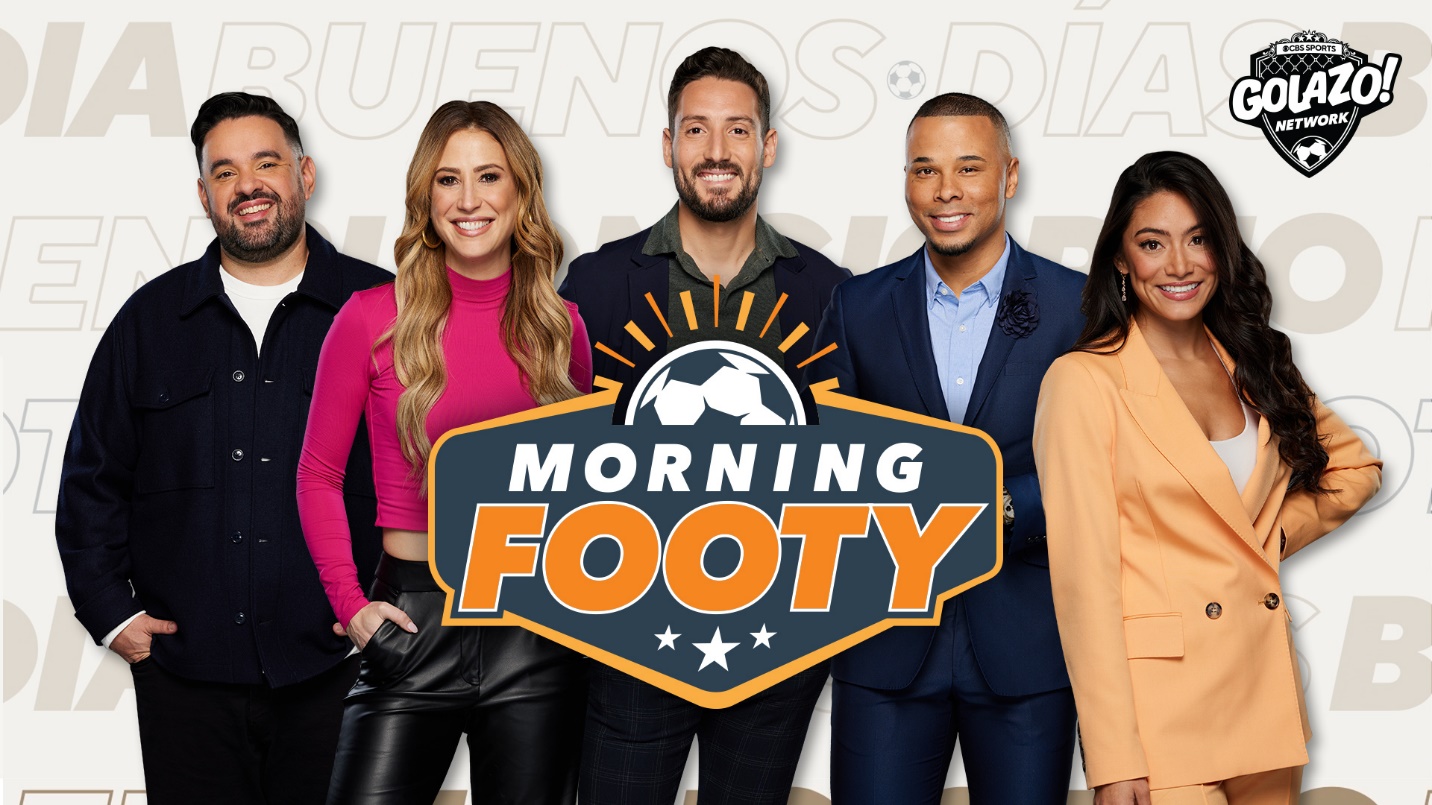 Mary Kouw/CBS
Click HERE to download Network photos and logos
Live Morning and Afternoon Weekday Shows Headline
CBS SPORTS GOLAZO NETWORK's Regular Studio Programming
Exclusive UEFA Champions League Coverage, Same-Day UCL Quarterfinal Encores and 12 Live Matches Highlight the Network's Early Match Programming
CBS SPORTS GOLAZO NETWORK will launch tomorrow, Tuesday, April 11, on CBS Sports platforms, Pluto TV and Paramount+ as a first-of-its-kind free, 24-hour direct-to-consumer digital network in the U.S. offering fans unparalleled coverage of all the top domestic and international soccer competitions across the world.
MORNING FOOTY, the Network's flagship morning show streaming live from 7:00-9:00 AM, ET, and the newly announced BOX 2 BOX will anchor CBS SPORTS GOLAZO NETWORK's live weekday studio programming lineup. MORNING FOOTY helps fans set their day with highlights, interviews and the storylines impacting soccer worldwide with hosts Susannah Collins, Charlie Davies, Nico Cantor, Alexis Guerreros and reporter Jenny Chiu.
BOX 2 BOX airs live on weekdays from 1:00-2:00 PM, ET, with host Poppy Miller and analysts Ian Paul Joy and Aaron West. The news-driven show updates fans on everything they need to know as it quickly recaps all the latest news and headlines. Reporters from the around the world will join BOX 2 BOX for up-to-date coverage, including Guillem Balagué, Anita Jones, Felipe Cárdenas and Jimmy Conrad, who will also contribute across the Network.
Live matches come to CBS SPORTS GOLAZO NETWORK beginning April 13. The Network will have a total of 12 live matches across its first two weeks, including from UEFA Europa League, UEFA Europa Conference League, Serie A, NWSL, Campeonato Brasileirão Série A, Scottish Professional Football League and Argentina Liga Profesional de Fútbol. Additionally, the Network will offer a live second-screen tactical cam for top UEFA Champions League and Serie A matches across the first two weeks. Details on live matches are below.
The programming lineup for CBS SPORTS GOLAZO NETWORK's April 11 premiere will include MORNING FOOTY, BOX 2 BOX as an exclusive special edition UEFA Champions League pre-match show, a live tactical cam for Manchester City-Bayern Munich, and multiple Network-exclusive post-match shows including THE CHAMPIONS CLUB, a live CBS Sports studio program hosted by Miller with extensive UCL match highlights and analysis. Beginning at 7 PM, ET, the Network will re-air CBS Sports' UEFA Champions League coverage, including both quarterfinal matches.
Throughout the UEFA Champions League quarterfinals, CBS SPORTS GOLAZO NETWORK will show same-day re-airs of both match legs between Chelsea-Real Madrid, Manchester City-Bayern Munich, Inter Milan-Benfica and Napoli-AC Milan. Re-airs as well as live matches will also be part of its UEFA Europa League programming.
Programming at launch also includes simulcasts of CALCIO E CAPPUCCINO, CBS Sports' Serie A studio show, magazine shows, Paramount+'s STORIES FROM THE BEAUTIFUL GAME soccer documentary collection and more.
CBS Sports will announce additional shows and programming at a later date.
At launch, the CBS SPORTS GOLAZO NETWORK will be available free on CBSSports.com, the CBS Sports app for connected TV devices, the CBS Sports mobile app and Pluto TV, as well as Paramount+ as the latest addition to the service's unmatched sports experience.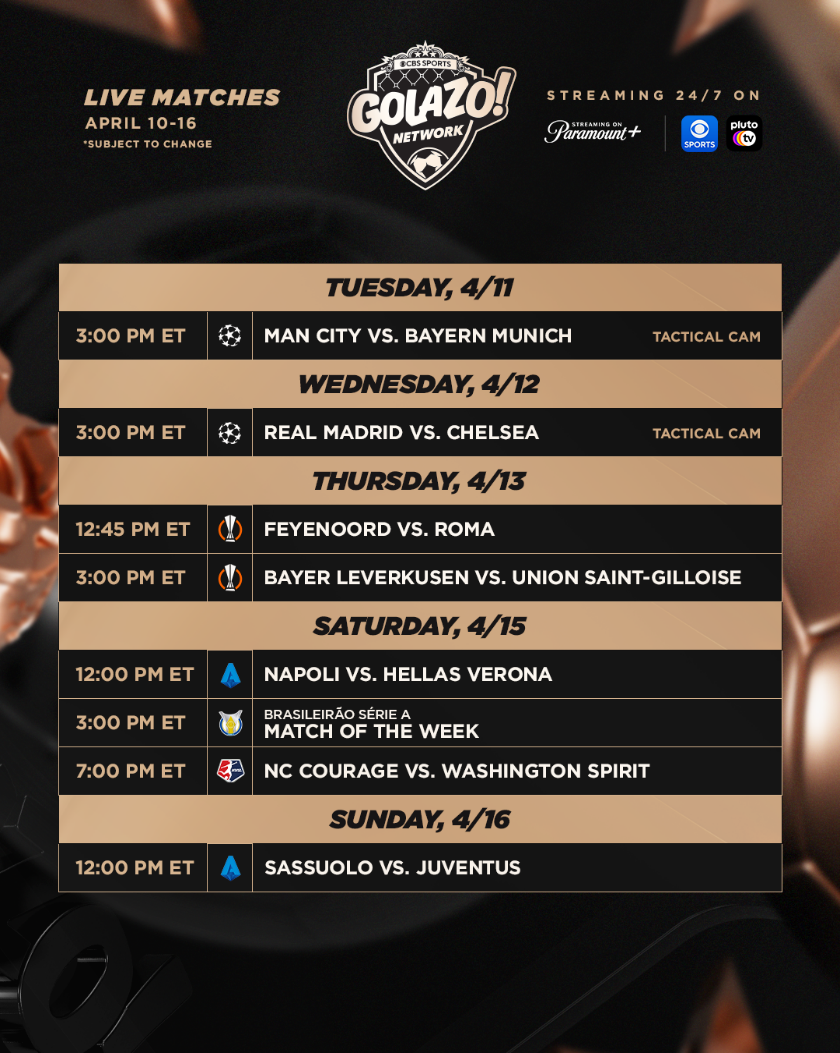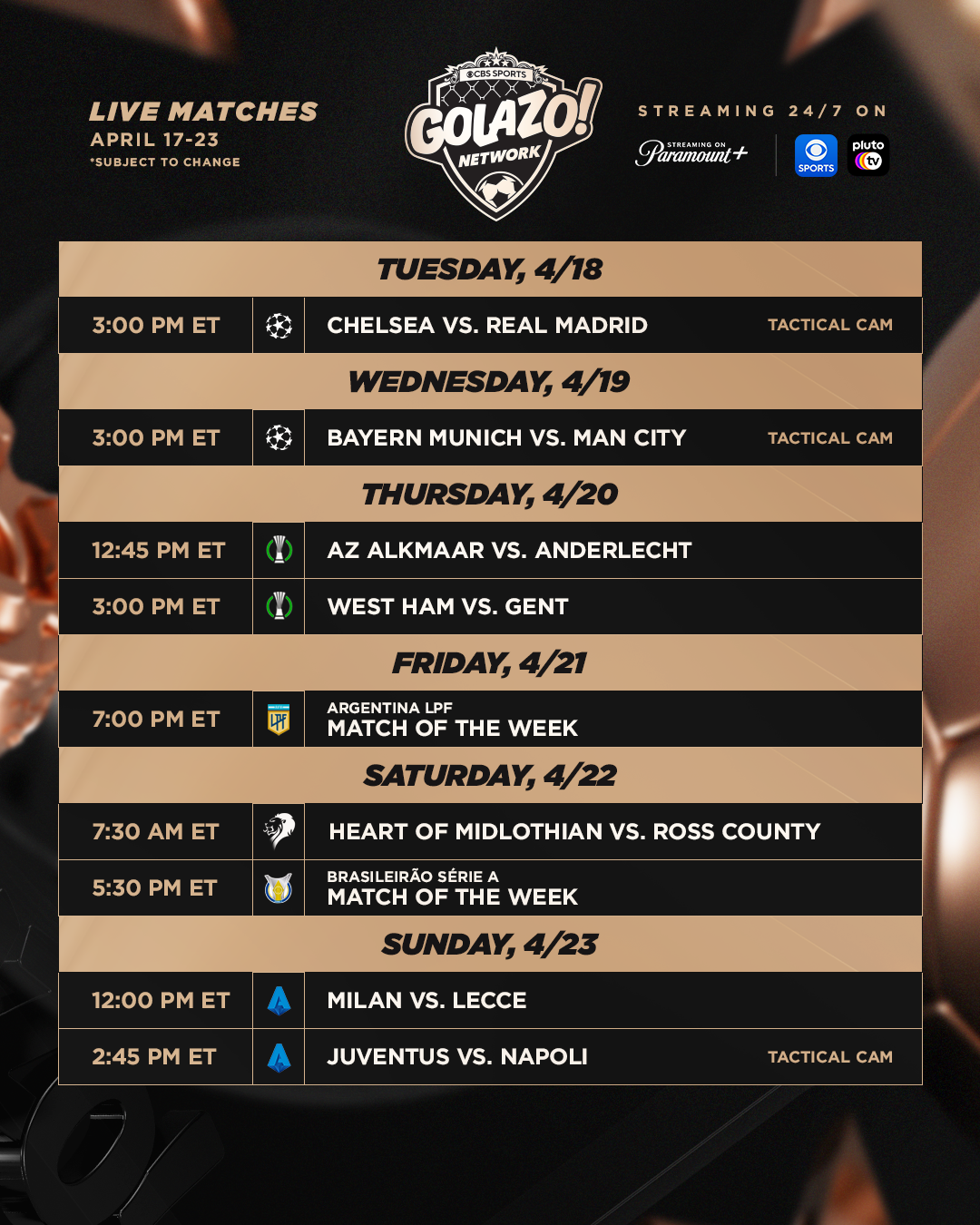 ***
CBS Sports Contact:
Jared Shanker jared.shanker@paramount.com