Release
CBS SPORTS TO PREMIERE ORIGINAL DOCUMENTARY "CROWN" IN CELEBRATION OF BLACK HISTORY MONTH
New Documentary Celebrating Black Hair in Sports to Debut on CBS Sports Network on Sunday, Feb. 19 with Encore Presentation on BET
Voiced by CBS Sports' "NFL Today" Analyst Nate Burleson, the Film Features Interviews with Julius "Dr. J" Erving, Carmelo Anthony, Jackie Joyner-Kersee and More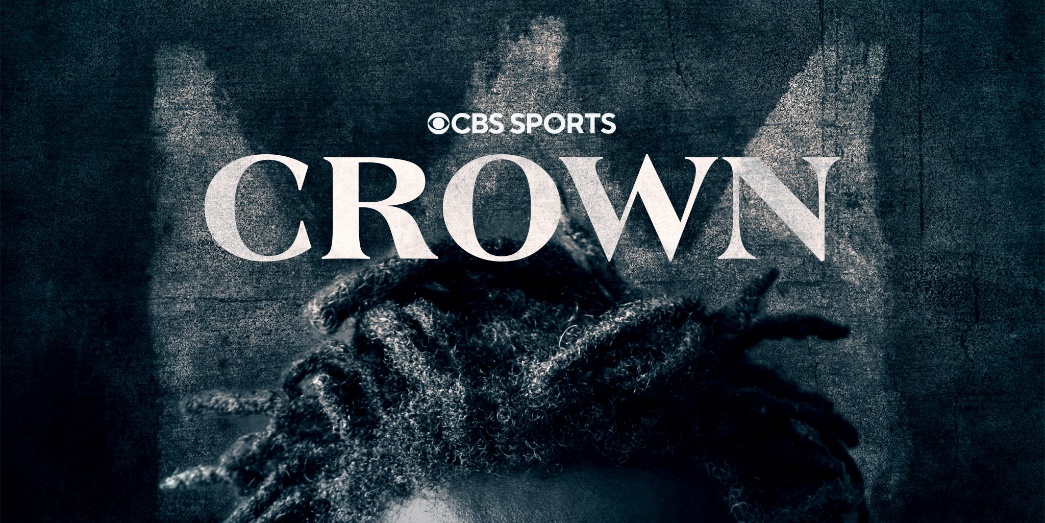 Click Here for the Trailer
CBS Sports will debut its original documentary CROWN on Sunday, Feb. 19 (6:00 PM, ET) on CBS Sports Network in celebration of Black History Month. The film will explore this country's complicated relationship with Black hair through a sports lens.
CROWN features iconic athletes – past and present – whose hair styles changed the game and helped Black Americans live authentically by embracing their hair. Featured interviews include NBA Hall of Famer Julius "Dr. J" Erving, three-time Olympic gold medalist Jackie Joyner-Kersee, seven-time WNBA All-Star and WNBA champion Nneka Ogwumike, three-time NBA champion A.C. Green, NFL Hall of Famer Edgerrin James and three-time NFL All-Pro and Super Bowl champion Tyrann Mathieu.
Interviewees also include Minnesota state representative Esther Agbaje; 10-time NBA All-Star Carmelo Anthony; six-time NBA All-Star Jimmy Butler; 2021 NCAA Division 1 Women's Basketball Tournament champion Haley Jones; Bill Reilly, the third Black player in the NHL; and 13-year NBA veteran Jalen Rose.
The film features Andrew Johnson, a former high school wrestler who was forced to cut his locs prior to taking the mat in a 2018 video that went viral. Johnson tells the story of the incident that helped sparked a movement leading to the CROWN Act, a bill that prohibits racial discrimination based on hair style or texture in the workplace and schools.
"Every strand tells a story, and we're grateful to be able to celebrate the beauty and versatility of Black hair in this unique way," said director Sarah Kazadi-Ndoye. "We understand how important these stories are to tell across our CBS Sports platforms and really wanted to honor these sports heroes who were unapologetic about their culture and heritage."
CBS Sports' NFL TODAY analyst and Emmy Award winner Nate Burleson narrates the film.
With additional commentary from Aidan Lloyd and his St. Olaf College football team, who started a barbershop on campus; and Ayana D. Byrd, co-author of Hair Story: Untangling the Roots of Black Hair in America; CROWN travels through the different evolutions of Black hair in sports and celebrates this integral part of the Black experience.
Following its premiere on CBS Sports Network, CROWN will also air on BET on Sunday, Feb. 26 (7:00 PM, ET).
CROWN is a production of CBS Sports. Sarah Kazadi-Ndoye serves as director for CROWN and senior producer of CBS Sports' race and culture unit. David Cummings serves as senior director of CBS Sports' race and culture unit. Jodi Logsdon serves as vice president and news director of CBS Sports. Emilie Deutsch serves as vice president of original programming and features. Ndidi Massay serves as vice president of workplace culture and diversity initiatives. Harold Bryant serves as executive producer and executive vice president of production.
***
CBS Sports Contacts:
Matthew Fils-Aime, matthew.fils-aime@viacomcbs.com
Caroline Goldberg, caroline.goldberg@viacomcbs.com