Release
CBS SPORTS' 2023 PGA TOUR SEASON HIGHLIGHTED BY NEW LEAD ANALYST TREVOR IMMELMAN AND BROADCAST COVERAGE OF ENTIRE FEDEXCUP PLAYOFFS FOR FIRST TIME

Jan. 18, 2023

CBS Television Network and Paramount+ to Air 23 PGA TOUR Events, Including 11 of 17 'Designated' Tournaments
2023 'Golf on CBS' Coverage Begins with Farmers Insurance Open on Friday, Jan. 27,
which Culminates with a Special Saturday Final-Round Finish
CBS Sports kicks off its 66th consecutive year televising the PGA TOUR next week, featuring Trevor Immelman as new lead analyst and the most comprehensive golf lineup in network television once again with multiplatform coverage of 23 PGA TOUR events in 2023 originating from four countries across the CBS Television Network and Paramount+.
The GOLF ON CBS schedule will culminate in August with weekend coverage of the PGA TOUR's entire FedExCup Playoffs for the very first time, and The CBS Television Network in 2023 also will be the broadcast home for 11 of the 17 designated PGA TOUR events.
CBS Sports' schedule gets underway at the Farmers Insurance Open from Torrey Pines Golf Course in San Diego, Calif., with a special Saturday final-round conclusion. The third round on Friday, Jan. 27 (5:00-8:00 PM, ET) and final round on Saturday, Jan. 28 (4:30-8:00 PM, ET), will be broadcast on the CBS Television Network and streamed live on Paramount+.
Jim Nantz will anchor the Network's coverage, beginning with the Farmers Insurance Open, which he'll call live from the site of the AFC Championship game. Immelman – 2008 Masters champion and captain of the 2022 Presidents Cup International team – will make his debut as CBS Sports' new lead golf analyst. Ian Baker-Finch and Frank Nobilo will join Nantz and Immelman to provide analysis from the Super Tower throughout the season. Lead on-course reporter Dottie Pepper, along with Mark Immelman and Colt Knost will offer perspective from inside the ropes and Amanda Renner will provide reports and conduct interviews. Andrew Catalon also will host select CBS broadcasts.
In collaboration with the PGA TOUR, CBS Sports in 2023 will continue to bring viewers closer to the competition and players, including through the use of innovative camera technologies as well as graphic enhancements to the constant leaderboard. Integrated player stats and swing data as well as virtual overlays will be utilized regularly within live coverage, and the Network's "Eye on the Course" commercial break format will allow viewers to continue following the action. CBS Sports also will expand its popular "on-course set" configuration featuring Renner and Knost, offering viewers a unique perspective for third round coverage at a handful of events.
Sellers Shy serves as lead producer for CBS Sports' golf coverage, alongside Steve Milton as lead director. Sean McManus is Chairman, CBS Sports. David Berson is President, CBS Sports. Harold Bryant is Executive Producer and Executive Vice President, Production, CBS Sports.
Complementing the Network's coverage of the PGA TOUR in 2023, CBS Sports also will feature live final round broadcasts of three LPGA Tour events:
Meijer LPGA Classic for Simply Give (Sunday, June 18; 2-4 PM, ET)
Greater Toledo LPGA Classic (Sunday, July 16; 3-5 PM, ET)
Dow Great Lakes Bay Invitational (Saturday, July 22; 4-6 PM, ET).
In addition to live tournament coverage in 2023, CBS Sports will provide multi-platform, complementary golf programming throughout the season. The Network will air six PGA TOUR Specials and six Korn Ferry Tour Specials, as well as several episodes of COURSE RECORD WITH MICHAEL BREED, along with additional golf programming throughout the season leading into live golf coverage.
CBS Sports Network also will air both classic PGA TOUR telecasts each week leading up to the tournament on CBS, as well as encores of CBS' final round coverage on Monday nights.
CBS Sports' full programming lineup of all PGA TOUR and LPGA Tour events, as well as additional golf shows will be available to stream on Paramount+. Additional coverage throughout the season will be available on CBSSports.com, the CBS Sports app, CBS Sports HQ – the 24/7 streaming sports news network, The First Cut podcast and @GolfonCBS social media platforms.
The full 2023 CBS Sports PGA TOUR schedule is below: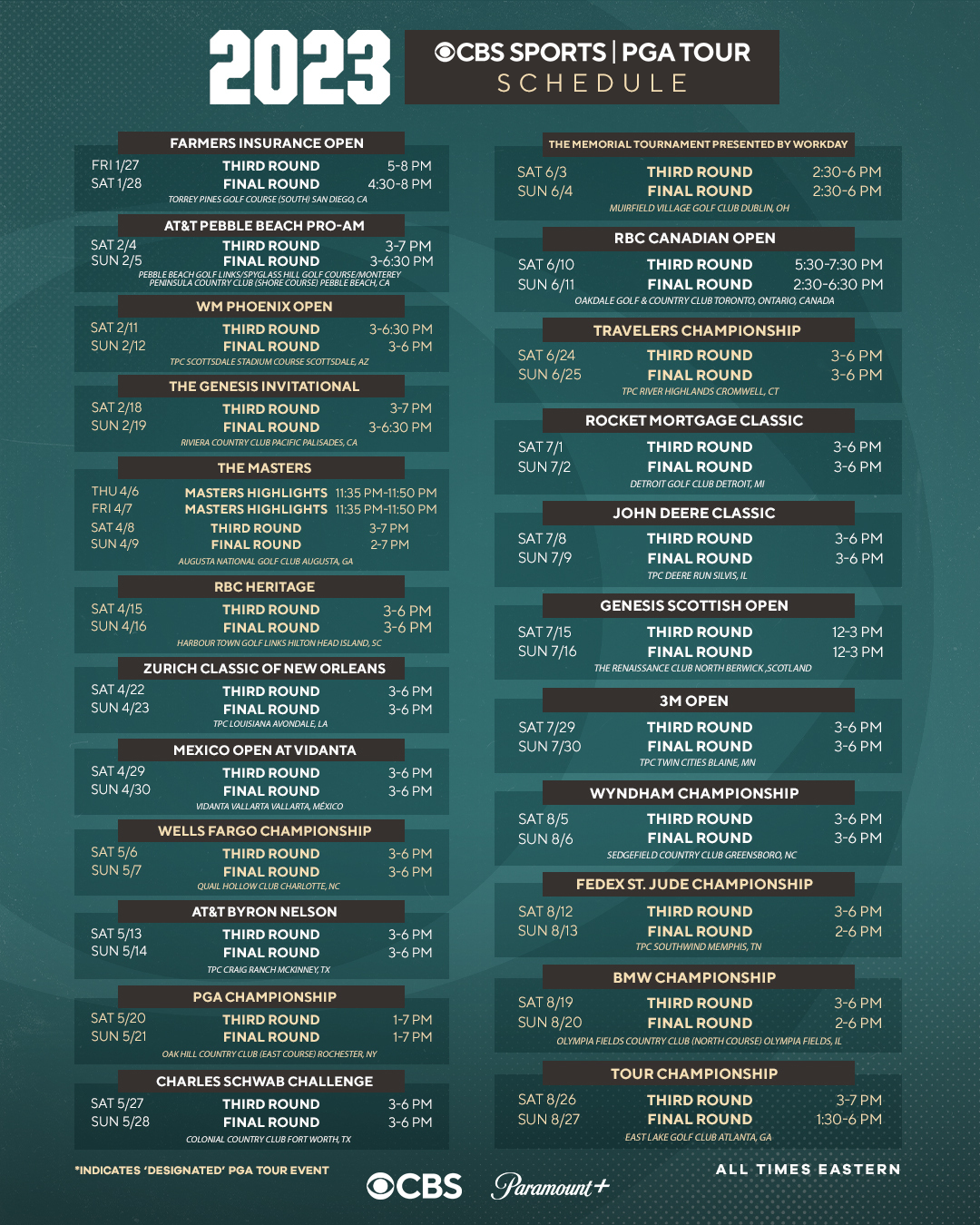 Follow us on Twitter: @CBSSportsGang and @GOLFonCBS
# # #
CBS Sports Contact:
Jeff Szklinski jeff.szklinski@paramount.com