Release
THOMAS DAVIS, KYLE LONG AND ADITI KINKHABWALA JOIN CBS SPORTS NETWORK'S 'THAT OTHER PREGAME SHOW' AS SHOW ENTERS 10TH YEAR
Adam Schein and Amy Trask Return for Their 10th Season on TOPS along with Jonathan Jones and Brock Vereen
THE NFL TODAY Analysts Nate Burleson, Bill Cowher, Boomer Esiason and Phil Simms to Appear Weekly
That Other Pregame Show Kicks off on Sunday, Sept. 11
Former All-Pro NFL standouts Thomas Davis and Kyle Long have been added as studio commentators on CBS Sports Network's THAT OTHER PREGAME SHOW (TOPS). Veteran NFL correspondent Aditi Kinkhabwala has joined as an on-site reporter.
TOPS kicks off its 10th year on Sunday, Sept. 11 and airs on Sundays from 9:00 AM–noon, ET through Week 10, and 8:00 AM–noon, ET throughout the rest of the regular season. TOPS will air a season preview episode on Wednesday, Sept. 7 at 7:00 PM, ET.
Host Adam Schein and Amy Trask in their 10th year on the show are joined by Brock Vereen, Davis, and Long, as well as analyst and lead NFL insider Jonathan Jones to preview the upcoming games with opinions, analysis, predictions and interviews. Jeff Ratcliffe and Keith Irizarry provide fantasy updates and advice, while Kinkhabwala provides on-site game reports. TOPS also features appearances by THE NFL TODAY analysts Nate Burleson, Bill Cowher, Boomer Esiason and Phil Simms as well as live interviews with CBS Sports' on-site game announcers.
Davis was drafted by Carolina with the 14th overall pick in the 2005 NFL Draft and played 14 seasons with the Panthers. He was selected to three Pro Bowls (2015-17) throughout his 16-year career and earned First-Team All-Pro in 2015 as well as Second-Team All-Pro in 2013. He was named the Walter Payton NFL Man of the Year in 2014 and the Bart Starr Award winner in 2016. Davis was an All-American linebacker during his collegiate career with Georgia.
Long first joined CBS Sports in 2020 as an analyst on TOPS before returning to football for a final season with Kansas City in 2021. He was drafted by the Chicago Bears with the 20th overall pick of the 2013 NFL Draft. During his career, he was a three-time Pro Bowl selection (2013-15) and earned Second-Team All-Pro honors in 2014. He played college football at Oregon.
Kinkhabwala is a panelist on CBS Sports' all-women studio show WE NEED TO TALK, as well as a co-host on 93.7 The Fan in Pittsburgh, the Pro Football Hall of Fame's "Football Heaven" podcast, and SiriusXM NFL radio. From 2012-2022, she served as a national correspondent at the NFL Network. Prior to joining NFL Network, Kinkhabwala spent two years covering the NFL at The Wall Street Journal.
Deb Gelman is the producer of THAT OTHER PREGAME SHOW, while Jay Kincaid directs. Tyler Hale is Vice President, Studio Production, CBS Sports and Harold Bryant is Executive Producer and Executive Vice President, Production, CBS Sports.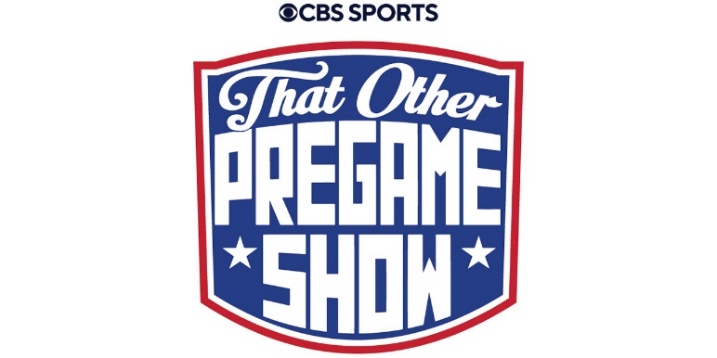 CBS Sports Contacts:
Bailey Knecht bailey.knecht@viacomcbs.com
Caroline Goldberg caroline.goldberg@viacomcbs.com