Release
CBS SPORTS' DEEP ROSTER OF ANNOUNCE TEAMS RETURNS FOR 2022 'NFL ON CBS' SEASON
Lead Team of Jim Nantz, Tony Romo and Tracy Wolfson are Back for Sixth Season Together
Week 1 Announcer Assignments Revealed
CBS Sports has unveiled its announcer lineup for the 2022 NFL ON CBS season, featuring a deep roster of experienced teams across the Network's game and studio coverage.
Jim Nantz, Tony Romo and Tracy Wolfson will team up for their sixth season together, calling the marquee game on CBS each week, as well as CBS Sports' Thanksgiving and Christmas games, the AFC Playoffs and the AFC Championship Game.
Further demonstrating the strength and stability of CBS Sports' roster, all NFL ON CBS announce teams from last season will return. Ian Eagle, Charles Davis and Evan Washburn will be back for their third season together as the No. 2 announce team. The full game announcer lineup is below, including Gene Steratore once again serving as NFL Rules Analyst.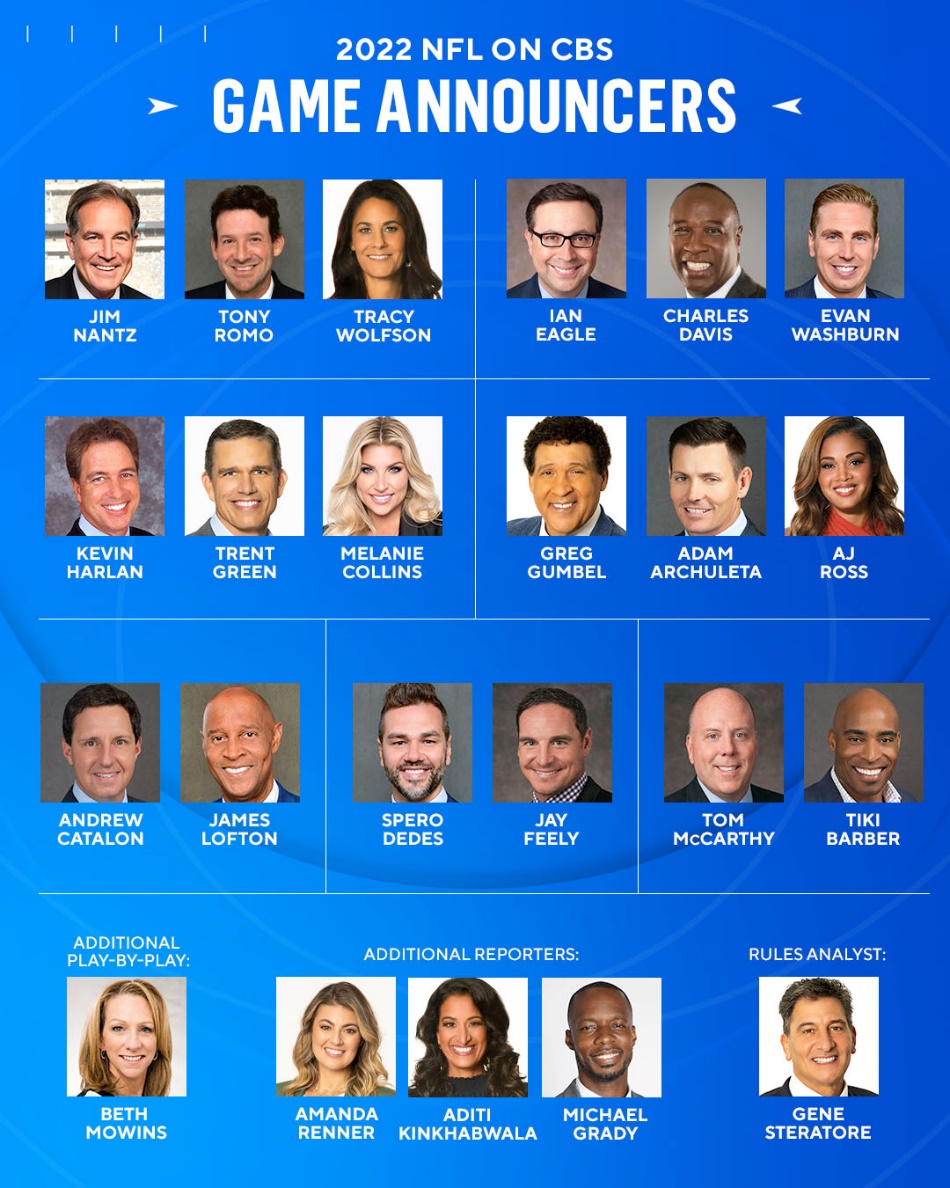 THE NFL TODAY will return with host James Brown alongside Boomer Esiason, Bill Cowher, Phil Simms and three-time Emmy-Award winner Nate Burleson for their sixth season together. Jonathan Jones joins the team as lead NFL insider.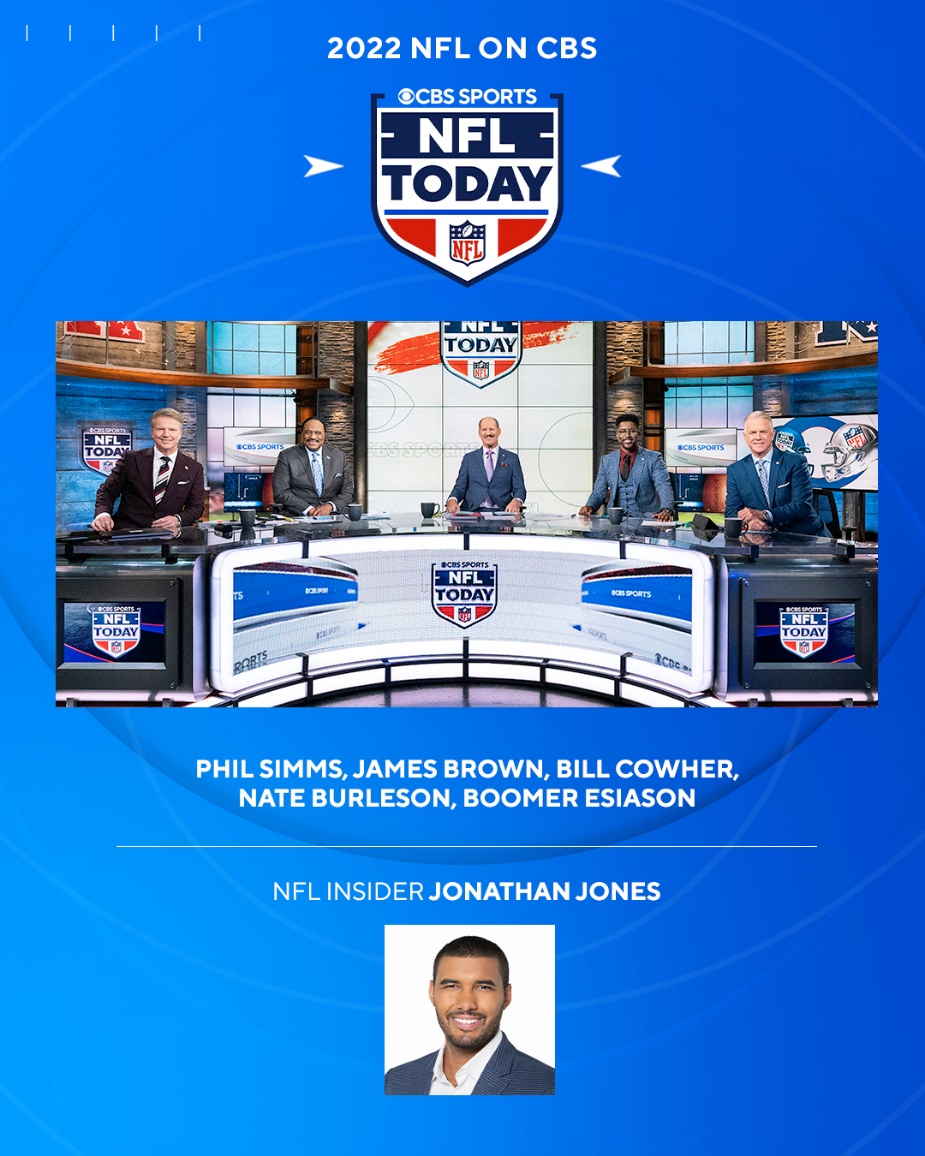 Jim Rikhoff is the lead game producer for THE NFL ON CBS, and Michael Arnold is the lead game director. Drew Kaliski is the producer for THE NFL TODAY, while Bob Matina directs.
Sean McManus is Chairman, CBS Sports, and serves as Executive Producer for THE NFL ON CBS. David Berson is President, CBS Sports. Harold Bryant is Executive Producer and Executive Vice President, Production, CBS Sports.
The 2022 NFL ON CBS schedule begins on Sunday, Sept. 11 and is available to viewers across the country on the CBS Television Network and will stream live on Paramount+ to subscribers, who can watch NFL ON CBS games that are broadcast in their local market.
The following are THE NFL ON CBS assignments for CBS Sports' Week 1 doubleheader.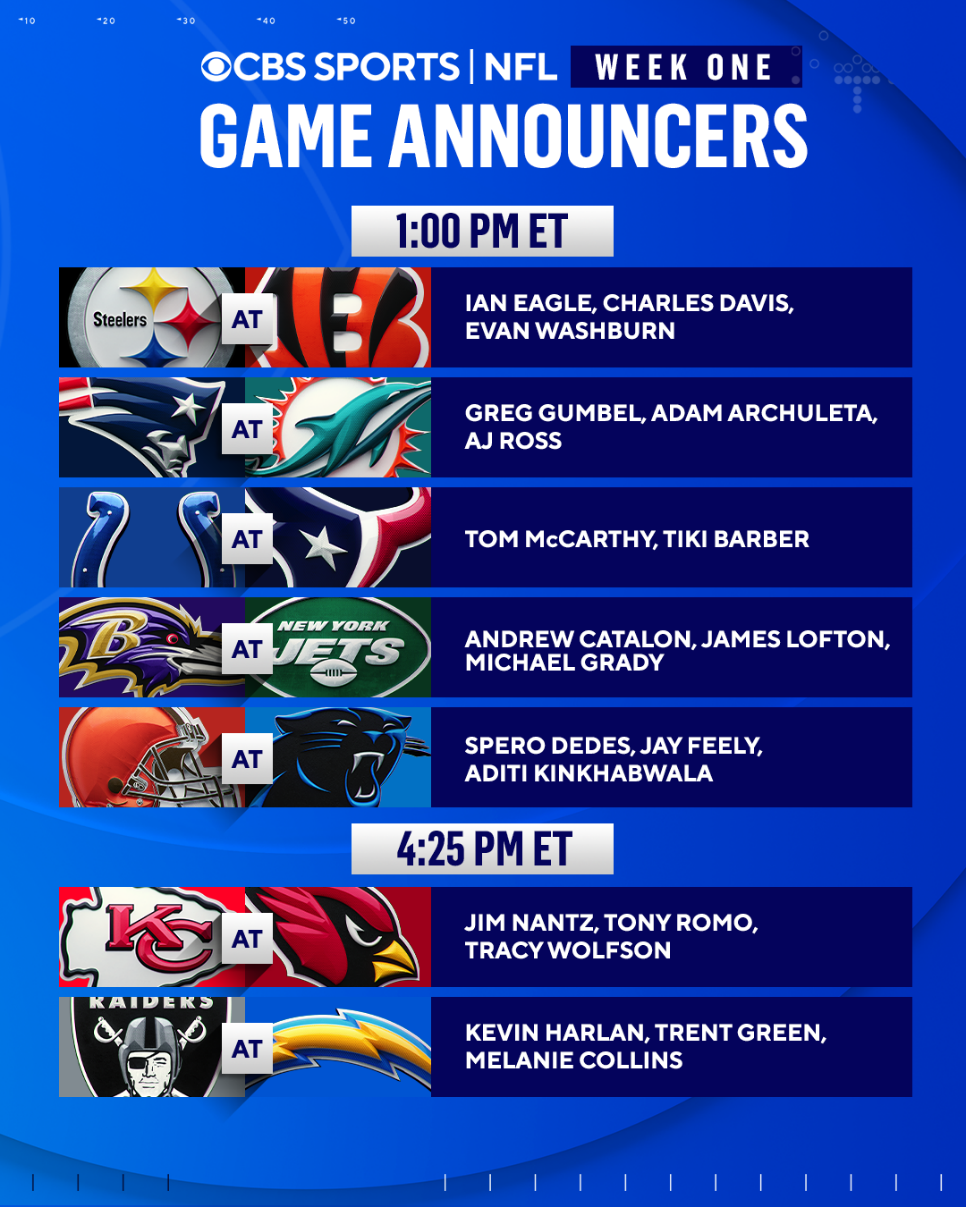 CBS Sports Contacts:
Randall Liu randall.liu@viacomcbs.com
Bailey Knecht bailey.knecht@viacomcbs.com