Release
CBS SPORTS NAMES JENNY DELL LEAD COLLEGE FOOTBALL REPORTER
SHERREE BURRUSS ELEVATED TO LEAD COLLEGE FOOTBALL REPORTER FOR CBS SPORTS NETWORK
CBS Sports has named Jenny Dell lead college football reporter, teaming her with Brad Nessler and Gary Danielson to call the CBS Television Network's top game each week, including the SEC ON CBS game of the week, beginning with the 2022 season.
Additionally, Sherree Burruss has been elevated to lead college football reporter for CBS Sports Network. Burruss will work throughout the season with Rich Waltz and Aaron Taylor. The announcements were made today by Harold Bryant, Executive Producer and Executive Vice President, Production, CBS Sports.
In addition to their college football reporting duties, both Dell and Burruss will continue in their anchor roles on CBS Sports HQ, the 24/7 streaming sports news service. In her new position, Burruss will also work select SEC ON CBS games throughout the year.
"Jenny and Sherree are talented, knowledgeable and respected reporters and we are excited to elevate their roles for our college football coverage," said Bryant. "Since joining CBS Sports, they both have grown and excelled with every assignment. We are confident the passion and authenticity they have displayed will be evident to the new college football fans they will be reaching."
Dell, who joined CBS Sports in 2014, most recently served as lead college football reporter for CBS Sports Network, a position she held since 2015. In addition to her role at CBS Sports HQ, she has also worked games as a sideline reporter for select SEC ON CBS and NFL ON CBS games. Prior to joining CBS Sports, Dell was as a reporter for New England Sports Network's coverage of the Boston Red Sox, delivering in-game reports, as well as news, updates, and interviews for NESN's pre- and post-game coverage. She also worked as a reporter for NESN Sports Today and served as NESN's lead reporter for the Red Sox's World Series championship season in 2013. Dell began her career as a production assistant at ESPN and later joined ESPN.com as an on-air reporter, covering Super Bowl XLIV and XLV, and appearing regularly on NFL Countdown Daily.
Burruss currently serves as a host and reporter for CBS Sports, contributing to the network's college football, NFL and college basketball coverage, as well as anchoring CBS Sports HQ. Burruss also contributes to CBS Sports' coverage of marquee events, including Super Bowl LV and the NCAA Division I Men's Basketball Tournament. Prior to joining CBS Sports in 2020, Burruss was the lead anchor and reporter for NBC 4 Washington (WRC) and served as the sideline reporter for Washington Commanders preseason games. She started her career in Columbia, Missouri covering news and sports as a reporter and anchor. She also worked for WGCL, the CBS affiliate in Atlanta, covering professional sports and the University of Georgia as a sports anchor and reporter.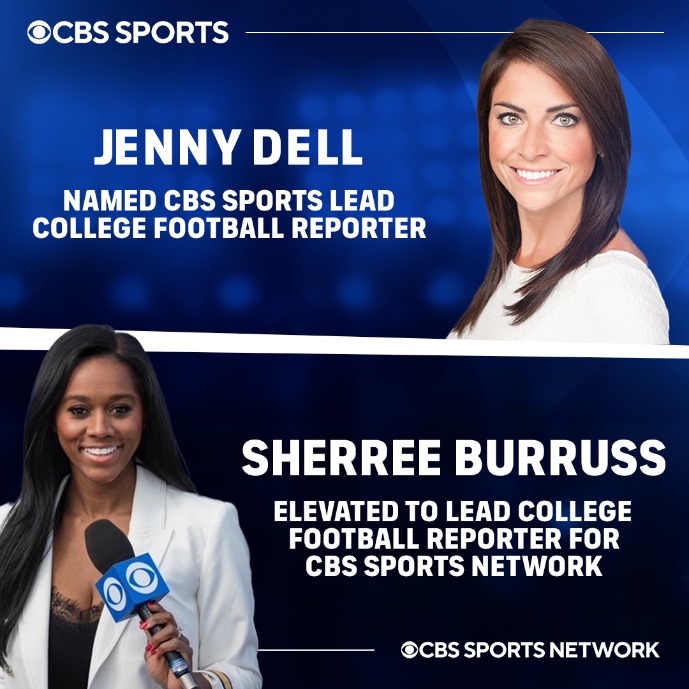 # # #
Media Contacts:
LeToya Bacon letoya.bacon@viacomcbs.com