Release
CBS SPORTS' "WE NEED TO TALK" CELEBRATES TITLE IX WITH TWO SPECIAL EPISODES NEXT WEEK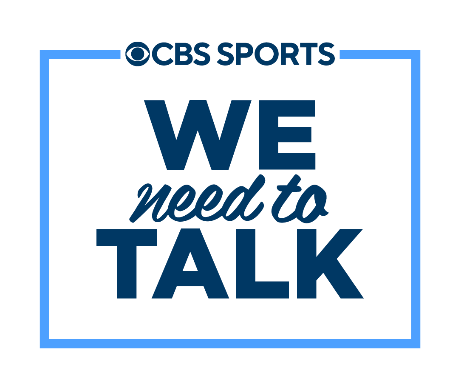 Episodes Highlighted by Women's Rights Advocates Chelsea Clinton, Ali Krieger, Nancy Hogshead-Makar and Catherine Lhamon, Basketball Standouts Azzi Fudd and Juju Watkins, and Track Champion Alysia Montaño
CBS and Paramount+ to Feature Day of Women's Sports Action on Sunday, June 19 with the WNBA and NWSL following WE NEED TO TALK
CBS Sports' all-women studio show WE NEED TO TALK celebrates the 50th anniversary of Title IX with special episodes next week on Sunday, June 19 (1:00 PM, ET) on the CBS Television Network and Paramount+, and on Thursday, June 23 (7:00 PM, ET) on CBS Sports Network.
The June 19th show features interviews with author and vice chair of the Clinton Foundation Chelsea Clinton, Title IX lawyer and Olympic gold medalist Nancy Hogshead-Makar, Department of Education Assistant Secretary for Civil Rights Catherine Lhamon, and NWSL player and equal pay activist Ali Krieger. Click here for a clip from the Clinton interview.
The show originates from sets in the CBS Broadcast Center in New York City and in front of a live studio audience at American University in Washington, D.C. Tracy Wolfson, Dara Torres and Sheryl Swoopes anchor coverage from New York City, while Jamie Erdahl and Summer Sanders report from Washington, D.C. Dana Jacobson and AJ Ross also contribute. The episode is sponsored by Massachusetts Mutual Life Insurance Company (MassMutual) and will kick off a day of women's sports programming on CBS and Paramount+, featuring the WNBA's Connecticut Sun vs. Washington Mystics (2:00 PM, ET) and the NWSL's NJ/NY Gotham FC vs. San Diego Wave FC (4:00 PM, ET).
The June 23rd show airs on the official 50th anniversary of the passage of Title IX, hosted by Wolfson, Torres, Swoopes, Sarah Kustok and Jenny Chiu. Guests include UConn basketball player Azzi Fudd, Sierra Canyon basketball standout Juju Watkins and track champion Alysia Montaño. Katrina Adams and Tina Cervasio also contribute with features on The Harlem Junior Tennis and Education Program and Title IX beyond athletics.
As previously announced, WE NEED TO TALK is also airing a four-part interview series on CBS Sports Network from June through July, with first-hand anecdotes and cross-generational conversations about the impact of Title IX. WE NEED TO TALK social channels are also featuring an exclusive interview series, featuring discussions about Title IX with current and former athletes. The campaign is a continuation of WE NEED TO TALK's yearlong commemoration of Title IX, which includes inspiring features and custom vignettes.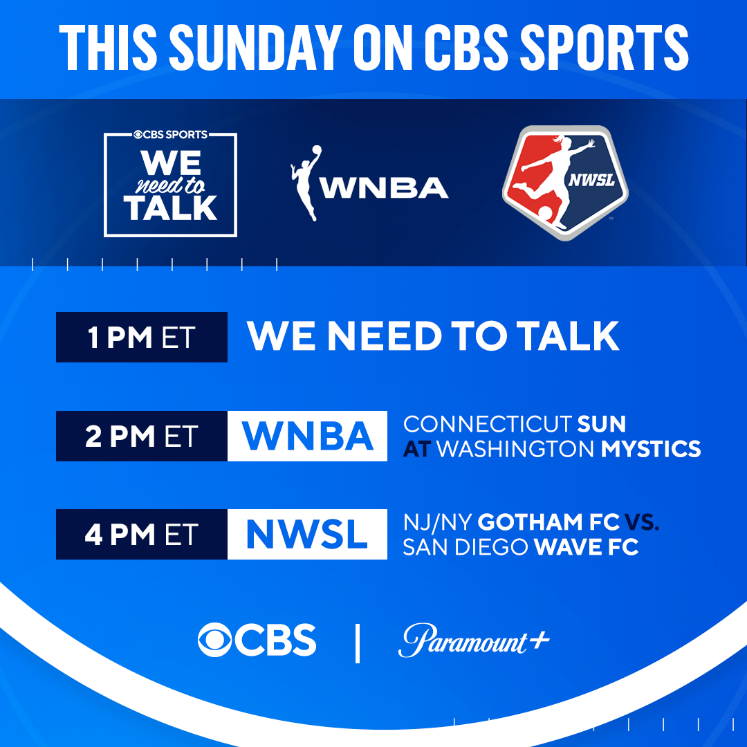 About WE NEED TO TALK
WE NEED TO TALK offers a unique take on the world of sports through the eyes of some of the most influential women in the business. The roster of commentators on this award-winning program includes prominent sports broadcasters Tracy Wolfson, Dana Jacobson, Tina Cervasio, Sarah Kustok, Jamie Erdahl, and AJ Ross; accomplished journalists Lesley Visser, Andrea Kremer, and Aditi Kinkhabwala; pioneering executives Katrina Adams and Amy Trask; and elite athletes Lisa Leslie, Swin Cash, Summer Sanders, Dara Torres, and Renee Montgomery. Between them, they have collected 22 Olympic medals, 14 Emmy Awards, two NFL Hall of Fame inductions, and dozens of groundbreaking firsts in the world of sports.
WE NEED TO TALK is led by Emmy Award-winning Coordinating Producers Emilie Deutsch and Suzanne Smith. Amy Salmanson and Julie Keryc produce with Smith directing. Follow WE NEED TO TALK on Twitter and Instagram.
Media Contacts:
Bailey Knecht, CBS Sports, bailey.knecht@viacomcbs.com