Storyline
FOR THE FIRST TIME EVER, "UNDERCOVER BOSS" FEATURES THE RETURN OF A BOSS, WHEN THE DIAMOND RESORTS CEO GOES BACK UNDERCOVER AND PRESENTS MORE THAN $1 MILLION IN REWARDS, ON FRIDAY, NOV. 30, ON CBS
Additional New Companies for Season Four Include PostNet, Kampgrounds of America (KOA) and Moe's Southwest Grill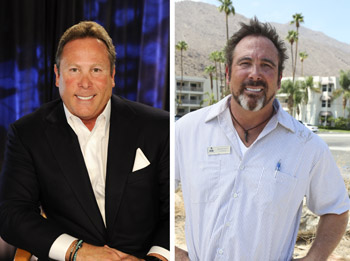 CHEAT TWEET: New #UndercoverBoss episodes include the return of @StephenCloobeck, @PostNet, KOA and @Moes_HQ http://bit.ly/XyPC2o
"Diamond Resorts: Take 2" – When Stephen J. Cloobeck, Chairman and CEO of Diamond Resorts International (originally featured on the "Diamond Resorts" episode on Jan. 15, 2012), obtains a new chain of resort properties, he goes on an undercover mission for a second time to see how the acquisition is going for the team members and from the perspective of a hotel guest, on UNDERCOVER BOSS, Friday, Nov. 30 (8:00-9:00 PM, ET/PT) on the CBS Television Networks. This episode marks the first time a boss has gone undercover twice and features the largest rewards yet, when Cloobeck concludes his undercover mission with more than $1 million worth of awards to his team members. Diamond Resorts International®, with global headquarters in Las Vegas, Nevada, is one of the largest hospitality companies in the world with more than 220 branded and affiliated resorts and over 27,000 guest beds in 28 countries.
Additional companies whose bosses have signed up for undercover missions this season include:
POSTNET (Steve Greenbaum, CEO and Co-Founder): PostNet Neighborhood Business Centers provide marketing services and specialize in meeting the design, printing and shipping needs of small businesses and entrepreneurs. Founded in 1993, PostNet has more than 700 locations worldwide.

KAMPGROUNDS OF AMERICA INC. (Jim Rogers, Chairman and CEO): Kampgrounds of America is the world's largest system of family friendly franchised and company-owned campgrounds, with 486 locations throughout North America.

MOE'S SOUTHWEST GRILL (Paul Damico, President): Moe's Southwest Grill is a fast-casual restaurant franchise featuring fresh, handmade, customizable southwestern food in a welcoming environment, with more than 470 locations in the U.S and abroad.
The air schedule for the new season of UNDERCOVER BOSS is as follows:
Friday, Nov. 9: TILTED KILT (8:00-9:00 PM, ET/PT)

Friday, Nov. 16: CINNABON (8:00-9:00 PM, ET/PT)

Friday, Nov. 30: DIAMOND RESORTS: TAKE 2 (8:00-9:00 PM, ET/PT)

Friday, Dec. 7: POSTNET (8:00-9:00 PM, ET/PT)
Kampgrounds of America Inc. and Moe's Southwest Grill will be featured on UNDERCOVER BOSS in 2013. Additional companies and airdates will be announced at a later date.
UNDERCOVER BOSS earned an Emmy Award for Outstanding Reality Program in 2012. Each week, the series follows a different executive as they leave the comfort of their corner office for an undercover mission to examine the inner workings of their companies. While working alongside their employees, they see the effects their decisions have on others, where the problems lie within their organizations and get an up-close look at both the good and the bad while discovering and rewarding the unsung heroes who make their companies run.
UNDERCOVER BOSS is produced by Studio Lambert, Ltd. Stephen Lambert, Eli Holzman and Chris Carlson are executive producers.
Photos are available on www.cbspressexpress.com
Website: http://www.cbs.com/shows/undercover_boss/
Facebook: http://www.facebook.com//#!/UndercoverBossCBS?fref=ts
Twitter: @undercover_cbs
CBS Twitter: http://twitter.com/#!/CBSTweet
Press Contacts:
Sienna Sanders 818-655-1582 sienna.sanders@cbs.com
Barbara Abseck 212-975-4637 beabseck@cbs.com
Photo Contacts:
Heather Wines 212-975-1079 hwines@cbs.com
Kathleen Tanji 818-655-1543 kathleen.tanji@cbs.com