Storyline
HONDO AND DEACON RACE TO SAVE THE LIVES OF INNOCENT CIVILIANS WHEN FOUR ESCAPED PRISONERS TAKE CONTROL OF A COURTHOUSE, ON S.W.A.T., WEDNESDAY, MAY 12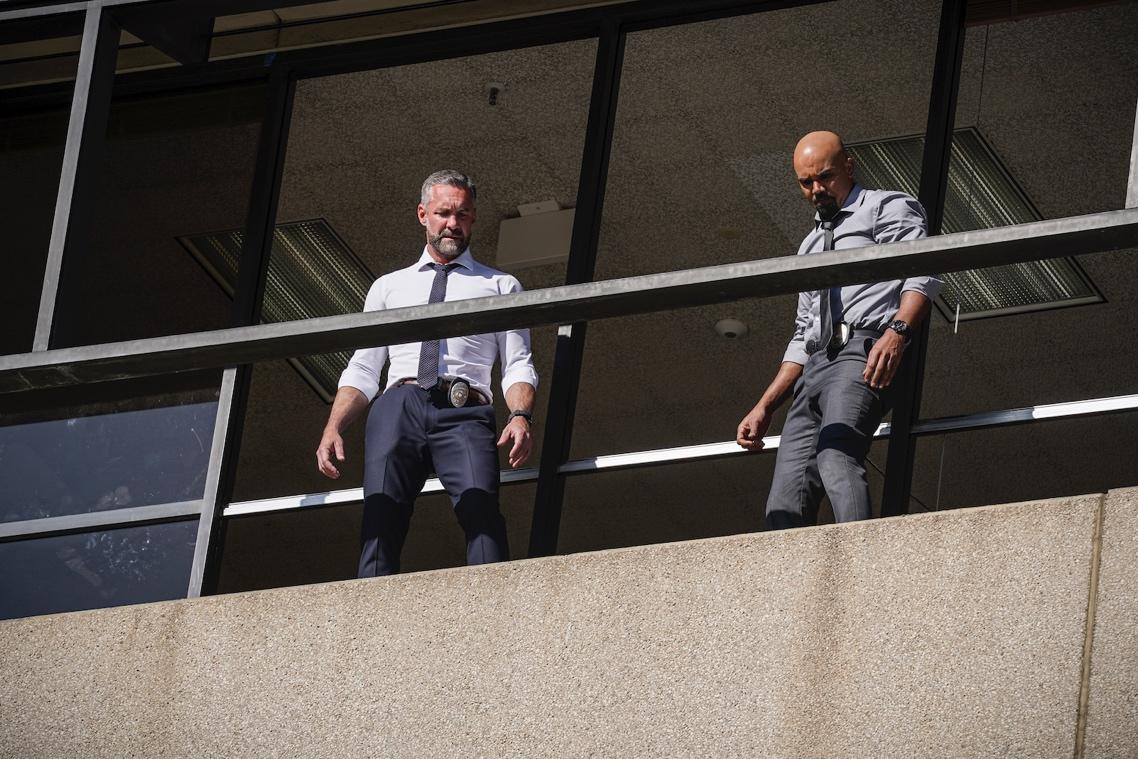 "Lockdown" – When four escaped prisoners take control of a courthouse with Hondo and Deacon inside but unarmed, the two race to save the lives of innocent civilians while trying to avoid detection themselves. Also, Street visits his mother, Karen (Sherilynn Fenn), in the hospital and faces a pivotal decision, on S.W.A.T., Wednesday, May 12 (10:00-11:00 PM, ET/PT), on the CBS Television Network.
REGULAR CAST:
| | |
| --- | --- |
| Shemar Moore | (Daniel "Hondo" Harrelson) |
| Alex Russell | (Jim Street) |
| Jay Harrington | (David "Deacon" Kay) |
| Lina Esco | (Christina "Chris" Alonso) |
| Kenny Johnson | (Dominique Luca) |
| David Lim | (Victor Tan) |
| Patrick St. Esprit | (Commander Robert Hicks) |

GUEST CAST:
Sherilynn Fenn

Norma Kuhling

J. Anthony Pena

Paul Lincoln Alayo

Kelli Dawn Hancock

Andy Martinez Jr.

John Eddins

Sohm Kapila

Jon Chaffin

Diana Tanaka

(Karen Street)

(Nora Fowler)

(Sergio)

(Adrian)

(Deputy Ross)

(Deputy Weber)

(Deputy Hansen)

(Dr. Hale)

(Jacobs)

(Judge Vang)

WRITTEN BY: Kent Rotherham & Robert Wittstadt
DIRECTED BY: Maja Vrvilo
GENRE: Drama
Click HERE for photos.
Official CBS website: http://www.cbs.com/shows/swat/
CHEAT TWEET: Hondo & Deacon are unarmed as they race to save the lives of innocent civilians when escaped prisoners take control of a courthouse, on an ALL NEW @SWATCBS 5/12 10pm ET/PT #CBS https://bit.ly/3b3uAnR
Facebook: https://www.facebook.com/SWATCBS/
Twitter: https://twitter.com/swatcbs
Instagram: @SWATCBS
CBS Twitter: @cbstweet
Cast and crew on social:
| | | |
| --- | --- | --- |
| Shemar Moore | Twitter: @shemarmoore | Instagram: @shemarfmoore |
| Alex Russell | Twitter: @alex_russell | Instagram: @alexrussell |
| Jay Harrington | Twitter: @jayharrington3 | Instagram: @jayharrington3 |
| Lina Esco | Twitter: @linaesco | Instagram: @linaesco |
| Kenny Johnson | Twitter: @thekennyjohnson | Instagram: @thekennyjohnson |
| David Lim | Twitter: @davidbradleylim | Instagram: @davidbradleylim |
| Patrick St. Esprit | Twitter: @patrickstesprit | Instagram: @patrickstesprit |
| Amy Farrington | Twitter: @amyKfarrington | Instagram: N/A |
| SWAT Writers' Room | Twitter: @SWATWritersRoom | Instagram: @swatwriters |
| Shawn Ryan | Twitter: @ShawnRyanTV | Instagram: N/A |
| Aaron Rahsaan Thomas | Twitter: @ARThomasTV | Instagram: @arthomastv |
| Otis "Odie" Gallop | Twitter: @odiegallop | Instagram: @odiegallop |

* * *
Press Contacts:
| | | |
| --- | --- | --- |
| Noelle Llewellyn | 212-975-4574 | |
| Shawna Malcom | 818-655-1589 | |
Photo Contacts:
| | | |
| --- | --- | --- |
| Gaye Ann Bruno | 818-655-1542 | |
| Gail Schulman | 212-975-0897 | |