Storyline
CASTAWAYS ARE OFFICIALLY MERGED INTO ONE TRIBE, AND INDIVIDUAL IMMUNITY IS NOW ON THE LINE, ON "SURVIVOR," WEDNESDAY, APRIL 20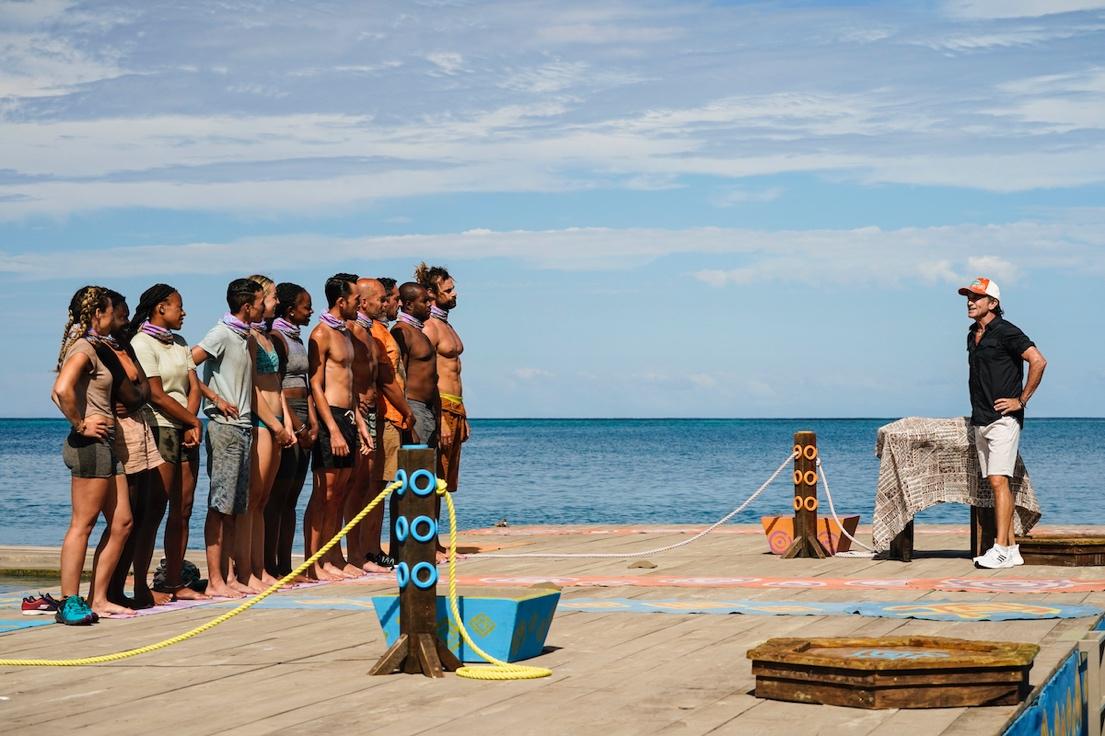 "You Better Be Wearing a Seatbelt" – Castaways are officially merged into one tribe, and individual immunity is now on the line. At the challenge, castaways try to negotiate with Jeff to get four days' worth of rice for their tribe, on the CBS Original series SURVIVOR, Wednesday, April 20 (8:00-9:00 PM, ET/PT) on the CBS Television Network, and available to stream live and on demand on Paramount+*.
The following are the 18 castaways competing in the 42nd edition of SURVIVOR:
VATI Tribe (Green):
Jenny Kim, creative director (3rd Eliminated)
Chanelle Howell, executive recruiter
Lydia Meredith, waitress (6th Eliminated)
Mike Turner, retired firefighter
Daniel Strunk, law clerk (5th Eliminated)
Hai Giang, data scientist
TAKU Tribe (Orange):
Marya Sherron, stay-at-home mom (2nd Eliminated)
Lindsay Dolashewich, dietitian
Maryanne Oketch, seminary student
Jackson Fox, healthcare worker (Exited game)
Omar Zaheer, veterinarian
Jonathan Young, beach service co. owner
IKA Tribe (Blue):
Drea Wheeler, fitness consultant
Tori Meehan, therapist
Swati Goel, Ivy League student (4th Eliminated)
Rocksroy Bailey, stay-at-home dad
Romeo Escobar, pageant coach
Zach Wurtenberger, student (1st Eliminated)
SURVIVOR is hosted by Emmy Award-winning host Jeff Probst and produced by S.E.G. Holdco., LLC. Mark Burnett, Jeff Probst, Matt Van Wagenen, Kahaia Pearson and Jesse Jensen are executive producers.
*Paramount+ Premium subscribers will have access to stream live via the live feed of their local CBS affiliate on the service as well as on demand. Essential-tier subscribers will have access to on-demand the day after the episode airs.
CHEAT TWEET: The tribes are officially merged into 1, and individual immunity is up for grabs! On an all-new @SurvivorCBS 4/20 8-9 PM, ET/PT @CBS. @JeffProbst hosts! https://bit.ly/37P18my
For more information on SURVIVOR, log onto:
https://www.viacomcbspressexpress.com/cbs-entertainment/shows/survivor/
Click HERE for photos
Facebook: http://www.facebook.com/Survivor
Twitter: http://twitter.com/survivorcbs
Instagram: @officialsurvivor_CBS
CBS Twitter: https://twitter.com/cbs
CBS PR Twitter: @cbstweet
CBS Instagram: https://www.instagram.com/cbstv
CBS TikTok: https://www.tiktok.com/@cbs
Jeff Probst on Twitter and Instagram: @jeffprobst
***
Press Contacts:
| | | |
| --- | --- | --- |
| Lori DelliColli | 603-824-6300 | |
| Shawna Malcom | 818-655-1589 | |
Photo Contact:
| | | |
| --- | --- | --- |
| Gail Schulman | 908-251-0798 | |