Storyline
WHEN A DEAD BODY IS FOUND AT AN ANCIENT BURAL SITE, THE TEAM TRIES TO FIGURE OUT THE MOTIVE AND SYMBOLISM BEHIND THE CRIME, ON "NCIS," MONDAY, OCT 3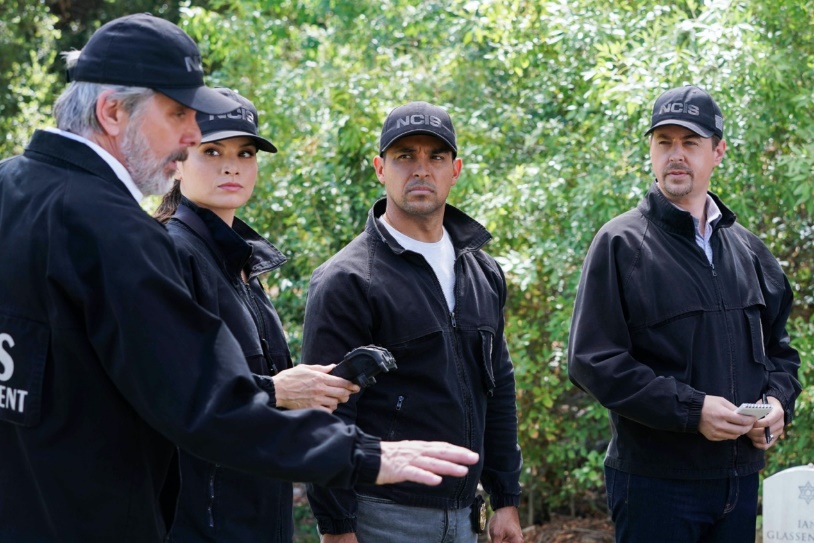 "Unearth" – When a dead body is found at an ancient burial site that is thought to be cursed, the team tries to determine the motive and the symbolism behind the crime. Also, as Torres continues therapy with Dr. Grace, he discovers that their lives are in danger, on the CBS Original Series NCIS, Monday, Oct 3 (9:00-10:00 PM, ET/PT) on the CBS Television Network and available to stream live and on demand on Paramount+*.
REGULAR CAST:
Sean Murray

(NCIS Special Agent Timothy McGee)

Wilmer Valderrama

(NCIS Special Agent Nicholas "Nick" Torres)

Brian Dietzen

(Medical Examiner Jimmy Palmer)

Diona Reasonover

Katrina Law

(Forensic Scientist Kasie Hines)

(NCIS Special Agent Jessica Knight)

Rocky Carroll

Gary Cole

(NCIS Director Leon Vance)

(FBI Special Agent Alden Parker)
GUEST CAST:
| | |
| --- | --- |
| Laura San Giacomo | (Dr. Grace Confalone) |
| Laith Wallschleger | (Erik Nilsson/Dozer) |
| Jonathan Kowalsky | (Nate Holt/Rookie) |
| Billy Miller | (Ezra Moretti/Second Man) |
| Beth Fraser | (Reporter #1) |
| Danny Royce | (Reporter #2) |
| Jane Carr | (Dr. Erica Heller) |
| Mike McShane | (Dr. Matthew Heller) |
| Grace Narducci | (Nicole) |
| Deborah Vancelette | (Nurse) |
| Marty Dew | (Daniel Vega) |
WRITTEN BY: Yasemin Yilmaz
DIRECTED BY: Diana Valentine
GENRE: Drama
Click HERE for Photos
Official CBS website: http://www.cbs.com/primetime/ncis/
*Paramount+ Premium subscribers will have access to stream live via the live feed of their local CBS affiliate on the service as well as on-demand. Essential tier subscribers will have access to the on-demand the following day after the episode airs.
CHEAT TWEET: When a dead body is found at an ancient burial site that's thought to be cursed, the team steps in to figure out the motive and symbolism behind the crime, on @NCIS_CBS Monday 10/3 9 PM @CBS https://bit.ly/3dF8qwR
Facebook: https://www.facebook.com/NCIS
Twitter: http://twitter.com/#!/NCIS_CBS
Instagram: @NCIS_CBS
CBS Twitter: @cbstweet
Cast on social:
Twitter

Instagram

Sean Murray

@seanhmurray

@therealseanmurray

Emily Wickersham

@emilywickersham

@emilywickersham

Wilmer Valderrama

@wvalderrama

@wilmervalderrama

Brian Dietzen

@briandietzen

@briankdietzen

Diona Reasonover

Katrina Law

@dionareasonover

@katrinalaw

@dionareasonover

@katrinalaw

Rocky Carroll

@rockycofficial
***
Press Contacts:
| | | |
| --- | --- | --- |
| Andrea Ballas | 818-655-1581 | |
| Yani Chang | 818-655-7237 | |
Photo Contacts:
| | | |
| --- | --- | --- |
| Amanda Beane | 818-655-1545 | |
| Gavin Stevens | | |