Storyline
CAPT. MILIUS CONTINUES TO WORK WITH TENNANT AND HER TEAM IN THE AFTERMATH OF THE PRISONER EXCHANGE BETWEEN THE U.S. AND EASTERN EUROPE, ON THE CONCLUSION OF THE TWO-PART SEASON FINALE OF "NCIS: HAWAI'I," MONDAY, MAY 23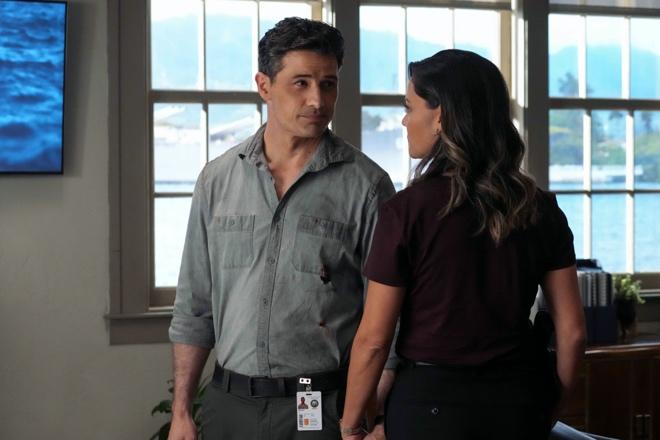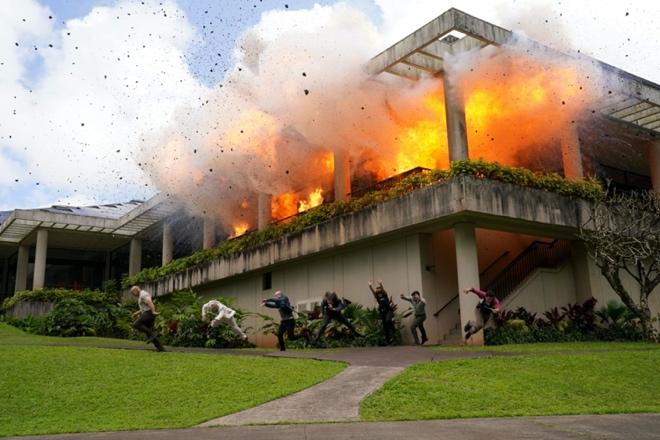 Enver Gjokaj Returns as Capt. Milius
"Ohana" – Captain Milius (Enver Gjokaj) continues to work with Tennant and her team in the aftermath of the prisoner exchange between the U.S. and eastern Europe. Also, Whistler takes Ernie's advice and makes a grand gesture in the hope of winning Lucy back, on the conclusion of the two-part season finale of the CBS Original series NCIS: HAWAI'I, Monday, May 23 (10:00-11:00 PM, ET/PT) on the CBS Television Network, and available to stream live and on demand on Paramount+*.
REGULAR CAST:
| | |
| --- | --- |
| Vanessa Lachey | (Special Agent in Charge Jane Tennant) |
| Alex Tarrant | (Kai Holman) |
| Noah Mills | (Jesse Boone) |
| Yasmine Al-Bustami | (Lucy Tara) |
| Jason Antoon | (Ernie Malik) |
| Tori Anderson | (Kate Whistler) |
| Kian Talan | (Alex Tennant) |
RECURRING CAST:
| | |
| --- | --- |
| Mahina Napoleon | (Julie Tennant) |
GUEST CAST:
Moses Goods

(Wally)

Enver Gjokaj

(Capt. Milius)

Seana Kofoed

(Commander Chase)

Mark Gessner

(CGIS Agent Neil Pike)

Sharif Atkins

(Norman "Boom Boom" Gates)

Danielle Nuela Zalopany

(Hina)

Iman Nazemzadeh

(Dr. Dunne)

Nicholas Bonanno

(Commander Thomas Kelley)

Sam Bass

(Hulking DSS Agent)

Mary Thornton

(Major Lydia Vail)

Mark Wilson

(State Department Official)

Lic Hand

Izabella Miko

Billy Boyd

(Charlie 1)

(Alina Nikitin)

(Colin McIntyre)
WRITTEN BY: Matt Bosack & Christopher Silber
DIRECTED BY: Tim Andrew
GENRE: Drama, Crime, Mystery
Official CBS website: https://www.cbs.com/shows/ncis-hawaii/
*Paramount+ Premium subscribers will have access to stream live via the live feed of their local CBS affiliate on the service as well as ondemand. Essential-tier subscribers will have access to on-demand the day after the episode airs.
CHEAT TWEET: On the 1st season finale of @NCISHawaiiCBS Capt. Milius continues to work with Jane and her team in the aftermath of the prisoner exchange. Also, Whistler takes Ernie's advice and makes a grand gesture to try and win back Lucy! 5/23 at 10/9c! @CBS https://bit.ly/3kyEcLE
Click HERE for photos
Facebook: https://www.facebook.com/NCISHawaiiCBS/
Twitter: https://twitter.com/NCISHawaiiCBS
Instagram: @NCISHawaiiCBS
CBS Instagram: https://www.instagram.com/cbstv
CBS Twitter: https://twitter.com/cbs
CBS PR Twitter: https://twitter.com/CBSTweet
CBS TikTok: https://www.tiktok.com/@cbs
Cast and crew on social:
| | | |
| --- | --- | --- |
| | Twitter | Instagram |
| Vanessa Lachey | @VanessaLachey | @vanessalachey |
| Alex Tarrant | | |
| Noah Mills | @Noah_live | @noahmills |
| Yasmine Al-Bustami | @yasalbustami | @yasalbustami |
| Jason Antoon | @jasonantoon | @jasonantoon |
| Tori Anderson | @torianderson | @Tortorra_ |
| Kian Talan | @kiantalan | @kian.talan |
***
Press Contacts:
| | |
| --- | --- |
| Christine Park | |
| Tagan Lee-Greene | |
Photo Contact: