Ratings
VIEWERS HAVE WATCHED MORE THAN 166 BILLION MINUTES OF CBS ENTERTAINMENT, NEWS AND SPORTS PROGRAMMING SO FAR THIS SEASON – FAR MORE THAN ANY OTHER BROADCASTER
Fans Have Seen:
More than 59 Billion Minutes of CBS Primetime Entertainment Programming;
45 Billion Minutes of "The NFL on CBS";
26 Billion Minutes of CBS News Programming
and More…
#1 Freshman Series "NCIS: Hawai'i" Has Over 3.5 Billion Minutes Consumed
Top New Comedy "Ghosts" Has Over 1.5 Billion Minutes Watched to Date
Network Has Four of Top Six New Series with Aggregate 10.4 Billion Minutes Watched
Viewers Have Watched over 10 Billion Minutes of Tuesday "FBI" Franchise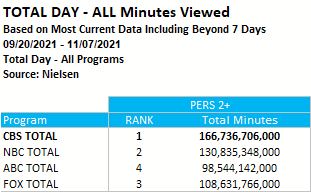 According to Nielsen Total Day "Most Current" data for the first seven weeks of the 2021-2022 broadcast season, viewers have consumed over 166 BILLION minutes of CBS programming across all dayparts, far and away the most of any broadcast network.
This aggregate includes over 59 billion minutes watched of CBS primetime entertainment programming – approximately 10 billion more than the closest competitor.
In sports, so far this season, viewers have spent 45 billion minutes watching THE NFL ON CBS. This is up +2% from last season.
News content on the Network has aggregated 26 billion minutes thus far this season, driven by the most-watched news program on any network, 60 MINUTES, which alone has amassed nearly 4 billion minutes of viewing.
The Network's performance is also driven by the successful launches of its new shows, which make up four of the top six new series by minutes watched. They are the season's top new show NCIS: HAWAI'I (3.50b); FBI: INTERNATIONAL (3.10b); CSI: VEGAS (2.23b); and the top new comedy GHOSTS (1.53b). Together, these new hits have been seen for an aggregate of 10.4 billion minutes.
In late night, THE LATE SHOW with STEPHEN COLBERT has amassed 4.8 billion minutes, beating its closest competition by +1.8 billion minutes.
Daytime is also dominant with 28 billion minutes consumed. THE PRICE IS RIGHT leads all daytime shows with 8.6 billion minutes, and THE YOUNG AND THE RESTLESS is the top daytime drama with 7.8 billion minutes so far this season.
A fun fact regarding minutes spent with CBS programming relates to the long-running NCIS franchise. Since it premiered on CBS in 2003, viewers have watched over 3.8 trillion minutes of NCIS and all its spinoffs across broadcast, cable, streaming and syndication.
Another fun note is that CBS' Tuesday ratings juggernaut, the FBI franchise, has been viewed for a total of over 10 billion minutes over the first seven weeks of the new season, with the mothership, FBI, leading the way with 3.64 billion minutes watched. FBI: MOST WANTED is close behind with 3.26b, as is FBI: INTERNATIONAL with 3.10b.
"While 'time spent' has mainly been a streamers' metric, it actually demonstrates the continuing strength and scale of broadcast television, and CBS in particular," said George Cheeks, President and CEO, CBS and Chief Content Officer, News and Sports, Paramount+. "Additionally, all this content is available on Paramount+ too, both live and on demand."
"No matter how you analyze the numbers – time spent, live +7, live +3 or live – CBS' primetime schedule and our highly successful new series are resonating loudly with viewers," said Kelly Kahl, President, CBS Entertainment.
* * *
Press Contact:
| | | |
| --- | --- | --- |
| Scott Grogin | 818-655-1584 | |