Storyline
MISSY PEREGRYM AND ZEEKO ZAKI STAR AS INVESTIGATORS IN THE NEW YORK OFFICE OF THE FEDERAL BUREAU OF INVESTIGATION, ON A REBROADCAST OF THE SERIES PREMIERE OF THE NEW DRAMA "FBI," FROM DICK WOLF, ON SATURDAY, SEPT. 29
Editor's note: The air date and time of this episode has changed.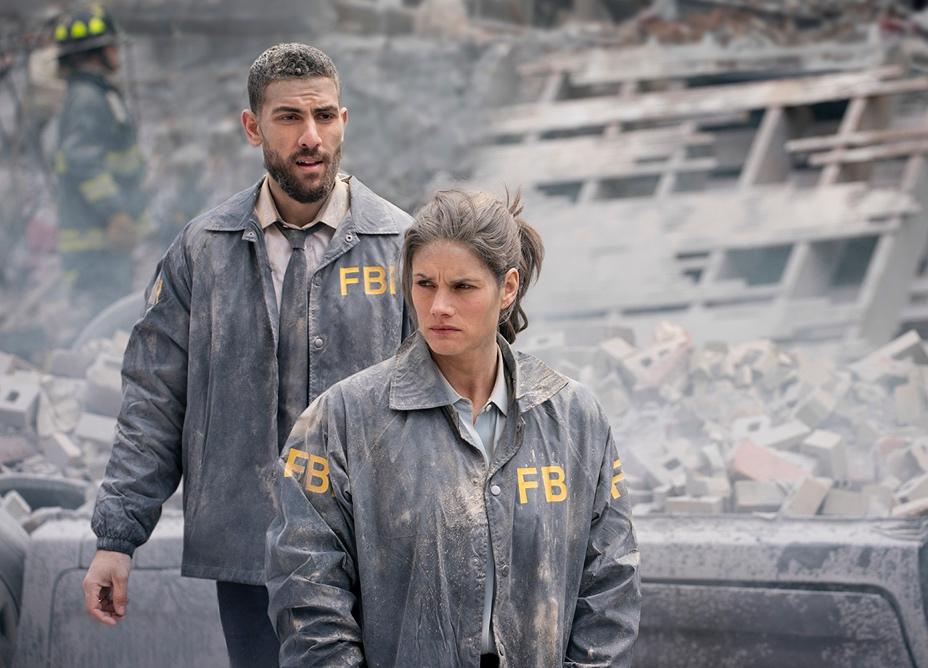 Ebonée Noel and Jeremy Sisto Also Star
"Pilot" – After a bomb explosion devastates a residential apartment building, special agents Maggie Bell and Omar Adom "OA" Zidan of the New York office of the Federal Bureau of Investigation investigate a possible war between rival gangs – that is, until their prime suspects are discovered brutally murdered, on a rebroadcast of FBI, Saturday, Sept. 29 (8:00-9:00 PM, ET/PT) on the CBS Television Network. (Originally broadcast 9/25/18.)
From Emmy Award winner Dick Wolf and the team behind the "Law & Order" franchise, FBI is a fast-paced drama about the inner workings of the New York office of the Federal Bureau of Investigation. This elite unit brings to bear all their talents, intellect and technical expertise on major cases in order to keep New York and the country safe. Born into a multigenerational law enforcement family, Special Agent Maggie Bell commits deeply to the people she works with as well as those she protects. Her partner is Special Agent Omar Adom "OA" Zidan, a West Point graduate via Bushwick who spent two years undercover for the DEA before being cherry-picked by the FBI. Overseeing them is Special Agent in Charge Dana Mosier (Sela Ward), who operates under intense pressure 24/7/365 and has undeniable command authority. The team also includes Assistant Special Agent in Charge Jubal Valentine, the nerve center of the office whose ability to easily relate to and engage with both superiors and subordinates makes him a master motivator. Kristen Chazal is the team's most valued resource, a brilliant analyst recruited straight out of university who can piece together the big picture faster than anyone. These first-class agents tenaciously investigate cases of tremendous magnitude, including terrorism, organized crime and counterintelligence.
CHEAT TWEET: .@mperegrym and @zeekozaki star as FBI investigators tasked with protecting the city of New York on the #seriespremiere of @FBICBS 9/29 8PM ET/PT from producer #DickWolf! @EboneeReigne @JeremySisto also star. http://bit.ly/2Q5Vuym
REGULAR CAST:
| | |
| --- | --- |
| Missy Peregrym | (Special Agent Maggie Bell) |
| Zeeko Zaki | (Special Agent Omar Adom "OA" Zidan) |
| Ebonée Noel | (Analyst Kristen Chazal) |
| Jeremy Sisto | (Assistant Special Agent in Charge Jubal Valentine) |
GUEST CAST:
| | |
| --- | --- |
| Connie Nielson | (Ellen Solberg) |
| James Chen | (Ian Lentz) |
| Chris Carlock | (Tony Sweet) |
| Tom Day | (NYFD Battalion Chief) |
| Anthoula Katsimatides | (NSA Lead) |
| Natasha A. Murray | (ERT Leader) |
| Melanie Nicholls-King | (Keisha Grant) |
| Gerald W. Jones II | (Chris Grant) |
| Destin Khari | (Emmett Grantl) |
| Drew Olivia Tillman | (Ginny Hart) |
| Rosario Salvador | (Wayne) |
| Joaquin Maceo Rosa | (Bernardo Funes) |
| Mac Brandt | (Brick Peters) |
| Dallas Roberts | (Robert Lawrence) |
| Dorothy Lyman | (Jilly Peters) |
| Kenya Brome | (Andrea Toms) |
| Carmen Lamar Gonzalez | (Bomb Tech) |
| Matt Walton | (Carter Pope) |
| Josh Evans | (Lab Tech) |
| Angela Polite | (Matron) |
| Maceo Oliver | (MCC Guard) |
| Juney Smith | (Superintendent) |
| Jason Kaufman | (Swat Operator) |
| Mark McKinnon | (SWAT Team Leader) |
| David Zaldivar | (Wilmer Rivas) |
| Ashanti Brown | (Woman) |
| Derek Hedlund | (Young Agent) |
| Brandon Michael Cusma | (Back-up Agent) |
WRITTEN BY: Craig Turk
DIRECTED BY: Niels Arden Oplev
GENRE: Drama
Photos are available on www.cbspressexpress.com
Website: https://www.cbs.com/shows/fbi/
Facebook: https://www.facebook.com/FBICBS/
Twitter: https://twitter.com/FBICBS
Instagram: @FBICBS
CBS Twitter: https://twitter.com/CBSTweet
Cast and Crew on Twitter:
| | | |
| --- | --- | --- |
| Missy Peregrym | @mperegrym | |
| Zeeko Zaki | @zeekozaki | |
| Ebonée Noel | @EboneeReigne | |
| Jeremy Sisto | @JeremySisto | |
Cast and Crew on Instagram:
| | | |
| --- | --- | --- |
| Missy Peregrym | @mperegrym | |
| Zeeko Zaki | @zeekozaki | |
| Ebonée Noel | @eboneereigne | |
| Jeremy Sisto | @sistosistosisto | |
* * *
Press Contacts:
| | | |
| --- | --- | --- |
| Amy Miller | 212-975-4757 | |
| Meredith Tiger | 212-975-3829 | |
Photo Contact:
| | | |
| --- | --- | --- |
| Richard Boeth | 212-975-7627 | |