Storyline
RILEY BEGINS TO FEEL GUILTY ABOUT HIS AFFAIR WITH VANESSA AFTER HE HAS A HEART-TO-HEART WITH HER BOYFRIEND, FREDDY, ON "UNITED STATES OF AL," THURSDAY, APRIL 21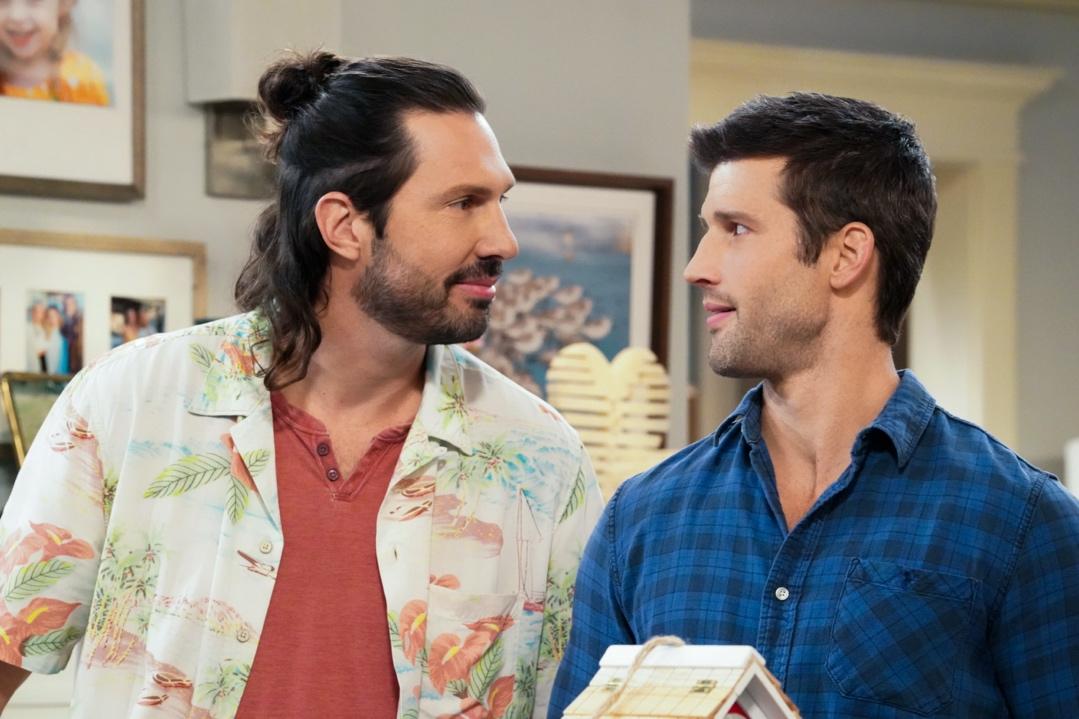 "Guilt / Gunah" – Riley begins to feel guilty about his affair with Vanessa after a heart-to-heart with her boyfriend, Freddy (Brian Thomas Smith). Also, Al's family wants to arrange a marriage for him at home because they don't approve of him dating multiple women, on the CBS Original series UNITED STATES OF AL, Thursday, April 21 (8:31-9:01 PM, ET/PT) on the CBS Television Network, and available to stream live and on demand on Paramount+*.
REGULAR CAST:
| | |
| --- | --- |
| Adhir Kalyan | (Al) |
| Parker Young | (Riley) |
| Dean Norris | (Art) |
| Elizabeth Alderfer | (Lizzie) |
| Kelli Goss | (Vanessa) |
| Farrah Mackenzie | (Hazel) |
GUEST CAST:
Azita Ghanizada

Brian Thomas Smith

Jayma Mays

Wali Habib

Zarmina Hamidi

(Ariana)

(Freddy)

(Cindy)

(Zubair)

(Gul Bushra)
STORY BY: Jeff Silverstein, Ursula Taherian, Habib Zahori
TELEPLAY BY: Dave Goetsch, Chuck Tatham, Bobby Telatovitch
DIRECTED BY: Nikki Lorre
GENRE: Comedy
Click HERE for photos
*Paramount+ Premium subscribers will have access to stream live via the live feed of their local CBS affiliate on the service as well as on demand. Essential-tier subscribers will have access to on-demand the day after the episode airs.
CHEAT TWEET: Will Riley be able to keep his affair with Vanessa a secret or will his guilt get to him? Will Al marry a woman he doesn't love to keep his family happy? @USofAlCBS 4/21 8:31PM @CBS @adhirkalyan @parker_young @deanjnorris @kelligoss @farrahmackenzie https://bit.ly/3qR5IaE
CBS Instagram: https://www.instagram.com/cbstv
CBS PR Twitter: https://twitter.com/CBS
CBS TikTok: https://www.tiktok.com/@cbs
Website: https://www.cbs.com/shows/united-states-of-al/
Cast and crew on social:
Twitter

Instagram

Adhir Kalyan

@adhirkalyan

N/A

Parker Young

@parker_young

@parker.young

Dean Norris

@deanjnorris

@deanjnorris

Elizabeth Alderfer

Kelli Goss

Farrah Mackenzie

@LizAlderfer

N/A

NA

@lizderfer

@kelligoss

@farrahmackenzie
***
Press Contact:
Photo Contact:
| | | |
| --- | --- | --- |
| Amanda Beane | 818-655-1545 | |