Storyline
ONE TRIBE ATTEMPTS TO RECOVER AFTER DRAWING A LINE IN THE SAND AT TRIBAL COUNCIL, ON "SURVIVOR," WEDNESDAY, MARCH 23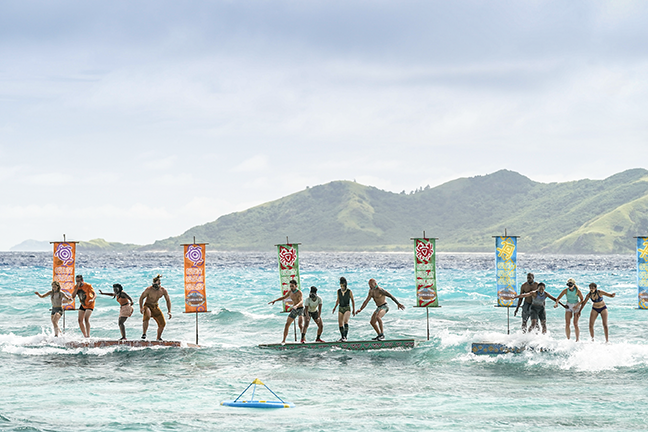 "Go for the Gusto" – One tribe attempts to recover after drawing a line in the sand at tribal council. Also, a castaway goes on a journey and must make a decision that could change their game, and one tribe stacks their way to victory, earning immunity and a fruitful reward, on the CBS Original series SURVIVOR, Wednesday, March 23 (8:00-9:00 PM, ET/PT) on the CBS Television Network, and available to stream live and on demand on Paramount+*.
The following are the 18 castaways competing in the 42nd edition of SURVIVOR:
VATI Tribe (Green):
Jenny Kim, creative director
Chanelle Howell, executive recruiter
Lydia Meredith, waitress
Mike Turner, retired firefighter
Daniel Strunk, law clerk
Hai Giang, data scientist
TAKU Tribe (Orange):
Marya Sherron, stay-at-home mom (2nd Eliminated)
Lindsay Dolashewich, dietitian
Maryanne Oketch, seminary student
Jackson Fox, healthcare worker (Exited game)
Omar Zaheer, veterinarian
Jonathan Young, beach service co. owner
IKA Tribe (Blue):
Drea Wheeler, fitness consultant
Tori Meehan, therapist
Swati Goel, Ivy League student
Rocksroy Bailey, stay-at-home dad
Romeo Escobar, pageant coach
Zach Wurtenberger, student (1st Eliminated)
SURVIVOR is hosted by Emmy Award-winning host Jeff Probst and produced by S.E.G. Holdco., LLC. Mark Burnett, Jeff Probst, Matt Van Wagenen, Kahaia Pearson and Jesse Jensen are executive producers.
*Paramount+ Premium subscribers will have access to stream live via the live feed of their local CBS affiliate on the service as well as on demand. Essential-tier subscribers will have access to on-demand the day after the episode airs.
CHEAT TWEET: One tribe attempts to recover after drawing a line in the sand at tribal council on @SurvivorCBS 3/23 8-9 PM, ET/PT @CBS @JeffProbst hosts! https://bit.ly/3IoXSuS
For more information on SURVIVOR, log onto:
https://www.viacomcbspressexpress.com/cbs-entertainment/shows/survivor/
Click HERE for photos
Facebook: http://www.facebook.com/Survivor
Twitter: http://twitter.com/survivorcbs
Instagram: @officialsurvivor_CBS
CBS Twitter: https://twitter.com/cbs
CBS PR Twitter: @cbstweet
CBS Instagram: https://www.instagram.com/cbstv
CBS TikTok: https://www.tiktok.com/@cbs
Jeff Probst on Twitter and Instagram: @jeffprobst
* * *
Press Contacts:
| | | |
| --- | --- | --- |
| Lori DelliColli | 603-824-6300 | |
| Shawna Malcom | 818-655-1589 | |
Photo Contact:
| | | |
| --- | --- | --- |
| Michele Crowe | 212-975-3265 | |