Release
CBS PARTNERS WITH THE AMERICAN RED CROSS TO PUT THE "DO" IN DONATION – WITH A CAMPAIGN TO INSPIRE ACTION IN SUPPORT OF THE ORGANIZATION'S WIDESPREAD LIFE-SAVING EFFORTS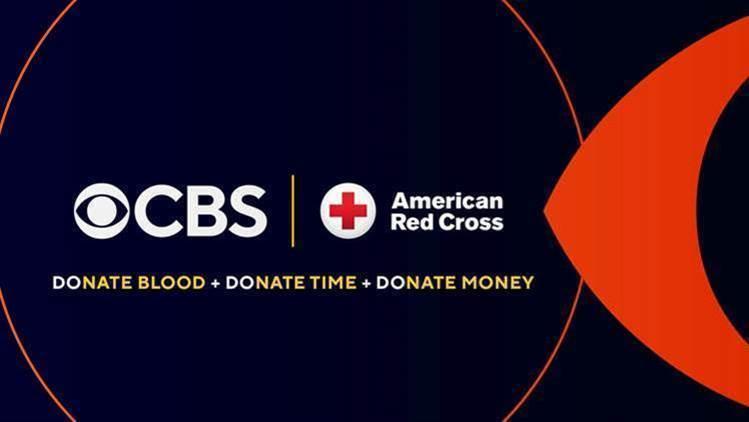 Network Employees, Viewers and Beyond Are Invited to Join in Supporting the
American Red Cross as a Nation of "Do-ers" – Doing One's Part to Help Others Through
Donations of Blood, Time and Money
The Multiplatform Initiative Across CBS' Entertainment, News and Stations, and Sports Divisions Kicks Off Tomorrow with an Array of On-Air, Digital and Social Activations, Including a Special Segment on "Big Brother," a CBS/Red Cross Partnership Video Featuring the John Legend Song "I Do," and a "We Do It For…" Spot Running Digitally in Times Square, Socially and On-Air
Click HERE for a Sneak Peek of the Segment on Tonight's "Big Brother"
Click HERE for the 1st CBS/Red Cross Partnership Video Featuring John Legend's Song "I Do"
Click HERE for "We Do It For..." Spot Running Digitally in Times Square, Socially and On-Air
CBS announced today a partnership with the American Red Cross to put the "Do" in Donation, with the goal of generating donations through blood, time or money in support of the organization's widespread life-saving endeavors, disaster relief efforts and more. The campaign, which kicks off this week and continues well into the upcoming new television season, is designed to inspire communities of "do-ers" by helping drive awareness, unity and action among the Network's employees, viewers and beyond. Employees and viewers can go to www.redcross.org/cbs for specifics on how to get involved.
The multiplatform endeavor across CBS' entertainment, news and stations, and sports divisions kicks off this week with an array of on-air, digital and social content. Tonight (August 25) on "Big Brother," a special segment will involve the Houseguests working together in support of the Red Cross. Tomorrow's live episode will showcase the CBS/Red Cross partnership intro video (featuring John Legend's appropriately named song "I Do"), and host Julie Chen Moonves will announce an added effort by the show to do something for the cause. Additionally, digitally in Times Square, socially and on-air, the Network will run an upbeat "We Do It For…" video montage of an assortment of beloved CBS characters with their on-screen friends and family members as a means of depicting why – and for whom – people should, and do, strive to make a difference.
The next phases of the campaign will incorporate:
Red Cross themed messages from various CBS talent, kicking off with stars Julian McMahon (FBI: MOST WANTED) and Daniela Ruah (NCIS: LOS ANGELES) – and continuing, in the coming months, with messages from talent from a variety of programs, including FBI, YOUNG SHELDON, NCIS, THE EQUALIZER, NCIS: HAWAI'I, FBI: INTERNATIONAL, and across CBS Sports and CBS News as well.
A dedicated segment on THE TALK in October.

Monthly volunteer and engagement opportunities, blood drives and corporate donation matching for ViacomCBS employees.

The CBS Sports Classic College Basketball Tournament in December, which will celebrate the partnership by encouraging college students' involvement.

Customizable on-air and social content provided to CBS owned-and-operated stations and affiliates to bring the campaign to life in the individual markets.
Sharable Instagram and Facebook stickers and borders for viewers and employees to celebrate when/how they will support the Red Cross.
"There's clearly never been a greater need for the life-saving efforts and blood of the American Red Cross," said Mike Benson, President and Chief Marketing Officer, CBS. "CBS is proud to partner with this tireless organization, and we hope that our campaign not only galvanizes people to donate to the Red Cross in some fashion during these particularly challenging times, but also inspires them to be involved for years to come."
"In moments of darkness and devastation, we find hope and healing by helping each other," said Rosy McGillan, Chief Marketing and Communications Officer for the Red Cross. "Today, communities across the country face incredible challenges – raging wildfires in the West and powerful storms in the Atlantic – while blood supply challenges persist and the COVID-19 pandemic once again overwhelms our health systems and targets those most vulnerable. Help has never been needed more, which is why the Red Cross is grateful to partner with CBS as we come together as a nation to 'do' what we can to lift up and support one another during this difficult time."
Red Cross facts and calls to action/information to donate in various ways follow:
BLOOD DONATIONS
FACTS:
Every two seconds, someone in the U.S. needs blood.
COVID-19 has created unprecedented challenges for blood collections across the country. More donors are critically needed to roll up a sleeve during this pandemic.
The American Red Cross provides about 40% of the nation's blood supply to meet the needs of accident and burn victims, heart surgery and organ transplant patients, and those receiving treatment for leukemia, cancer or sickle cell disease.
Platelets, a key clotting component of blood often needed by cancer patients, must be transfused within just five days after a donation is made. So, there's a constant – and often critical – need for new and current donors to give to keep up with hospital demand.
ISSUES/ACTION:
Eligible individuals are encouraged to schedule a blood or platelet donation appointment by using the Red Cross Blood Donor app, visiting www.RedCrossBlood.org or calling 800-RED-CROSS (800-733-2767).
The American Red Cross is one of three blood donation organizations, along with Vitalant and OneBlood, helping to pioneer a FDA study in eight cities across the country, with the goal of making blood donation more inclusive. We invite you to learn more about the study and find out if you qualify to participate by visiting ADVANCEStudy.org. CBS is hopeful that its partnership with the Red Cross will raise awareness for this effort and bolster participants in the relevant markets.
CONTRIBUTIONS/DONATIONS
FACTS:
As part of the world's largest humanitarian network, the American Red Cross is there too for families around the globe, responding to international disasters, helping communities prepare for emergencies, reconnecting families separated by crises and combating measles.
Every eight minutes, the Red Cross responds to a disaster – more than 60,000 emergencies every year, including home fires. What's more, large crises like hurricanes, floods and wildfires are increasing in frequency and intensity.
Through the power of volunteers and the generosity of donors, the Red Cross shelters, feeds and provides comfort after disasters; supplies about 40% of the nation's blood; teaches skills that save lives; provides international humanitarian aid; and provides 24/7 worldwide support to help military members, veterans and their families cope with the challenges of service.
Through the Red Cross, people can also help save lives. With the support of volunteer blood donors, the Red Cross distributes blood products across the country every day to help ensure new moms, premature babies, cancer patients and accident victims have access to safe, lifesaving blood. In addition, each day, the Red Cross empowers thousands of people with the skills to save lives by offering courses on CPR, first aid, water safety and more.
ACTION:
Visit www.redcross.org/donate to make a financial donation. An average of 90 cents of every dollar spent is invested in providing care and comfort for those in need. Every single donation will make a difference in someone's life.
SERVICE/VOLUNTEERISM
FACTS:
Volunteers are the lifeblood of the Red Cross and represent 90% of its workforce. Every day, they respond to disasters, support blood drives, assist military families, teach lifesaving skills, and so much more. Red Cross volunteers provide comfort during what can be the worst days of people's lives.
The Red Cross provides food, shelter, relief supplies, comfort, recovery planning and other assistance for those in need. Often, Red Cross volunteers are among the first to help after a home fire, which are the vast majority of disaster responses, by providing emotional support, helping families find a place to stay and assisting with their recovery.
Red Cross volunteers help save lives by welcoming blood donors at blood drives and delivering lifesaving blood products to hospitals to meet the needs of accident and burn victims, heart surgery and organ transplant patients, and those receiving treatment for leukemia, cancer or sickle cell disease.
ACTION:
There are many ways that you can help. Put on a red vest and join the Red Cross. Visit www.redcross.org/volunteer to find out how you can support your community.
About CBS:
CBS, a subsidiary of ViacomCBS, creates and distributes industry-leading content across a variety of platforms to audiences around the world. The Company has businesses with origins that date back to the dawn of the broadcasting age as well as new ventures that operate on the leading edge of media. It includes some of the industry's most successful and popular brands and businesses: CBS Television Network, CBS News and Stations, CBS Sports, CBS Studios, CBS Media Ventures and CBS digital properties.
About the American Red Cross:
The American Red Cross shelters, feeds and provides comfort to victims of disasters; supplies about 40% of the nation's blood; teaches skills that save lives; distributes international humanitarian aid; and supports veterans, military members and their families. The Red Cross is a nonprofit organization that depends on volunteers and the generosity of the American public to deliver its mission. For more information, please visit redcross.org or CruzRojaAmericana.org, or follow us on Twitter at @RedCross.
* * *
CBS Marketing Contact:
Red Cross Media Contact:
| | | |
| --- | --- | --- |
| Public Affairs Desk | 202-303-5551 | |