Release
WATCH MAGAZINE'S MAY/JUNE DIGITAL ISSUE FEATURES ARRESTING INTERVIEWS WITH COVER STARS MISSY PEREGRYM & ZEEKO ZAKI ("FBI") AND REBECCA BREEDS ("CLARICE")—AND MUCH MORE!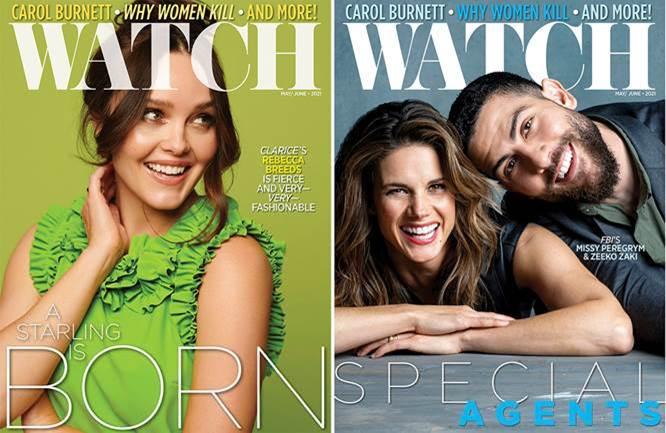 The Legendary Carol Burnett Reminisces about Her Favorite Moments on "The Carol Burnett Show," Sharing Some Fun, Behind-the-Scenes Details
Stars Allison Tolman and Lana Parrilla Discuss Their Roles and Excitement about the All-New Second Season of Marc Cherry's Anthology Series, "Why Women Kill," Exclusively on Paramount+
Click Here for the FBI Digital Issue
Click Here for the Rebecca Breeds Digital Issue
May 27, 2021 — The May/June digital issue of Watch magazine features covers with Missy Peregrym and Zeeko Zaki, who star as present-day special agents on the hit drama FBI; and Rebecca Breeds, who stars as FBI agent Clarice Starling in the new psychological thriller CLARICE, set in 1993.
The issue also includes an interview with the legendary Carol Burnett, who reminisces about her favorite sketches and behind-the-scenes stories from her 11 years on "The Carol Burnett Show;" WHY WOMEN KILL stars Allison Tolman and Lana Parrilla discussing the upcoming second season of Marc Cherry's Paramount+ dark comedy; interviews with DYNASTY actress Michael Michele and ALL AMERICAN star Bre-Z about their dynamic roles on their respective shows; SEAL TEAM star Max Thieriot shares what led him to winemaking—and much more!
Highlights from this issue include: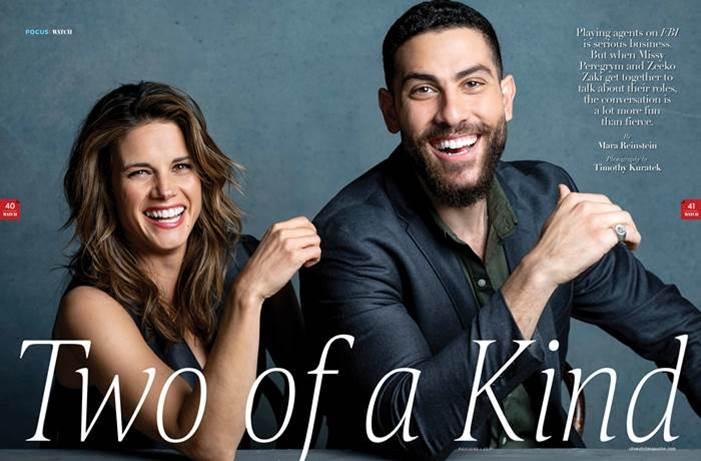 Cover stars Missy Peregrym and Zeeko Zaki (above), who play special agent partners on Dick Wolf's hit CBS series FBI, were photographed by Timothy Kuratek and interviewed by writer Mara Reinstein about FBI's third season, the evolution of their roles and their real-life camaraderie. Both revealed they're relishing the storylines that delve into their characters' lives in addition to their cases. Said Zaki, "Even though she and I are partners, you want to see that bigger world around the characters. You're not just watching Missy and me run around the streets." Added Peregrym, "Yeah, it's nice when we deal with more personal issues. In Season One, a lot of the controversies were based on how we did our job. Now it's about caring about the other person. We're looking out for each other, which shows the depth of our friendship."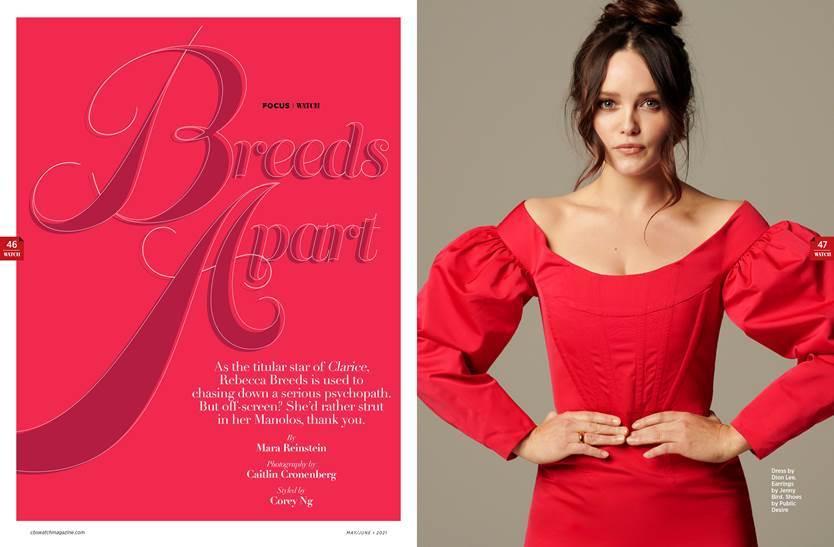 Reinstein also interviewed cover star Rebecca Breeds, the title character in CLARICE, which has its season finale Thursday, June 24 on CBS. Photographed for Watch by Caitlin Cronenberg and styled by Corey Ng, Breeds relayed to Reinstein how it felt to be the third actress to portray Clarice Starling (after Jodie Foster in "The Silence of the Lambs" and Julianne Moore in "Hannibal"). "I'm honored to be a part of the legacy and that we're getting to tell her stories… From the beginning I was never going to copycat another actress. That's just mimicking. I think of Clarice as a song, and Jodie was the saxophone and Julianne was the violin and I'm the flute. The sound will be slightly different, but it's all the same song. For me it's about honoring the quintessential characteristics of this wonderful character we all know and love… We're getting to fill in the blanks. There's a lot to Clarice we haven't seen, and there's so much for us to play with her."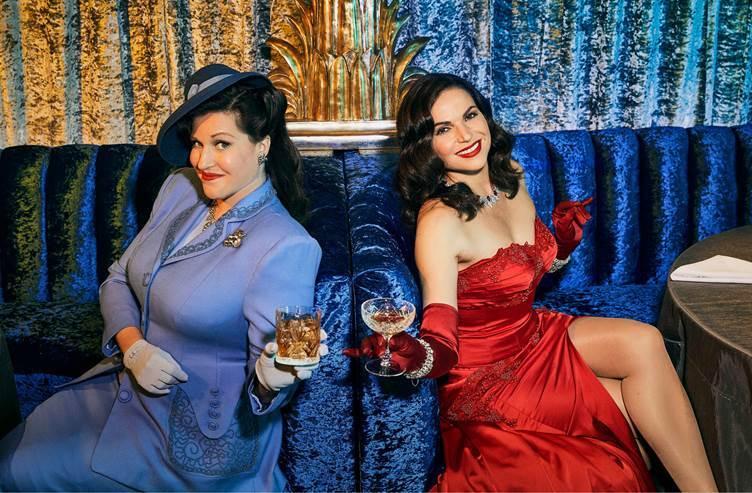 The second season of the anthology series "Why Women Kill," which debuts Thursday, June 3 exclusively on Paramount+, introduces a new cast (featuring Allison Tolman and Lana Parrilla) and an even earlier era (1949). Interviewed by writer Nate Millado, Tolman and Parrilla both cited working with creator Marc Cherry as a major enticement to signing on for this dark comedy. Said Tolman, "[His] heightened style is unlike anything I've ever done, certainly on camera. My background is in theater and improv, and it seemed like those were going to translate well for this project. I just wanted to give it a shot and I've had so, so much fun." Per Parrilla, "I've never done comedy on this level, like Mark Cherry's dark comedy. What you see is not what you get there… There are so many layers to these characters and they're not so black and white."
Are modern-day issues tackled on the show through the lens of the mid-20th century? Tolman answered, "The concept of beauty as currency, and the idea that this is a woman who is fascinated with the beautiful, the glamorous, and the upscale, and what that kind of obsession and ambition does to her… I think that's something that in the age of social media we can all relate to. That sort of notion of comparative thinking and the unattainable ideal." Parrilla said, "I would say our human complexities of jealousy, rivalry, family dynamics are ever-present and go back centuries, thousands of years. And it doesn't matter what time period we're in—those are ever present in just being a human being."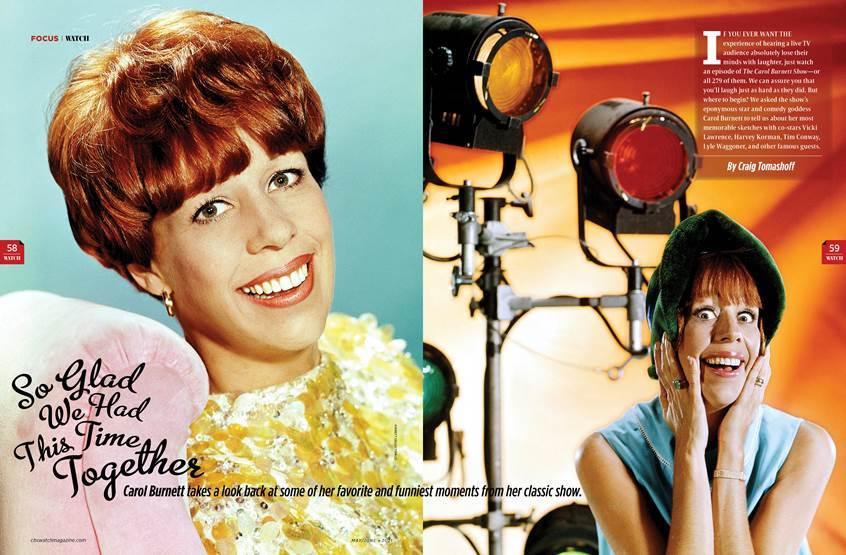 Comedy legend Carol Burnett shares an array of fun, behind-the-scenes anecdotes with writer Craig Tomashoff about her favorite sketches from her classic show. Her memorable "The Carol Burnett Show" moments, which are paired in the issue with vintage photos of the series' sketches, include the "As the Stomach Turns" soap opera parody (which grabbed the attention of "All My Children" creator Agnes Nixon, who persuaded Burnett to do a two week-long cameo on her daytime drama); getting a call from film star Gloria Swanson, who loved Burnett's comical take on the Norma Desmond character Swanson had played in "Sunset Boulevard" (and who later appeared on Burnett's show); and Burnett's collaborations with famed costume designer Bob Mackie, who created more than 17,000 outfits for the show over its 11 years (and who devised the idea to include the curtain rod in Burnett's infamous dress when the script for the "Gone with the Wind" parody called for her to be donned in draperies).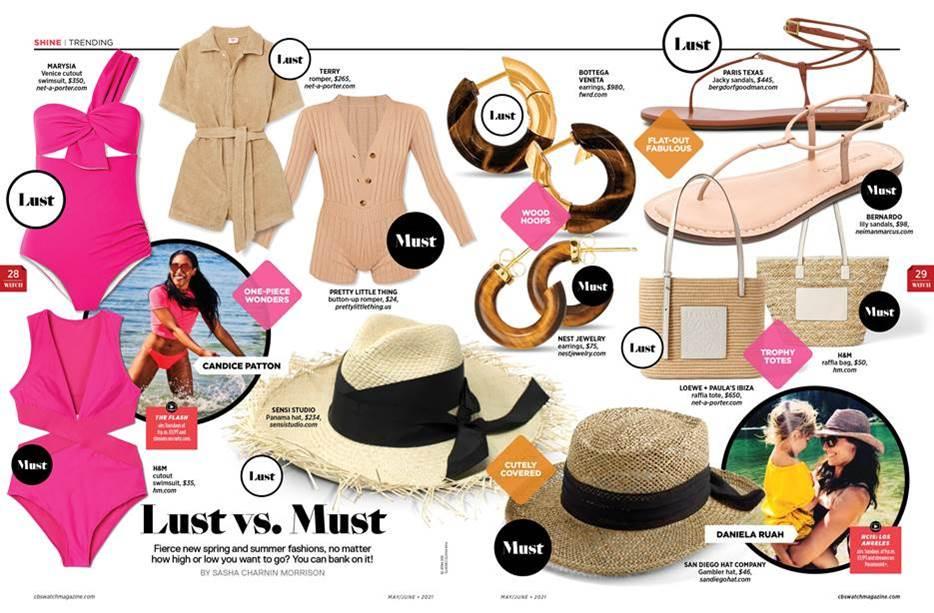 And for those wondering what to wear as things start to heat up, the "Shine" section features hot new spring and summer "Lust vs. Must" fashions that fit into every budget; a look at summery creams and blushes; and Watch Style Director Sasha Charnin Morrison's guide to the "new" footwear go-to: comfy, functional and fashionable clogs!
The issue also features:
Michael Michele discussing her role as Dominique Deveraux on The CW's DYNASTY, which returned for its fourth season earlier this month. "This is a woman who's at times a bold bitch, assertive, narcissistic, self-centered—but with a sense of humor. And what I try to do is to allow the audience in on [the joke] and to enjoy the ride with me."

An interview with Bre-Z, an actor, rapper and former barber who plays Coop, a gender-expectation-defying gay teenager on The CW hit ALL AMERICAN. "With characters like Coop, we are moving closer to a common understanding that we are all just human."

A Pride Month-inspired ode to trailblazing TV characters and shows that furthered the LGBTQ+ conversation throughout the decades.

SEAL TEAM actor Max Thieriot, explaining how he ultimately followed the footsteps of his father (founder of the Chardonnay vineyard B.A. Thieriot) by partnering with childhood friends to found Senses Winery. "I was always outdoorsy, but as a kid I just liked sitting on the tractor with my dad… I honestly had no idea that I'd end up having anything to do with the wine industry."
About Watch
The official magazine of CBS since 2006, Watch offers a rare, glamorous window into the lives of television's biggest stars. With distinctive photography by top tier talents and first-class stories curated by industry veterans, Watch magazine has steadily become one of the most elegant, sophisticated publications today. This intriguing mix of entertainment, celebrity, culture, fashion, and beauty features talent from CBS, SHOWTIME, The CW, Paramount+, CBS Media Ventures and CBS Studios.
The magazine's digital properties present readers with richer pathways to continue the journey beyond the velvet rope. Timely behind-the-scenes videos and photo galleries bring the reader closer to their favorite characters and their favorite shows.
Website: www.cbswatchmagazine.com
Facebook: facebook.com/CBSWatch/
Twitter: https://twitter.com/CBSWatch
Instagram: https://www.instagram.com/CBSWatch
* * *
Watch Press Contact:
| | | |
| --- | --- | --- |
| Barbara Abseck | 212-975-4637 | |