Release
CBS UNVEILS PREMIERE DATES AND MILESTONES FOR THE #1 LINEUP IN DAYTIME
Network Television's #1 Daytime Series, "The Price is Right," Moves to New Studio and State-of-the-Art Set
Wayne Brady Marks 15 Years as Host of "Let's Make a Deal" as the Show Celebrates Its 60th Anniversary on Television
Daytime's #1 Drama, "The Young and the Restless," Begins 51st Season
"The Bold and the Beautiful" Begins 37th Season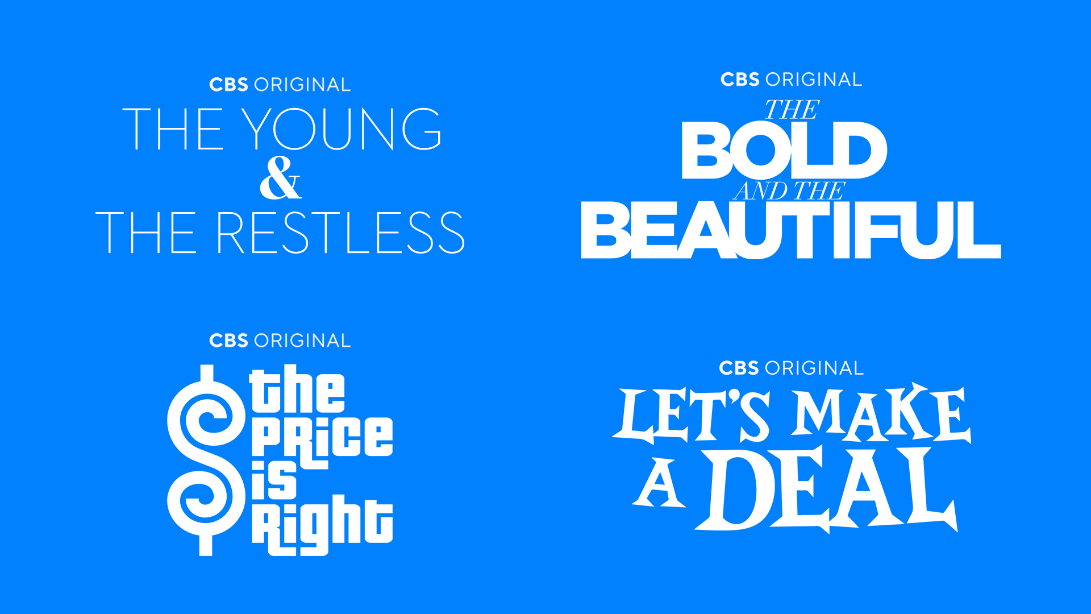 CBS announces the fall premiere dates and broadcast milestones for its unparalleled daytime lineup. The Network continues its reign as the #1-rated network in daytime for the last 36 years with the return of the #1 daytime drama for 35 consecutive years, THE YOUNG AND THE RESTLESS; THE BOLD AND THE BEAUTIFUL; network television's #1 daytime series, THE PRICE IS RIGHT; and LET'S MAKE A DEAL
The longest consecutively running game show in television history, Emmy Award-winning THE PRICE IS RIGHT, is back for its 52nd season on Monday, Sept. 25. There are even more chances to "Come on Down" as the show welcomes a full studio audience for the first time since 2020 and moves to a new state-of-the-art facility, Haven Studios in Glendale, Calif. Drew Carey returns for his 17th season as host, along with announcer George Gray and models Rachel Reynolds, Manuela Arbeláez, Amber Lancaster, Alexis Gaube, James O'Halloran and Devin Goda.
LET'S MAKE A DEAL marks its 60th anniversary on television when the new season premieres on Monday, Sept. 25. To celebrate Wayne Brady's 15th anniversary as host, the first episode kicks off with a $15,000 giveaway for one lucky contestant. The celebration continues all season long with Wayne's signature improvisational and musical stylings, the show's trademark games, and of course, the dreaded Zonks. In honor of both anniversaries, there will be special surprises for contestants to play and win throughout the entire season. The show also features announcer Jonathan Mangum, model Tiffany Coyne and musician Cat Gray.
Daytime's #1 drama, the Emmy Award-winning THE YOUNG AND THE RESTLESS, begins its 51st year on television this fall, returning Tuesday, Oct. 3 as CBS' longest-running scripted series. This season, Victor Newman (Eric Braeden) fights to protect his legacy at all costs while an unexpected adversary challenges Nikki Newman (Melody Thomas Scott). Viewers will be treated to returns from fan-favorite characters Mamie Johnson (Veronica Redd), who has unfinished business with rival Jill Abbott (Jess Walton), and Danny Romalotti (Michael Damian), who finds himself caught between ex-wives Phyllis Summers (Michelle Stafford) and Christine "Cricket" Blair (Lauralee Bell, celebrating 40 years on the series). And Jack Abbott's (Peter Bergman) vow renewal with Diane Jenkins (Susan Walters) will be the perfect setting for romance, intrigue and family drama.
The 37th season of THE BOLD AND THE BEAUTIFUL premieres Thursday, Sept. 21, with Sheila Carter (Kimberlin Brown) learning that Deacon Sharpe (Sean Kanan) has gone to great lengths to prove his love for her. A new intern at Forrester Creations, fashion student Luna (Lisa Yamada), has arrived with a mysterious past. This season, viewers will also learn if Hope Logan (Annika Noelle) will continue to pursue Thomas (Matthew Atkinson), a man dedicated to only her, or reunite with her husband Liam (Scott Clifton), who also admits to unrequited feelings for his ex, Steffy (Jacqueline MacInnes Wood), who is currently estranged from her husband whom she loves, Finn (Tanner Novlan). Eric Forrester (John McCook) faces a health challenge he chooses to hide that may end his illustrious career. Yet, he's determined to create his final fashion collection with the help of his grandson R.J. (Joshua Hoffman), much to the consternation of Ridge Forrester (Thorsten Kaye), culminating in a stunning Forrester fashion challenge between father and son filled with gamesmanship, heartbeat and high stakes. And, a shocking secret engagement will lead to either scandal or happily ever after for one couple.
THE PRICE IS RIGHT is produced by Fremantle and broadcast on weekdays (11:00 AM-12:00 PM, ET/10:00-11:00 AM, PT). Evelyn Warfel is the executive producer. For more information and photos, please visit: Paramount Press Express | CBS Entertainment | THE PRICE IS RIGHT
LET'S MAKE A DEAL is produced by Fremantle and broadcast on weekdays (check local listings). John Quinn is the executive producer. For more information and photos, please visit: Paramount Press Express | CBS Entertainment | LET'S MAKE A DEAL
THE YOUNG AND THE RESTLESS is broadcast on weekdays (12:30-1:30 PM, ET/11:30 AM-12:30 PM, PT) on the CBS Television Network and is produced by Bell Dramatic Serial Company in association with Sony Pictures Television. Josh Griffith is the executive producer. For more information and photos regarding THE YOUNG AND THE RESTLESS, go to: Paramount Press Express | CBS Entertainment | THE YOUNG AND THE RESTLESS
THE BOLD AND THE BEAUTIFUL is broadcast on weekdays (1:30-2:00 PM, ET/12:30-1:00 PM, PT) on the CBS Television Network. It is a Bell-Phillip Television production. Bradley P. Bell is the executive producer. THE BOLD AND THE BEAUTIFUL is the most-watched U.S.-produced daytime drama series in the world. For more information and photos, please visit: Paramount Press Express | CBS Entertainment | THE BOLD AND THE BEAUTIFUL
***
SMITHHOUSE for CBS cbsdaytime@smithhousestrategy.com