Ratings
VIEWERS WATCHED MORE THAN 281 BILLION MINUTES OF CBS PROGRAMMING IN THE FIRST QUARTER OF 2023 – 90 BILLION MINUTES MORE THAN ITS CLOSEST BROADCAST COMPETITOR
Viewers Have Also Spent Nearly Four Times More Time with CBS Than the Combined Total Minutes Watching Original Content Across Amazon, Hulu, Disney+ and HBO Max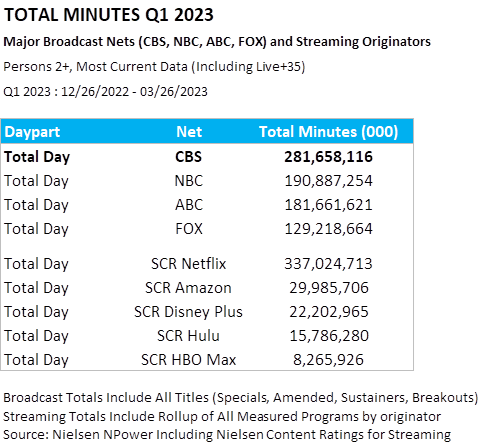 According to Nielsen Total Day "Most Current" data for Q1 2023, viewers have watched over 281 billion minutes of CBS programming across all dayparts, +90 billion minutes more than the closest broadcast competitor. This aggregate viewership includes more than 92 billion minutes watched of CBS primetime entertainment programming – nearly +25 billion more than the closest broadcast network.
When compared to streamers, viewers have spent nearly four times more time with CBS programing than the combined minutes spent watching SVOD originals on Nielsen-rated streaming services Amazon Prime, Hulu, Disney+ and HBO Max.
"CBS' strong first quarter viewership demonstrates the enduring popularity of our programming across all genres and dayparts," says Radha Subramanyam, CBS chief research and analytics officer. "Outperforming broadcast and streaming competitors, the Network continues to be a leading multiplatform brand while aggregating audiences of significant scale."
In sports, viewers have spent over 77 billion minutes watching THE NFL ON CBS, college basketball, the PGA Tour, UEFA and other sporting events in Q1 2023.
News content on the Network has aggregated more than 57 billion minutes, with CBS MORNINGS amassing nearly 18 billion minutes of viewing, THE CBS EVENING NEWS WITH NORAH O'DONNELL has garnered nearly 10 billion minutes in Q1 2023.
The Tuesday FBI franchise (FBI, FBI: INTERNATIONAL and FBI: MOST WANTED) has garnered more than 15 billion minutes watched. The long-running NCIS franchise has tallied nearly 15 billion minutes.
In late night, THE LATE SHOW with STEPHEN COLBERT has amassed 8.5 billion minutes, beating its closest competition by +43%.
Daytime is also dominant with nearly 53 billion minutes consumed. THE PRICE IS RIGHT leads all daytime shows with 17.7 billion minutes, and THE YOUNG AND THE RESTLESS celebrated its 50th anniversary as the top daytime drama with 13.7 billion minutes so far this season.
Viewers spent more time with CBS' top 20 non-sports programs in Q1 (150b) than with the top 20 original streaming series (86b).
All CBS entertainment, news and sports programming is available live on Paramount+ and most of the Network content is also available on demand.
(Source for all metrics: Nielsen Total Day P2+ Most Current Data, 12/26/22-03/26/23)
***
Press Contacts:
| | | |
| --- | --- | --- |
| Phil Gonzales | | |
| Julie Holland | | |