Ratings
"CMT MUSIC AWARDS" SCORES BIGGEST AUDIENCE EVER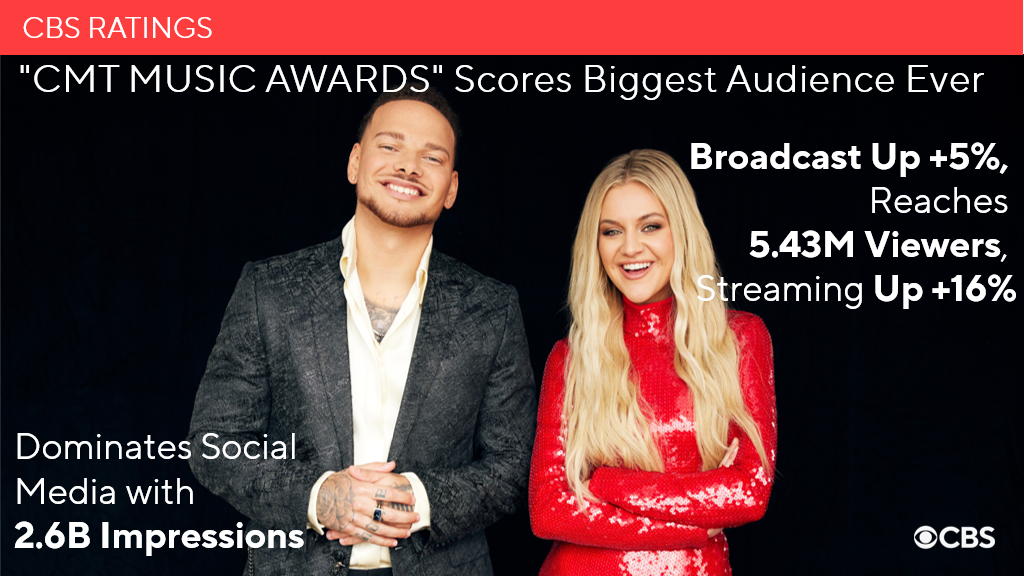 Broadcast Reaches 5.43 Million Viewers – Up +5% from Last Year
Out of Home Viewing Projected to Boost Live + Same Day Number to 5.68 Million Viewers
Paramount+ Most-Streamed* Program of the Night – Up +16% from Last Year
"CMT Music Awards"-Related Content Dominated Social Media with 2.6 Billion Potential Impressions, Up from Last Year and Ranking as a Top 10 Trending Topic on Twitter
From 8:00-11:00 PM, CMT MUSIC AWARDS scored a winning 5.43 million viewers, up +5% from last year's April 11, 2022 telecast.

Live streams* posted +16% year-to-year gains.

This is the second year the awards show has aired on CBS.

CMT MUSIC AWARDS was the second most-watched awards show in the last year on CBS and Paramount+, behind only THE 65TH ANNUAL GRAMMY AWARDS®.

Final live + same day ratings including out of home viewing will be released Tuesday. However, projections indicate a viewership of 5.68 million.

Social media content related to the show attracted 2.6 billion potential** social impressions, up from 2.5 billion last year.

The #CMTAwards trended in the top 10 in the U.S. on Twitter last night.

CBS won the night averaging 5.74 million viewers. 60 MINUTES (7:00-8:00 PM, ET/PT) reached 6.66 million viewers.

CMT MUSIC AWARDS EXTENDED CUT: Premieres Thursday, April 6 (8:00-11:30 PM, ET/PT) on CMT featuring 30 extra minutes of new performances and bonus content.
Editor's Note: *CBS series streaming viewership numbers are based on Paramount+ and CBS TVE (CBS.com/CBS app) and are available to watch on the Network and streamed live and on demand.
**Potential Impressions are the estimated number of people who might have viewed posts related to this topic. NetBase calculates potential impressions based on followers/fans of original posts and followers/fans of engagements.
***
Press Contacts:
| | | |
| --- | --- | --- |
| Kate Fisher | | |
| Julie Holland | | |
| Mallory Mason | | |