Release
CBS NEWS AND STATIONS RECEIVES 26 EMMY NOMINATIONS
"60 Minutes" Leads the Network with 13 Nominations, Tied for the Most for a Single Broadcast Program
"CBS Mornings" Earns Four Nominations; The "CBS Evening News with Norah O'Donnell" and "48 Hours" Each Receive Three Nominations; "CBS Sunday Morning" and "Face the Nation with Margaret Brennan" Each Earn Two Nominations
CBS News Also Recognized with a Nomination for Live, Breaking News Coverage of Jan. 6
WBBM-TV in Chicago Receives Regional Award Nomination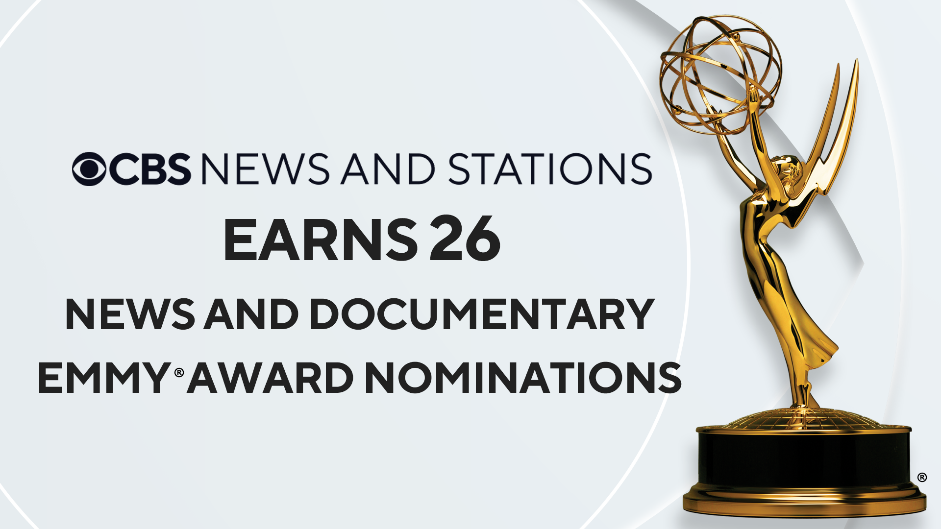 CBS News and Stations was recognized with 26 News & Documentary Emmy Award nominations, it was announced today by the National Academy of Television Arts & Sciences.
60 MINUTES led the Network with 13 nominations and tied for the most nominations for a single broadcast program. CBS MORNINGS earned four nominations; The CBS EVENING NEWS WITH NORAH O'DONNELL and 48 HOURS each earned three nominations; CBS SUNDAY MORNING and FACE THE NATION WITH MARGARET BRENNAN each received two nominations. CBS News was also recognized with a nomination for its live, breaking news coverage of the Jan. 6, 2021, assault on the Capitol.
In addition, WBBM-TV, the CBS-owned station in Chicago, received a nomination in a special category, created by NATAS, that recognizes outstanding regional news reports.
The 43rd News & Documentary Emmy Awards will be presented in two separate virtual ceremonies: the news categories on Wednesday, Sept. 28 (7:30 PM, ET), and the documentary categories on Thursday, Sept. 29 (7:30 PM, ET). To view the full list of nominations, click here.
CBS News and Stations' Emmy nominees are:
Outstanding Live News Program:
CBS MORNINGS / CBS THIS MORNING
Outstanding Recorded News Program:
60 MINUTES
CBS SUNDAY MORNING
Outstanding Live Breaking News Coverage:
CBS NEWS: "Assault on the Capitol"
Outstanding Edited Breaking News Coverage:
60 MINUTES: "Jan. 6"
60 MINUTES: "The Beast"
Outstanding Soft Feature Story: Long Form:
48 HOURS: "What Happened to the Perfect Child?"
60 MINUTES: "The Comeback"
Outstanding Investigative News Coverage: Short Form
CBS EVENING NEWS WITH NORAH O'DONNELL: "Norah O'Donnell Investigates: A Silent Epidemic in the U.S. Military"
CBS MORNINGS and CBS EVENING NEWS: "Seatback Collapse"
Outstanding Investigative News Coverage: Long Form
60 MINUTES: "Handcuffed to the Truth"
Outstanding Recorded News Special:
60 MINUTES: "9/11: The FDNY"
CBS SUNDAY MORNING: "Behind the Badge"
Outstanding News Discussion & Analysis:
CBS NEWS: FACE THE NATION: "Afghanistan's Collapse"
CBS NEWS: FACE THE NATION: "Dr. Deborah Birx: A COVID Autopsy"
Outstanding Edited Interview:
60 MINUTES: "The Facebook Whistleblower"
Outstanding Science, Technology or Environmental Coverage:
CBS MORNINGS, CBS THIS MORNING and CBS EVENING NEWS WITH NORAH O'DONNELL: "Eye on Earth"
Outstanding Arts, Culture or Entertainment Coverage:
60 MINUTES: "The Final Act"
Outstanding Business, Consumer or Economic Coverage:
60 MINUTES: "A New Model"
Outstanding Crime and Justice Coverage:
48 HOURS: "The Station Nightclub Fire: Who's Responsible?"
Best News Coverage – Long Form:
60 MINUTES: "9/11: The FDNY"
Outstanding Writing – News
60 MINUTES: "9/11: The FDNY"
60 MINUTES: "Handcuffed to the Truth"
Outstanding Video Journalism: News
60 MINUTES: "The Green River Drift"
Outstanding Technical Achievement:
48 HOURS & CBS NEWS: "The Queen Carries On: A Gayle King Special"
CBS MORNINGS: "NEW Challenge"
REGIONAL:
Outstanding Regional News Story: Investigative Report
CBS 2 Chicago 10 PM WBBM-TV (Chicago, IL): "My Name Is Anjanette Young"
***
Press Contacts: