Release
VH1, HARTBEAT & JESSE COLLINS ENTERTAINMENT TEAM UP FOR "CELEBRITY SQUARES" WITH HOST DC YOUNG FLY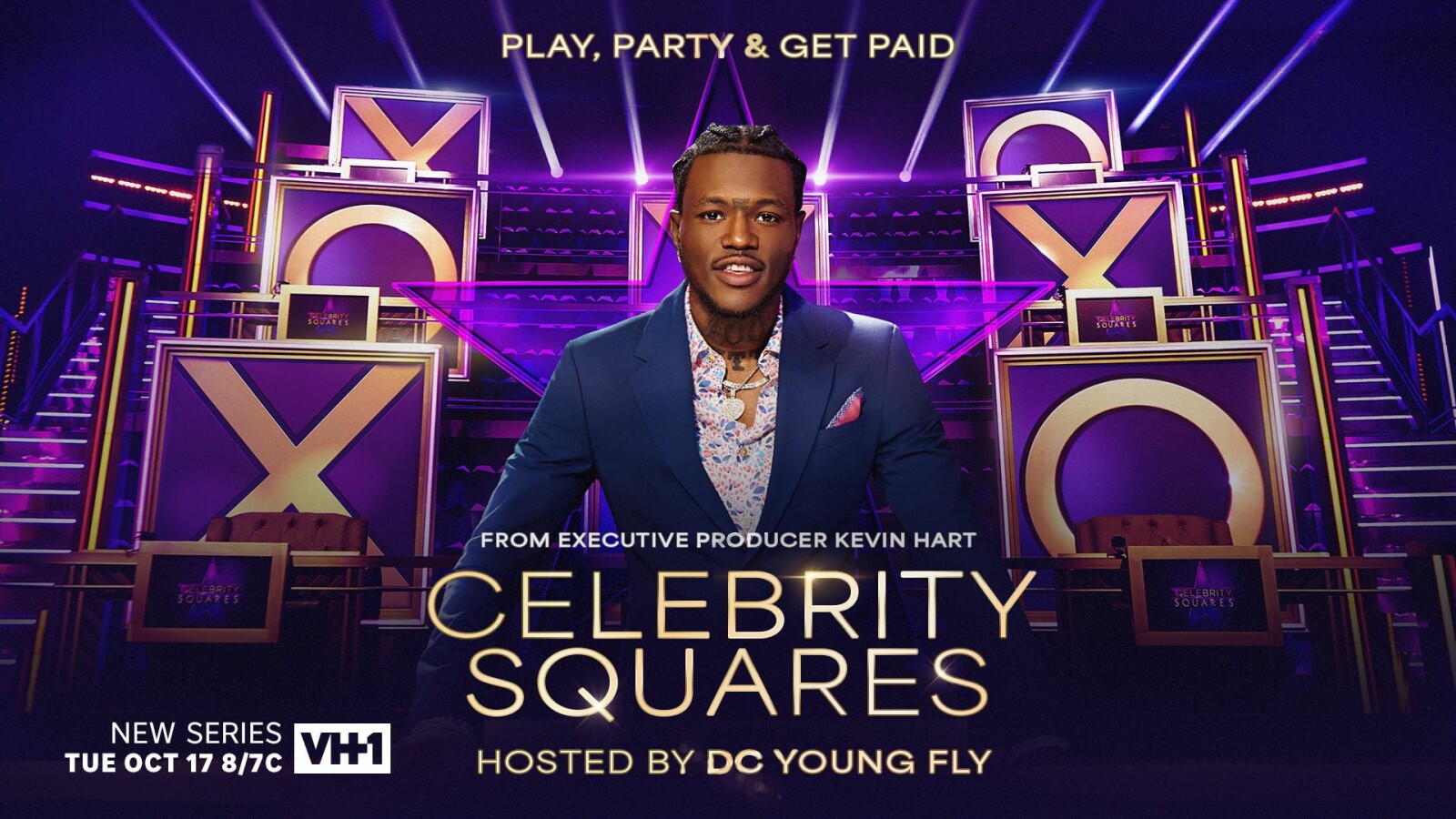 VH1, HARTBEAT & JESSE COLLINS ENTERTAINMENT TEAM UP FOR "CELEBRITY SQUARES" WITH HOST DC YOUNG FLY
THE NEW BLACK POP CULTURE VERSION OF ONE OF TV'S
LONGEST-RUNNING GAME SHOWS WILL PREMIERE ON TUESDAY, OCTOBER 17 AT 8 PM ET/PT ON VH1
#CELEBRITYSQUARES
PROMO CLIP: https://app.shift.io/review/650a23d4033ba821688045cb/cdd61638-a38f-41d0-8fac-a20c80d2b845
New York, NY, September 25, 2023 – VH1, Jesse Collins Entertainment and global entertainment company, Hartbeat, today announced the launch of "Celebrity Squares," a modern twist on the classic game show format featuring Black pop culture trivia. Hosted by actor and comedian DC Young Fly, the series will bring cultural icons together for 20 fun and spontaneous half-hour episodes. Celebrity guests include Babyface, Bobby Brown, Tiffany Haddish, Kirk Franklin, Bresha Webb, Luenell, Taye Diggs, and many more. "Celebrity Squares" premieres Tuesday, October 17, at 8 PM ET/PT on VH1.
"Celebrity Squares" will bring two contestants together to play Tic-Tac-Toe, banking cash, and prizes along the way. The player with the most money in their bank at the end of the game will move on to the bonus round for a chance to win a $10,000 cash prize.
"We're thrilled to announce our partnership with Hartbeat and Jesse Collins Entertainment for this exciting new project," said Tiffany Lea Williams, Executive Vice President, of Unscripted Programming and Development of BET. "This show offers a fresh interpretation of the iconic Hollywood Squares format, with a focus on celebrating black pop culture. With DC Young Fly's laugh-out-loud humor, it promises to deliver a fun and exhilarating viewing experience. We look forward to bringing it to our audience."
"DC Young Fly is an extraordinary comedian and we are thrilled to team up with him once again to lead this project," stated Bryan Smiley, Chief Content Officer of Hartbeat. "We look forward to continuing our partnership with BET and Jesse Collins Entertainment as we bring an exciting, fresh spin to this iconic game show format."
"It was a pleasure to work with Hartbeat, BET and DC Young Fly again," said Dionne Harmon, President, Jesse Collins Entertainment. "We hope the audience enjoys watching this series as much as we enjoyed making it."
Additional celebrity guests include: Affion Crockett, Alesha Renee, Amanda Seales, Amin Joseph, Ashley Darby, B Simone, Big Freedia, Bobby Lytes, Brandee Evans, Brian Jordan Jr., Carl Anthony Payne, Chico Bean, Christian Keyes, Crystal Hayslett, D-Nice, Deon Cole, Desi Banks, Devale Ellis, Earthquake, Eva Marcille, Evelyn Lozada, Flau'Jae Johnson, Funny Marco, Jasmin Brown, Jason Lee, Jess Hilarious, Kamillion, K Michelle, Karlous Miller, Karrueche, Kel Mitchell, Kendra G, Keshia Knight-Pulliam, Kevin Frazier, Kevonstage, KJ Smith, Kym Whitley, Lance Gross, Lil Duval, Lil Fizz, Loni Love, Malcolm Barrett, Mark Tallman, Marlo Hampton, Moniece, Na'im Lynn, Nene Leaks, Niena Drake, Pretty Vee, Princess Love, Ray J, Safaree, Saucy Santana, Skyh Black, Shay Johnson, Sinqua Walls, Spice, Spice Adams, Sukihana, Tamar Braxton, Tami Roman, Terrance J, Tisha Campbell, Tommy Davidson, Yandy Smith-Harris and Zellswag.
"Celebrity Squares" is Executive Produced by Kevin Hart, Bryan Smiley and Thai Randolph for Hartbeat and Jesse Collins, Dionne Harmon, Madison Merritt and Elaine Metaxas for Jesse Collins Entertainment. Nile Evans serves as the game show's showrunner. Tiffany Lea Williams, Angela Aguilera, Mimi Blanchard and Raye Dowell serve as executives for BET. DC Young Fly is represented by Innovative Artists and Fox Rothschild.
Join the conversation on social media by logging on to multiple VH1 social media platforms by using the hashtag #CelebritySquares.
ABOUT BET MEDIA GROUP
The BET Media Group, a unit of Paramount (NASDAQ: PARAA; PARA; PARAP), is the world's largest media company dedicated to entertaining, engaging, and empowering the Black community and championing Black culture. Connecting Black audiences through a portfolio of brands including BET, BET+, BET Gospel, BET HER, BET International, BET Jams, BET Soul, BET Studios, and VH1, the BET Media Group is a thriving media ecosystem of leading interconnected platforms across cable TV, streaming, digital, studios, live events and international. For more information about BET, visit www.bet.com and follow @BET on social platforms. For more BET news announcements, follow us on social @BET_PR.
ABOUT HARTBEAT

Founded by Kevin Hart, Hartbeat is the global, multi-platform media company creating entertainment at the intersection of comedy and culture with a mission to keep the world laughing together. Hartbeat delivers comedy through its three divisions: Hartbeat Studios, which finances, develops and produces innovative content; Hartbeat Media, which connects with consumers around the world through events and the company's extensive distribution network; and PULSE, the company's branded entertainment studio that serves as a creative and cultural consultancy to brand. Hartbeat's flagship consumer brand, the LOL! Network, reaches audiences across its O&O social media, audio, and OTT partners. Led by an award-winning team, Hartbeat is a valuable partner to the biggest entertainment companies, platforms and brands in the world, driving cultural currency and generating sales, subscriptions, buzz, and conversation with some of the most coveted audiences.
ABOUT DC YOUNG FLY
Born and raised in Atlanta, DC Young Fly launched his career by garnering a massive following as a highly favored content creator. He has optimally developed his brand to the true multi-hyphenate that he is today as a comedian, actor, host, producer, VO actor and musician, and was named one of Variety's coveted 10 Comics to Watch in 2019. Recently starring in the New Line/SpringHill feature film HOUSE PARTY, DC can also be seen in a supporting role in the Amazon film CANDY CANE LANE opposite Eddie Murphy set to be released at the end of the year. He is 1/3 of the hit podcast 85 South which just released their first Netflix comedy special, 85 SOUTH: GHETTO LEGENDS, reigning the #1 spot for weeks. He continues to be the most sought-after veteran cast member on Nick Cannon's WILD'N OUT, recently wrapping his 15th season. He has recurred on 50 Cent's BMF and can also be seen playing the historic musician/songwriter 'Sly Stone' displaying his musical talent on season two of BET's AMERICAN SOUL. In the feature film space, he played the lead in Universal's comedy feature for MTV, HOW HIGH 2. Other past acting credits include Will Packer's feature film ALMOST CHRISTMAS, FOX's comedy series REL, and Kenya Barris' GROWNISH on Freeform. On the hosting front, he brought back MTV's reboot of TRL and is a two-time host for BET's HIP HOP AWARDS alongside his 85 South co-hosts. He also guest starred in Disney's notable animated series, THE PROUD FAMILY: LOUDER AND PROUDER.
ABOUT JESSE COLLINS ENTERTAINMENT
Founded in 2012, Jesse Collins Entertainment (JCE) is a full-service Emmy winning production company that has played an integral role in producing many of television's most memorable moments in music entertainment.  JCE's award-winning and critically acclaimed television includes programming from its three divisions.  From the scripted division: scripted series—Real Husbands of Hollywood, American Soul and miniseries—The New Edition Story and The Bobby Brown Story.  From the unscripted division: unscripted series – Gabrielle Union: My Journey to 50, Oh Hell No! With Marlon Wayans, Cardi Tries, My Killer Body with K. Michelle, DJ Cassidy's Pass the Mic and Forward: The Future of Black Music, competition/game shows—Becoming A Popstar, Rhythm + Flow, Sunday Best, Hip Hop Squares and Nashville Squares, talk shows – Yara Shahidi's Day Off and Face to Face with Becky G, and children's series—Bookmarks: Celebrating Black Voices (Daytime Emmy Award winner).  From the specials division: award shows—The Emmy Awards, The American Music Awards, BET Awards, Soul Train Awards, BET Hip Hop Awards, Black Girls Rock!, BET Honors, UNCF's An Evening of Stars and ABFF Honors, specials—The Super Bowl Halftime Show (Primetime Emmy Award winner), The Light We Carry: Michelle Obama & Oprah Winfrey (Primetime Emmy® Award nominee), Lil Rel Howery: I said it. Y'all thinking it., CNN's Juneteenth: A Global Celebration of Freedom, Martin: The Reunion, John Lewis: Celebrating A Hero, "Love & Happiness: An Obama Celebration", "Change Together: From The March On Washington To Today" A GRAMMY Salute to the Sounds of Change, "Stand Up for Heroes", Dear Mama, Amanda Seales: I Be Knowin', Def Comedy Jam 25, "Leslie Jones: Time Machine", The All-Star Nickmas Spectacular and Rip the Runway.  Emmy winner Jesse Collins, Founder and CEO, is the executive producer of all JCE programming. He is also an executive producer for the Grammy Awards.  Collins produced the 2021 Oscars and 2022 Golden Globes.
MEDIA CONTACTS:
Luis DeFrank
Luis.Defrank@bet.net
Mercedes Smith
Mercedes.Smith@bet.net