Release
The Reading - Fact Sheet
"THE READING" a BET+ Original Movie Fact Sheet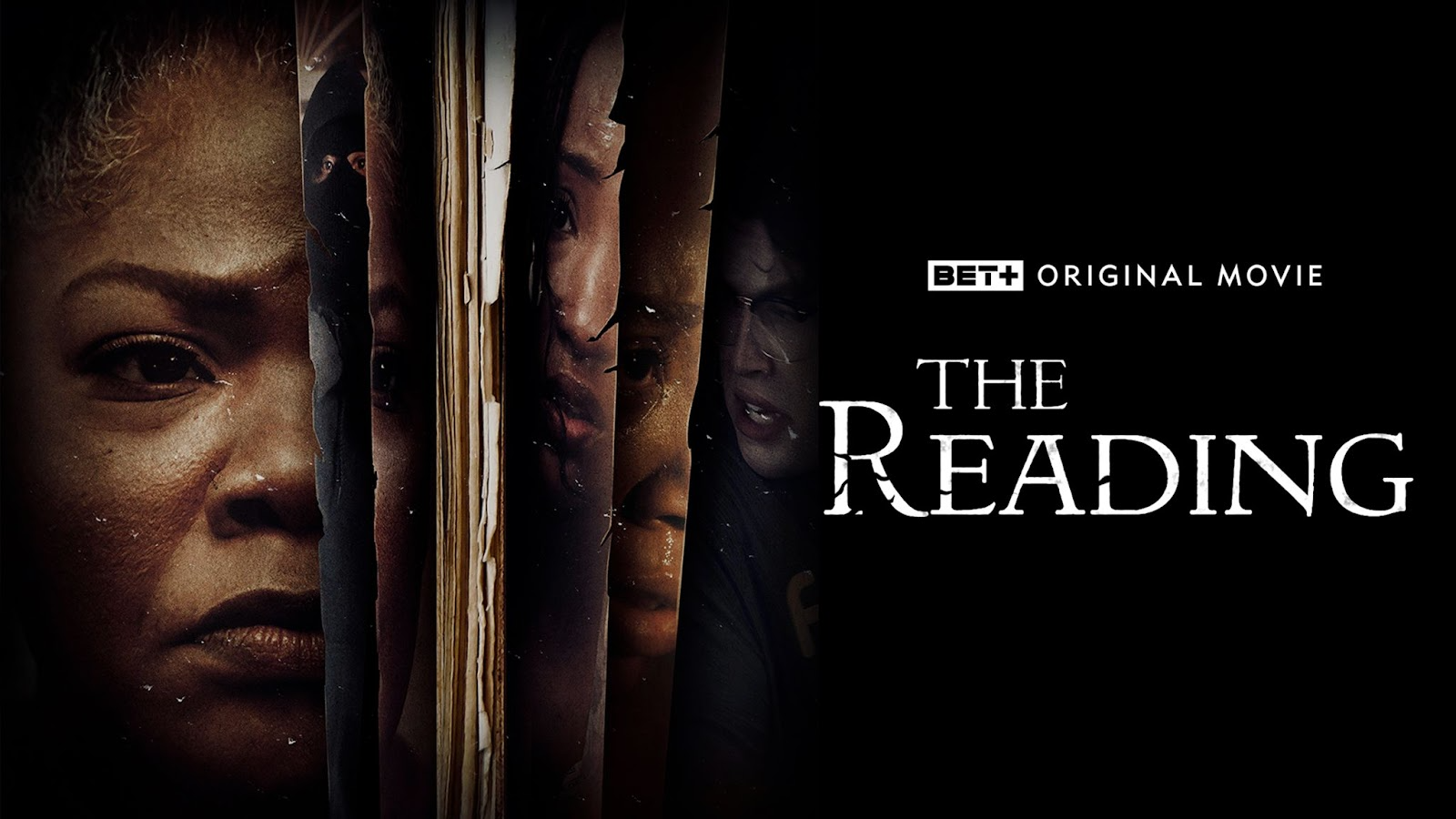 Link to trailer here
Link to key art here
Link to cast headshots here
Link to film stills here


FILM PREMIERE DATE: February 2, 2023, only on BET+
FILM DESCRIPTION: Recently widowed, Emma Leeden, details the loss of her family in her new book "Invasion". To generate press, Emma agrees to a staged reading by 19-year-old Sky Brown in Emma's now fortified home. There's only one problem, Sky's spiritual connection is real, and evil emerges in a house they can't get out of.
| | |
| --- | --- |
| Cast: | Mo'Nique Hicks, Chasity Sereal, Denisha Hardeman, Ian Haywood, Charlene Brown, Lisa Alavi and Sara Alavi |
| Executive Producers: | Lee Daniels, Courtney Glaude |
| Producing Director: | Courtney Glaude |
| Producers: | Aundrea Posey, Joy Ganes |
| Writer | Courtney Glaude |
| Director: | Courtney Glaude |
Quote from Courtney Glaude the film's writer and director:
"The Reading is a rollercoaster of a project that I am thrilled to see come to life," says director/writer Courtney Glaudé. "I am a fan of the surgical performance by Mo'Nique, and the love and commitment from the entire cast during the pandemic. I appreciate the dedication to bringing this, as I was told, "sick" vision of mine to the screen; and of course Lee Daniels for being crazy enough to Executive Produce the project and believing in me. I can't wait for the audience to think they know, but have no idea what's going to happen. I promise you...it's crazy."
COURTNEY GLAUDE

Writer, Director, Producer




Courtney Glaudé is a filmmaker based in Houston, TX. He has written, directed, and produced multiple award-winning shorts, including Best Short Drama for "Row" at the Los Angeles Short Film Festival and Best Short for "Tag" at Atlanta's Bronze Lens Film Festival. His 2023 feature film debut, "The Reading," executive produced by Lee Daniels, is a supernatural thriller starring Mo'Nique streaming exclusively on BET+ and premiering Feb 2nd, 2023.
LEE DANIELS

Executive Producer


Lee Daniels is an Academy Award® nominated filmmaker whose work is trademarked by authenticity and candor, providing audiences with a unique experience and raw character insight with each of his projects. In 2001, he founded Lee Daniels Entertainment, a full-service production company that is home to inclusive storytelling and serves as a platform for diverse and underrepresented voices to create authentic and original content. Recent and upcoming projects include: THE DELIVERANCE (Netflix) starring Mo'Nique, THE WONDER YEARS reboot (ABC), MS. PAT (BET), and the untitled Sammy Davis Jr. limited series (Hulu), to be co-written and directed by Daniels.
CHARACTER BIOS:
MO'NIQUE HICKS

as "Emma Leeden"




Widowed-housewife; mother of two; sweet, soft-spoken. Emma Leeden born Emma Reese was raised in a low-income environment. She dreaded her upbringing so she married Mathew Leeden in hopes of a better future and environment. Recently she suffered at the hands of a home invasion that took her entire family away from her. A year later she still suffers from the physical attack on her body and is mentally scared from the events a year prior.

CHASITY SEREAL

as "Sky Brown"

Sky Brown was raised in a low-income environment by a mother who could do nothing to change it. She was born with a gift to see and speak to the dead, but she hid it being scaled by her mother as a young child for even speaking about it. She figures out a way to make money off of it by doing readings for rich trust fund students that have lost a parent in their lives. She uses this money to pay for school. To make a little more money she chooses to lie to the clients about the request of their dead loved one. Now she's getting tired of it and wants to quit, more importantly, she's getting weaker about closing the spiritual door she opens to speak through. The dilemma is she can't just quit because her friends that help her count on this money as well as her and her mother

DENISHIA HARDEMAN

as "Jesse"'




Jesse, is the girl from around the way. She grew up with Sky on the same street. They are best friends to the end.

IAN HAYWOOD

as "Gregory"




Gregory is Sky's long-term boyfriend. He helps assist Sky in her reading as the muscle just n case anything goes wrong. He also sets up the readings for her. He scans the clients and brings her the information she needs before going in.

MCAULEY TETERS

As "Randy"




Randy is a close friend of the group. He comes with them on their readings to film, and document the experience for the customer.

CHARNELE

as "Oda Brow"




Oda Brown is Sky's mother. Even though she's a scholar with multiple degrees, Oda never had the opportunity to successfully use them. She wants Sky to have a better life than she did and is willing to do anything she has to keep the bills paid and Sky focused.

LISA ALAVI

as "Ashley Leeden"




Ashley Leeden is Emma Leeden's (Monique) sister-in-law and book publicist. It's her idea to get Sky to come over and do a reading which they are skeptical of.





SARA ALAVI

as "Rachel Gates"

Tv and talk show personality.





ABOUT BET+:
BET+, a subsidiary of Paramount Global, is the preeminent streaming service for the Black audience. A joint venture between BET and Tyler Perry Studios, BET+ allows users to stream the best of Black culture from the best Black creators across movies, TV shows, stand-up comedy, award shows and specials, all in one place, commercial-free. BET+ also hosts a variety of exclusive content, with new original series and movies launching each month, including Emmy-nominated "The Ms. Pat Show," "Tyler Perry's Zatima" and "All the Queen's Men", "The Impact Atlanta", "College Hill: Celebrity Edition," "Martin: The Reunion," "First Wives Club" and "Carl Weber's The Family Business" and "The Black Hamptons," to name a few. Visit BET.Plus or follow @BETPlus to learn more.