Release
PARAMOUNT+ TO PREMIERE "THE ENVOYS" ("LOS ENVIADOS") IN THE UNITED STATES ON THURSDAY, JAN. 20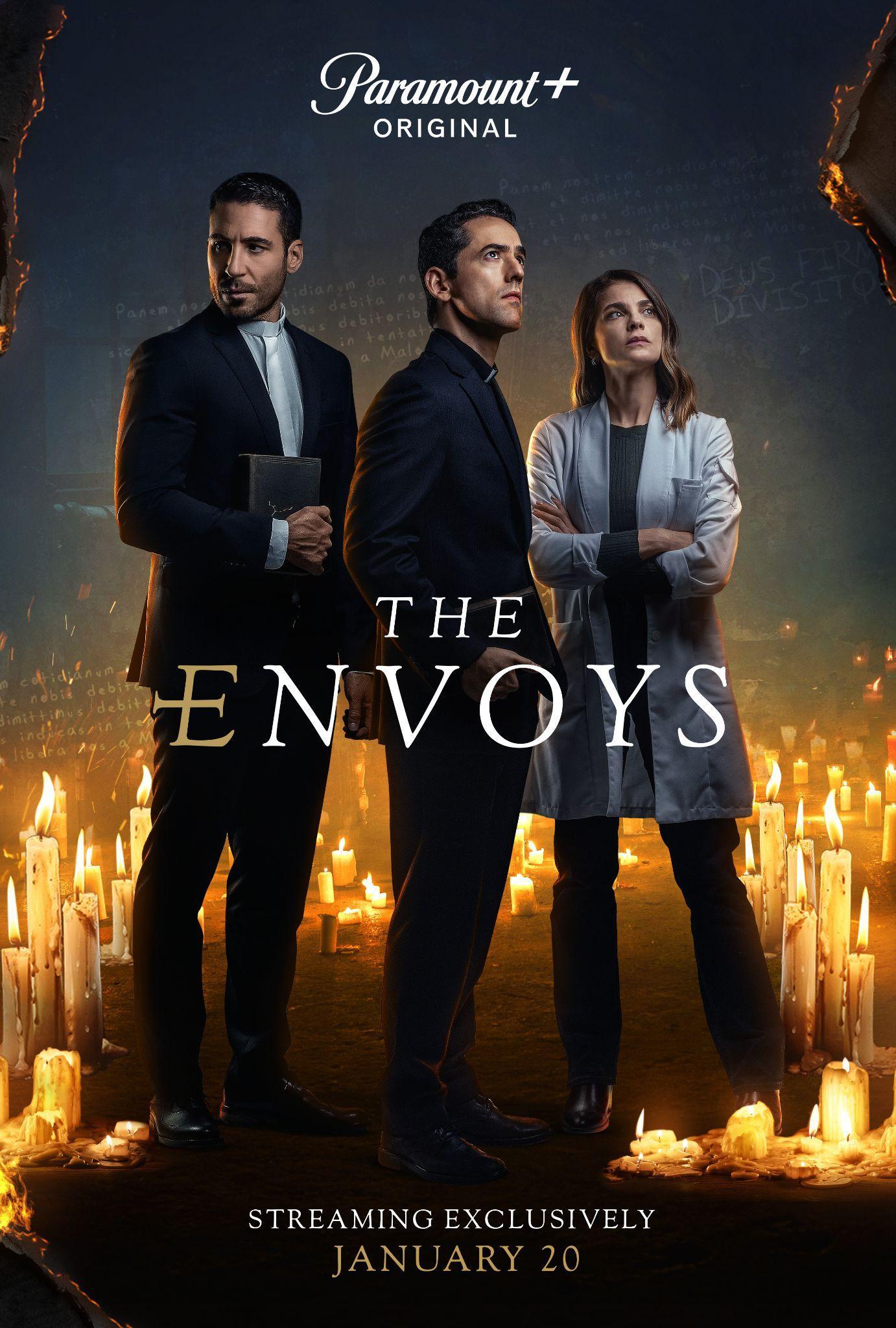 Produced by Renowned Director, Screenwriter and Oscar ® Winner
Juan José Campanella
Leading Cast Includes Luis Gerardo Méndez, Miguel Ángel Silvestre, and Irene Azuela
Jan. 18, 2022 – Paramount+, the streaming service from ViacomCBS, today announced that the Spanish-language series THE ENVOYS ("Los Enviados") will premiere in the United States on Thursday, Jan. 20. The original series features an all-star cast, including Luis Gerardo Méndez ("Narcos: Mexico," "Charlie's Angels"), Miguel Ángel Silvestre ("Narcos," "Sense8"), Irene Azuela ("Sense8"), and Miguel Rodarte ("Narcos: Mexico"). Oscar® winner Juan José Campanella ("The Secret in Their Eyes") serves as showrunner, producer and director. All eight episodes will be available to binge exclusively on Paramount+.
THE ENVOYS tells the mission of two priests from the Congregation for the Causes of Saints, the Vatican team in charge of verifying and studying miracles of potential saints, who are sent to Mexico to verify alleged miraculous healings of another clergyman known for performing them in a mental institution. As soon as they arrive in Mexico City, they receive the news that the priest they are looking for has disappeared without a trace. Their lives and their faith are taken to the limit when they discover a psychiatric colony, located on the suburbs of the town that seems to hide more than one secret: a mystery buried for decades that underlies each inhabitant of the town.
Luis Gerardo Méndez stars as Pedro Salinas, a methodical priest who never breaks the rules and believes in routine, whose greatest desire is to be able to prove his own miracle. He doesn't want to believe it; he wants to probe it. Star Miguel Ángel Silvestre plays Salinas' companion and fellow priest Simón Antequera. Antequera has great ambitions within the church and, unlike Salinas, is intuitive and always offers a different point of view. Some years have passed since he has felt the presence of God, despite his being a priest, which is something that worries him.
Adriana Cortés, played by Irene Azuela, will be a key piece in the search for the truth as she witnessed the first two miracles attributed to the clergyman. Cortés takes an active role in finding the location of the man the priests are looking for, whom she considers a brother.
"It's a dream come true for 'Los Enviados' to premiere outside of Spanish-speaking countries for global audiences on Paramount+," commented Campanella. "It's the perfect place to showcase the series and the effort of everyone involved in this project, just as it deserves."
"I feel honored to carry out this project under the gaze of a director like Campanella and with colleagues like Miguel Ángel Silvestre and Irene Azuela," Méndez said.
"I'm very proud of working for VIS in a production of such dimensions. I'm very happy to belong to this project and that this content is part of Paramount+," said Silvestre.
"Working with Juan José Campanella was a delight. His knowledge is tremendous, and I'm sure the audience will want to see the story from beginning to end," Azuela said.
Co-produced by Campanella and his production company 100 Bares, THE ENVOYS is written by Leandro Calderone, Emanuel Díaz and Molo Alcocer. The series is directed by Campanella with Martino Zaidelis, Camilo Antolini and Hiromi Kamata.
The series will also be available on Paramount+ in Australia, Canada and the Nordics on Thursday, Jan. 20.
About Paramount+
Paramount+, a direct-to-consumer digital subscription video on-demand and live streaming service from ViacomCBS, combines live sports, breaking news, and a mountain of entertainment. The premium streaming service features an expansive library of original series, hit shows and popular movies across every genre from world-renowned brands and production studios, including BET, CBS, Comedy Central, MTV, Nickelodeon, Paramount Pictures, and the Smithsonian Channel. The service is also the streaming home to unmatched sports programming, including every CBS Sports event, from golf to football to basketball and more, plus exclusive streaming rights for major sports properties, including some of the world's biggest and most popular soccer leagues. Paramount+ also enables subscribers to stream local CBS stations live across the U.S. in addition to the ability to stream ViacomCBS Streaming's other live channels: CBSN for 24/7 news, CBS Sports HQ for sports news and analysis, and ET Live for entertainment coverage.
For more information on Paramount +, visit www.paramountplus.com and follow @ParamountPlus on social media.
VIS Press Contact:
Ashley Priest (International), Ashley.Priest@viacom.com
Tirso Gómez Brumana (Americas), Tirso.Gomezbrumana@viacom.com
Paramount+ Press Contacts:
Kate Mann, Kate.Mann@viacomcbs.com
Natalie Speck, Natalie.Speck@viacomcbs.com
Brittany Panko, Brittany.Panko@viacomcbs.com