Release
CBS SPORTS UNVEILS "NFL ON CBS" ANNOUNCER LINEUP LED BY JIM NANTZ, TONY ROMO AND TRACY WOLFSON
Network's Deep Lineup Highlighted by New Teams as
Adam Archuleta and AJ Ross Team with Greg Gumbel; Jay Feely with Spero Dedes and
Tiki Barber with Tom McCarthy
"THE NFL TODAY" with James Brown, Boomer Esiason, Bill Cowher,
Phil Simms and Emmy Award-winner Nate Burleson Return as Network's Pregame Show
Announcer Assignments for Weeks 1-2 Set
Jim Nantz, Tony Romo and Tracy Wolfson once again lead THE NFL ON CBS' announce team in their fifth year together as they call CBS' marquee game each week, as well as many of the best games of the 2021 NFL season, the AFC Playoffs and AFC Championship Game.
Highlighting the changes in this year's NFL ON CBS announce teams are Adam Archuleta and AJ Ross joining Greg Gumbel as analyst and reporter, respectively; Jay Feely teaming with Spero Dedes and Tiki Barber pairing with Tom McCarthy.
The strength and depth of THE NFL ON CBS announce team is further evident this season as Ian Eagle, Charles Davis and reporter Evan Washburn return for their second season together as the No. 2 team. Kevin Harlan again pairs with Trent Green and reporter Melanie Collins; Andrew Catalon and James Lofton are back together this season and Beth Mowins will call select games during the season.
In addition to Wolfson, Washburn, Collins and Ross, additional sideline reporters including Sherree Burruss and Amanda Balionis will be used throughout the season.
As THE NFL ON CBS heads into its 62nd season, the 202l broadcast schedule begins on Sunday, Sept. 12 and is available to viewers across the country on the CBS Television Network and will stream live on Paramount+ to subscribers, who can watch NFL ON CBS games that are broadcast in their local market.
The following are the Network's NFL announce teams for the 2021 season (play-by-play/analyst//reporter):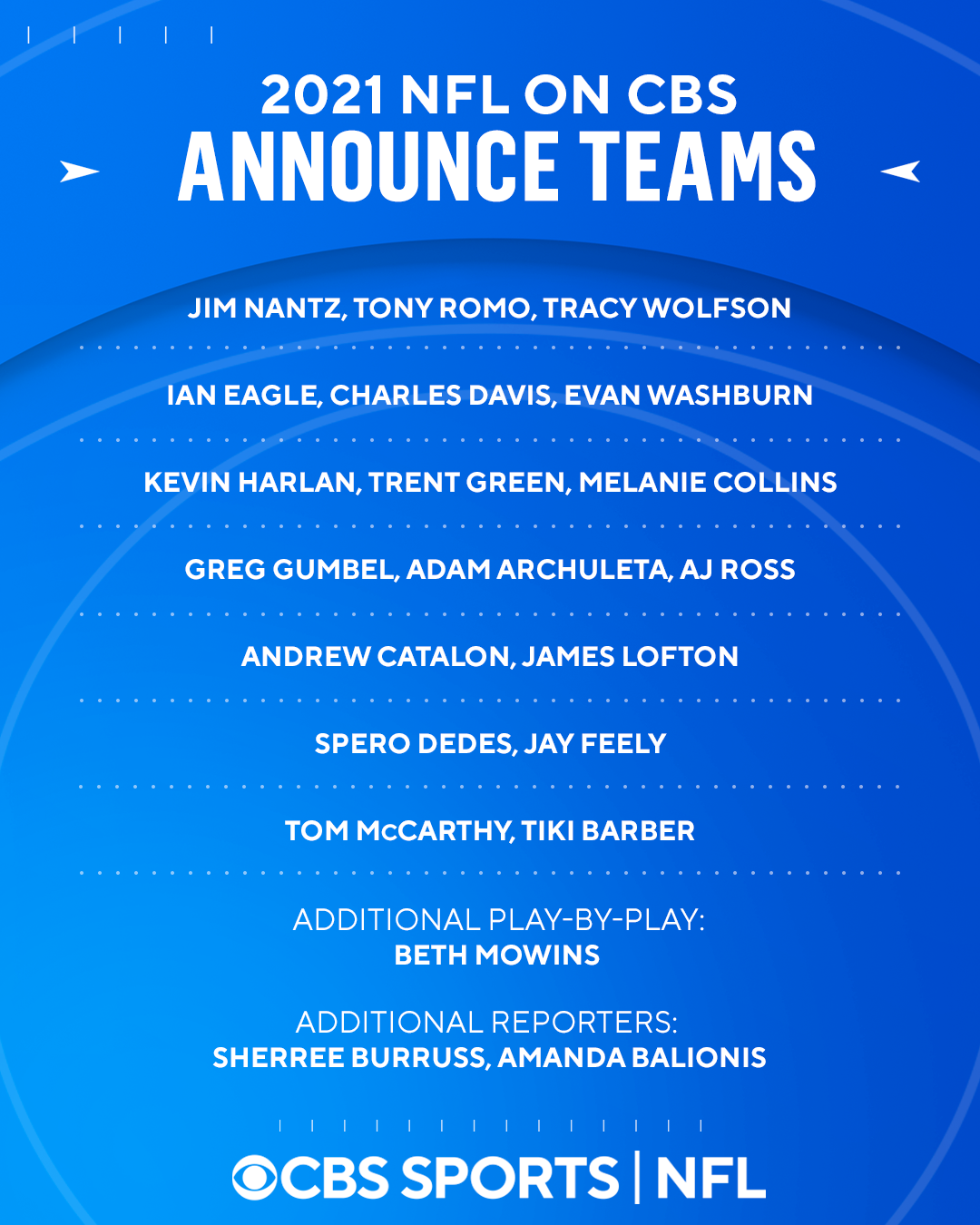 THE NFL TODAY returns with host James Brown alongside Boomer Esiason, Bill Cowher, Phil Simms and Emmy Award-winner Nate Burleson for their fifth season together. Gene Steratore again serves as NFL Rules Analyst and Jason La Canfora continues to serve as "NFL Insider."
Jim Rikhoff is the lead game producer for THE NFL ON CBS, and Michael Arnold is the lead game director. Drew Kaliski is the producer for THE NFL TODAY, while Bob Matina directs.
Sean McManus is Chairman, CBS Sports, and serves as Executive Producer for THE NFL ON CBS. David Berson is President, CBS Sports. Harold Bryant is Executive Producer and Executive Vice President, Production, CBS Sports.
The following are THE NFL ON CBS assignments for Weeks 1-2 (subject to change).
(More)
WEEK 1 – Sept. 12 – CBS DOUBLEHEADER
GAME

PLAY-BY-PLAY/ANALYST

PRODUCER/DIRECTOR

1:00 PM, ET:

N.Y. Jets @ Carolina

Andrew Catalon/James Lofton//

Sherree Burruss

Steve McKee/Andy Goldberg

Jacksonville @ Houston

Greg Gumbel/Adam Archuleta//

AJ Ross

Jonathan Segal/Mark Grant

Pittsburgh @ Buffalo

Ian Eagle/Charles Davis//

Evan Washburn

Mark Wolff/Bob Fishman

Arizona @ Tennessee

Tom McCarthy/Tiki Barber

Deb Boulac/Chris Svendsen

L.A. Chargers@ Washington

Spero Dedes/Jay Feely

Jason Ross/Jim Cornell

4:25 PM, ET:

Cleveland @ Kansas City

Jim Nantz/Tony Romo//

Tracy Wolfson

Jim Rikhoff/Mike Arnold

Miami @ New England

Kevin Harlan/Trent Green//

Melanie Collins

Ken Mack/Suzanne Smith
WEEK 2 – Sept. 19 – CBS DOUBLEHEADER
GAME

PLAY-BY-PLAY/ANALYST

PRODUCER/DIRECTOR

1:00 PM, ET:

Houston @ Cleveland

Greg Gumbel/Adam Archuleta//

AJ Ross

Jonathan Segal/Mark Grant

Las Vegas @ Pittsburgh

Ian Eagle/Charles Davis//

Evan Washburn

Mark Wolff/Bob Fishman

Denver @ Jacksonville

Spero Dedes/Jay Feely

Jason Ross/Jim Cornell

New England @ N.Y. Jets

Kevin Harlan/Trent Green//

Melanie Collins

Ken Mack/Suzanne Smith

4:25 PM, ET:

Dallas @ L.A. Chargers

Jim Nantz/Tony Romo//

Tracy Wolfson

Jim Rikhoff/Mike Arnold

Tennessee @ Seattle

Andrew Catalon/James Lofton//

Sherree Burruss

Steve McKee/Andy Goldberg
Follow CBS Sports on Twitter: @CBSSportsGang and @NFLonCBS
* * * * *
CBS Sports Contacts:
Jerry Caraccioli 212/975-7466 gwcaraccioli@cbs.com
Walt Scher 212/975-4772 walt.scher@cbs.com