Release
IN AN EXCLUSIVE CBS NEWS INVESTIGATION, NORAH O'DONNELL UNCOVERS SYSTEMIC FAILURES IN COMBATTING SEXUAL ASSAULT AND RAPE IN THE U.S. MILITARY, EVEN AS THE PENTAGON FUNNELS HUNDREDS OF MILLIONS OF DOLLARS INTO PREVENTION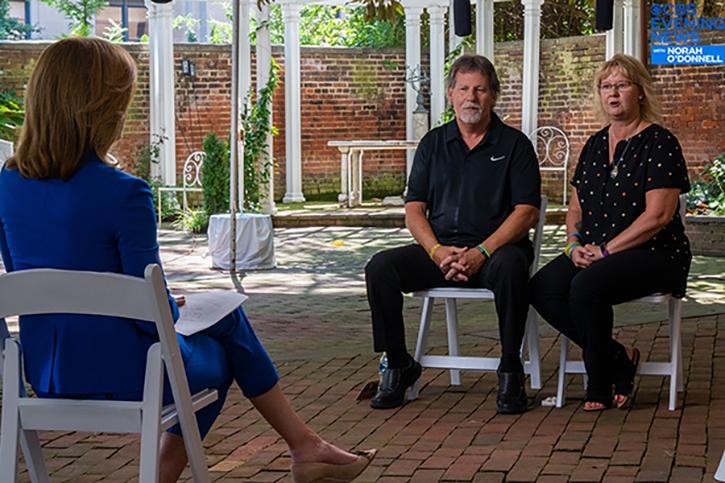 O'DONNELL SPOKE WITH SEXUAL ASSAULT SURVIVORS, THE FAMILIES OF SUICIDE VICTIMS AND WHISTLEBLOWERS WITHIN THE MILITARY WHO DEPICT A CULTURE OF RETALIATION
Four Survivors Sat Down with O'Donnell for On-Camera Interviews and Say They Faced Retaliation, Punishment and Threats After Reporting Incidents of Sexual Assault While Serving Their Country
One Survivor Said: "We're Supposed to Feel Safe … With Our Brothers and Sisters in the Military, and They're the Ones Hurting Us"
The Four-Part Investigative Series Begins Tomorrow, Nov. 17 on the "CBS Evening News with Norah O'Donnell" and Continues Wednesday on "CBS This Morning"
A year-and-a-half long investigation by CBS EVENING NEWS anchor and managing editor Norah O'Donnell and the CBS News Investigative Unit into sexual assault within the U.S. military uncovered consequential failures by leaders to change a pervasive culture of sexual assault. The Pentagon has spent hundreds of millions of dollars to combat sexual assault and rape in the armed services, but its claims of progress are refuted by a rise in reported incidents. Over the course of the investigation, CBS News spoke with military whistleblowers, nearly two dozen survivors and families of suicide victims who depict a culture of retaliation, blaming what they call the Pentagon's inadequate efforts to address a pervasive issue of sexual assault for the lasting consequences it has had on service members.
The four-part investigative series begins tomorrow, Nov. 17, on the CBS EVENING NEWS with NORAH O'DONNELL (6:30-7:00 PM, ET) with more reports to continue this week on CBS THIS MORNING (7:00-9:00 AM).
Norah O'Donnell's on-camera interviews include: four sexual assault survivors speaking on the record about their individual experiences and traumas; the families of servicewomen who died by suicide following their military sexual trauma and a substandard reporting process; and a conversation with three whistleblowers hired by the military to combat sexual assault and rape and who now claim to have been reprimanded or fired for reporting incidents and advocating for victims.
In the first part of the investigation, O'Donnell speaks with a family whose daughter died by suicide following two alleged sexual assaults, underscoring the military's failure to follow its own protocol, and the traumas many service members endure due to the culture of harassment in the military. "They knew they did wrong. They knew they were at fault. I mean, ultimately, they killed my daughter," said the mother of the victim.
Part two of the series features the story of a servicewoman who said she was repeatedly assaulted, gang raped, and who was then ultimately driven to suicide due to the toxic culture and threats she received while reporting her incident. O'Donnell sat down with the victim's mother, who said "she was doing a job that she loved. It was for her country. And to think that that's what took her life. That's what broke her." Of the military, the victim's mother said "they wanted her body. And they took her soul."
In part three of the investigation, O'Donnell speaks to four victims, who claim the military fostered an environment of harassment, retaliation and disregard in response to their accusations. One survivor says one of the military's designated sexual assault prevention officers "groomed me so that he could abuse me."
O'Donnell also speaks with three whistleblowers who were hired to work for the military's Sexual Assault Prevention and Response program established 15 years ago, and claim they were fired or suspended for reporting problems and advocating for victims they were brought on to protect. "I think the breadth and the depth of the problem is so large that they really don't want the general public to understand that they don't have it under control," one of the whistleblowers said.
The Department of Defense declined a CBS News request for an on-camera interview. In separate statements, the individual military branches all said they are committed to stopping sexual assault within their ranks. Still, this comes as whistleblowers claim, "we're seeing an increase in reports, decrease in convictions."
O'Donnell's investigation follows her Emmy Award-winning report on sexual assault at the U.S. Air Force Academy and continues her commitment to covering military affairs issues, including launching "Profiles in Service," a CBS EVENING NEWS series highlighting stories of veterans across the country, and how they're contributing to their communities.
* * *
Press Contact: