Release
CBS NEWS AND STATIONS LAUNCHES NEW MULTIPLATFORM SERIES "EARTH 365" AS PART OF DIVISION-WIDE COVERAGE SURROUNDING EARTH DAY 2022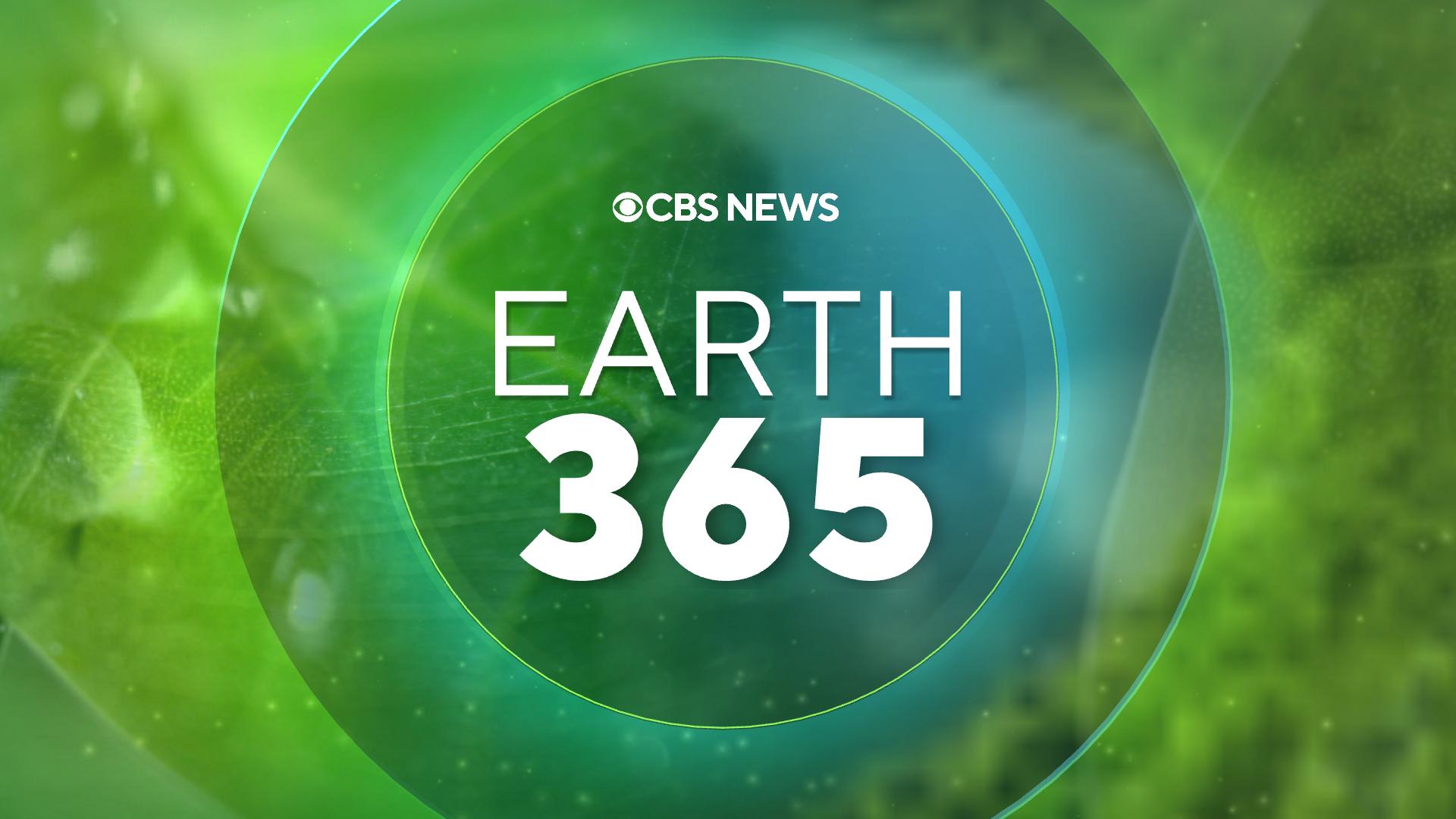 This week, CBS News and Stations launched EARTH 365, a multiplatform series exploring the damaging effects of climate change and the solutions being implemented to save the environment. A team of CBS News correspondents will report on the most important environmental stories from across all seven continents as part of the Network's coverage surrounding Earth Day 2022. The series will build on CBS News and Stations' ongoing coverage of the most pressing climate and environmental challenges facing the planet. This includes the CBS News Streaming Network's series CLIMATE WATCH, which features stories that examine the damaging effects of climate change and the solutions that are being developed. In addition, original reports will air across all platforms, including CBS MORNINGS, the CBS EVENING NEWS with NORAH O'DONNELL, CBS SATURDAY MORNING, CBS SUNDAY MORNING, CBS Stations, CBS News Radio and CBS Newspath.
The EARTH 365 series will feature reports from CBS News senior national and environmental correspondent Ben Tracy, CBS News national correspondent Jonathan Vigliotti, CBS SATURDAY MORNING co-host Michelle Miller, CBS News senior foreign correspondent Seth Doane, CBS News contributor Barry Petersen and more. CBS News polling will look at Americans' views on climate change, including how people's experiences with extreme weather affect those views. CBS News' partners at The Weather Channel will also contribute to the EARTH 365 coverage with new investigative reporting and enlightening conversations about the impacts of climate change.
CBS News, along with more than 400 other news outlets around the world, continues to participate in Covering Climate Now with division-wide dedicated coverage focused on climate change. CBS News was the first broadcast network to participate in Covering Climate Now, a joint venture spearheaded by the Columbia Journalism Review and The Nation, in association with The Guardian, to elevate coverage of the climate story environmental issues.
Here's a sample of the additional Earth Day coverage from CBS News and Stations:
CBS MORNINGS will provide extensive coverage of the effects of climate change during the week leading up to Earth Day. Ben Tracy will provide multiple stories, including a report on nuclear power and why environmentalists are the unexpected proponents of its comeback; an inside look into the depths of the largest land-based ecosystem, the Boreal Forest, and the jarring effects climate change is having on the area; and coverage of the new "Into the Deep" exhibit at the Monterey Bay Aquarium, which features dozens of recently discovered deep-sea creatures that are on public display for the first time in history. Tracy speaks with environmentalists who explain why the creatures play such a vital part in our ecosystem. Jonathan Vigliotti will provide an investigation into the wood pellet industry in the South and deforestation that is affecting the world by eliminating carbon-sequestering trees at an alarming rate.
On Saturday, April 16, CBS SATURDAY MORNING provided extensive Earth Day coverage, including an inside look at the future of conservation. Michelle Miller traveled to Montana to speak to the CEO of a national conservation group, Land Tawney, and the director of National Fish and Wildlife Services, Martha Williams, about the future of conservation. Barry Petersen reported on a push to solar energy so homeowners can cut electric bills.
This week, the CBS EVENING NEWS with NORAH O'DONNELL will mark Earth Day with a series of reports on efforts to protect the environment and the effects of pollution. In addition to a report on proactive efforts to protect the country from rising sea levels, the broadcast will also look at the environmental justice issue of air pollution and how some are trying to tackle the problem, which disproportionately impacts minority communities.
On Sunday, April 17, CBS SUNDAY MORNING broadcast a report on a movement to have fossil fuel companies pay for their impact on climate change. On Sunday, April 24, the program will feature Seth Doane's reporting on catastrophic floods in Europe and the aftermath, which resulted in German wineries selling wine soiled with flood mud to raise funds to cover their losses from the disaster.
On Earth Day, the CBS News Streaming Network will visit every continent in the world to focus on climate solutions around the globe. Ben Tracy's new CLIMATE WATCH series will highlight ways in which everyday people are tackling climate-related issues as well as simply appreciating the wonders of nature. CBS News Streaming will also feature a new episode of Steve Hartman's "On the Road" series, which revisits a few of his favorite stories from the past 25 years that focus on the wonders of our natural world and why it's so important to preserve it.
CBS News Radio will mark Earth Day with reports from Monica Rix that examine the environmental movement's origins in 1970 and measures people can take more than 50 years later to protect our planet. CBS News Radio will also explore how climate change is causing extreme weather and concerns for survival in different parts of the country. Reporting will be featured in our hourly newscasts as well as highlighted in the early and late editions of CBS News Radio's WORLD NEWS ROUNDUP.
CBS Newspath will offer stories to stations and affiliates in the lead-up to Earth Day. Bradley Blackburn will report on scouts regrowing coral at a lab in the Florida Keys. Tina Kraus will report on a London hotel claiming to be the world's first zero-carbon hotel. Danya Bacchus will look at Earth-friendly alternatives when laying a loved one to rest. Michael George tagged along with young women getting to know the great outdoors in the heart of an urban jungle. Additional Newspath reporting will explore an environmental movement that has homeowners ditching their lawn mowers, a boom for wind and solar power, and the impacts of climate change and extreme weather events on people's health.
CBS Stations across the country will highlight local stories throughout the week, including:
WCBS in New York: WCBS is partnering with a local group to help clean up Big Rock Beach. This stretch of shoreline in College Point, Queens was once a popular recreation spot for families but has since fallen into disrepair and is now littered with trash and debris. WCBS will share the history of this tarnished jewel and do a clean-up day. On Saturday, April 30, WCBS meteorologist John Elliott will spend the morning on the beach as dozens of volunteers pitch in to help restore the area to its former glory.
WBZ in Boston: Are extremes at the tallest peak of New England getting more extreme? WBZ's meteorologist Jacob Wycoff takes you to the top of Mt. Washington.
KTVT in Dallas: Meteorologist Jeff Ray takes you to the Dallas Zoo, where there is a program to recycle animal waste into something valuable: compost. The Zoo has partnered with a company that collects, processes and packages animal waste. The idea came about when the Zoo's environmental director found that almost all of the animal waste was going to…waste. Each week, the Zoo sends 21 tons to the company for composting.
WCCO in Minneapolis: Minnesota winters are getting dramatically shorter. While you often hear of climate impacts in fractions of degrees, in the state known for lakes and winters, the number of days waters are covered in ice has gotten shorter by a full week. WCCO goes beyond the science to look at the impact on business and sports like ice fishing, and how the change is having lasting impact on other seasons.
KDKA in Pittsburgh: The KDKA First Alert Weather Team of meteorologists Ray Petelin, Ron Smiley, Kristin Emery, Mary Ours and Falicia Woody will tackle topics from increasing severe weather and landslides in the region to the impacts on local farming and the local allergy season, to how local schools are teaching students about the environment and climate change. On Friday, April 22, KDKA-TV and the First Alert Weather Team will host a 30-minute streaming special on CBS News Pittsburgh, dedicated to Earth Day and our changing climate.
***
Press Contacts:
| | |
| --- | --- |
| Anna Gibson | |
| Brooke Lorenz | |