Release
CBS NEWS AND STATIONS REIMAGINE AND EXPAND STREAMING NETWORKS
CBS NEWS AND STATIONS REIMAGINE AND EXPAND STREAMING NETWORKS
CBS News Streaming Network Launches from New Studio with New Programming Slate, Showcasing Iconic Franchises as well as Anchors and Reporters Across CBS News
CBS News Miami Becomes 13th Local Streaming Service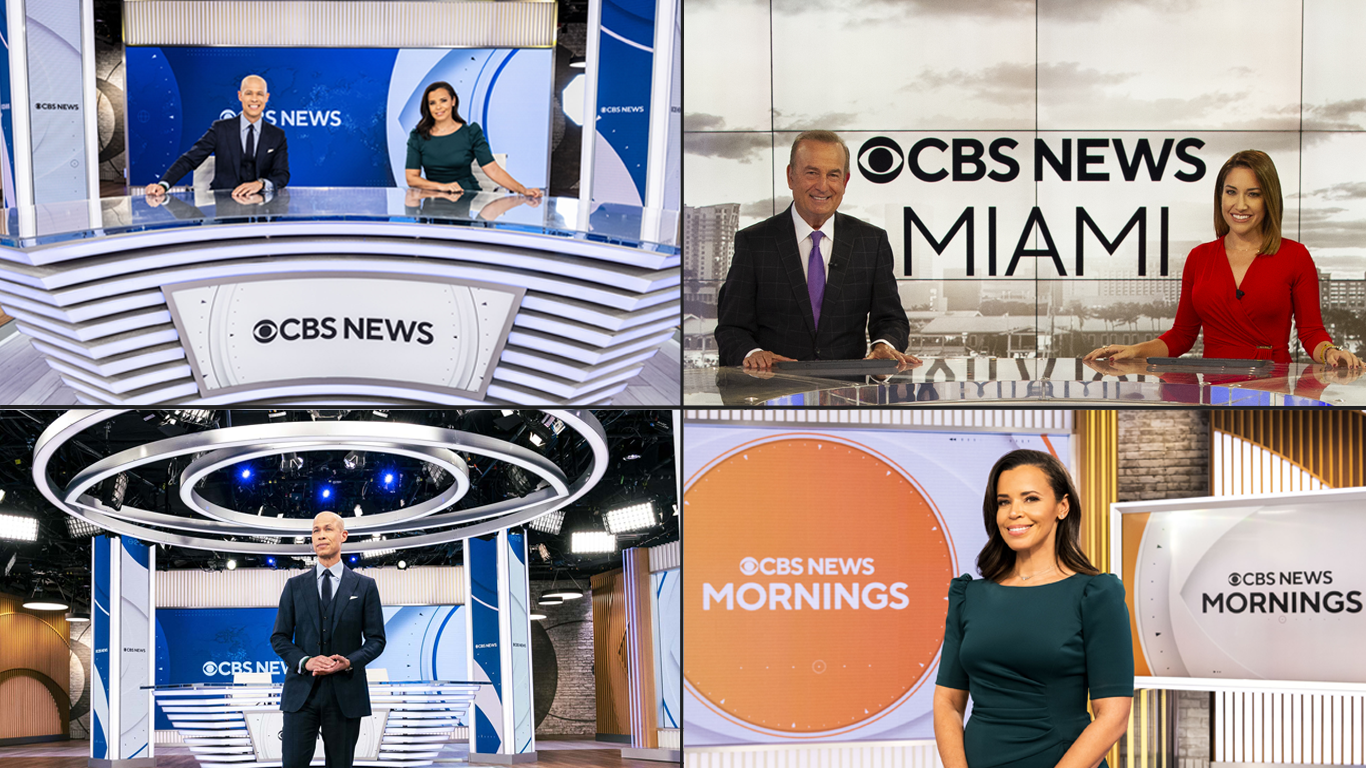 (L-R) Vladimir Duthiers and Anne-Marie Green; CBS News Miami anchors Eliott Rodriguez and Lauren Pastrana; Duthiers; and Green. Click here to view and download more photos on ViacomCBS Press Express
CBS News and Stations today unveiled its reimagined and rebranded streaming news service, it was announced by Neeraj Khemlani and Wendy McMahon, presidents and co-heads of CBS News and Stations. This enhanced direct-to-consumer streaming network brings together national and local live news along with content from CBS News' iconic programs. The new service will showcase CBS News' original reporting and exquisite storytelling, featuring some of the most well-known anchors and journalists throughout the organization, new primetime programs, and a new state-of-the-art studio in the CBS Broadcast Center in New York.
The CBS News Streaming Network delivers live national streams, 13 local streams – including a new CBS News Miami Streaming channel launching today – and content from programs like 60 MINUTES, 48 HOURS, CBS SUNDAY MORNING, FACE THE NATION WITH MARGARET BRENNAN, the CBS EVENING NEWS WITH NORAH O'DONNELL, CBS MORNINGS, and CBS SATURDAY MORNING. CBS News Streaming (formerly known as CBSN) is available on more than 30 platforms across mobile, desktop, connected TVs for free.
"We're unlocking the power of CBS News – streaming the best of our reporting and storytelling on television to viewers everywhere," said Khemlani. "From up-to-the-minute reporting from our new live news desk, signature interviews by Gayle King and Norah O'Donnell, adventures on CBS SUNDAY MORNING and 60 MINUTES, true crime on 48 HOURS – and reporting out of Washington to Kyiv to Beijing – we're delivering a 24/7 experience with quality journalism from the best news brands in the business."
CBS News' early commitment to streaming has drawn a significant audience across national and local streaming channels, delivering more than 1 billion streams for the second year in a row in 2021. CBS Stations local streams increased a dramatic 37% from 2020, delivering the highest local streams in history.
"CBS News and Stations' local streaming channels are growing at a rapid pace and will continue this year through the significant expansion of coverage in all of our markets, giving us an additional 15,000 hours of live local news per year by the end of 2022," said McMahon. "Our commitment reflects the relevance and importance of local news to audiences across the country. We are excited to launch CBS News Miami today and look forward to completing the rollout of our local streaming channels later this year when we debut CBS News Detroit. Unifying our brands and newsgathering resources positions us to deliver the best local-to-national-to global streaming news experience to our consumers however they want to watch."
CBS NEWS NATIONAL STREAMING NETWORK:
Throughout the day, the CBS News Streaming Network will air live daily newscasts of up-to-the minute news. Anchors Vladimir Duthiers, Anne-Marie Green, Tanya Rivero, Lana Zak, and Elaine Quijano will now, for the first time, be joined by Tony Dokoupil, co-host of CBS MORNINGS; Michelle Miller, Jeff Glor and Dana Jacobson from CBS SATURDAY MORNING; Jericka Duncan, anchor of CBS WEEKEND NEWS and CBS News national correspondent; and correspondents from across the Network.
The evening lineup kicks off at 6:00 PM, ET with the nightly political program RED AND BLUE now drawing upon CBS News' Washington team of anchors and correspondents including Margaret Brennan, Major Garrett, Nancy Cordes, Weijia Jiang, Ed O'Keefe, Nikole Killion, Scott MacFarlane, Jeff Pegues, Catherine Herridge, Jan Crawford, David Martin, Errol Barnett, Christina Ruffini, Ben Tracy, and the newest member of the team, Robert Costa.
At 7:00 PM, ET, the CBS News Streaming Network will deliver a live prime time news hour, recapping all of the top stories of the day and leveraging our New York headquarters and Washington and Los Angeles Bureaus. Beginning at 8:00 PM, ET the stream will present content from CBS News' flagship broadcasts including 60 MINUTES and 48 HOURS as well as original programs PERSON-TO-PERSON WITH NORAH O'DONNELL, EYE ON AMERICA, and a new documentary slate under the historic CBS REPORTS banner, the first one anchored by Gayle King. At 10:00 PM, ET, the CBS EVENING NEWS WITH NORAH O'DONNELL will air in its entirety.
The new streaming network will also offer a fresh new lineup of daytime programming such as HERE COMES THE SUN, with Tracy Smith and Lee Cowan from CBS SUNDAY MORNING, as well as inspiring franchises THE UPLIFT anchored by Tony Dokoupil and ON THE ROAD WITH STEVE HARTMAN.
Here's a sample of what's ahead:
HERE COMES THE SUN – Tracy Smith and Lee Cowan will anchor a new weekly series spotlighting the original reporting from CBS SUNDAY MORNING, the nation's most-watched morning program. Smith and Cowan have collectively interviewed over one thousand iconic figures from the worlds of culture, arts and entertainment, politics, sports, and international newsmakers. HERE COMES THE SUN will feature extended interviews and never-before-seen moments from the best stories from the entire CBS SUNDAY MORNING team.

PERSON-TO-PERSON – A new interview series hosted by CBS EVENING NEWS anchor and managing editor Norah O'Donnell. In PERSON-TO-PERSON, Norah O'Donnell sits down with authors, celebrities, athletes, and politicians so you can get to know newsmakers in an entirely new light. The premiere guest will be Brene Brown, researcher, storyteller, and author of six New York Times #1 bestsellers. This is a 2022 take on the classic Edward R. Murrow interview series.

CBS REPORTS – CBS News will debut a new series, CBS REPORTS that includes original documentaries and CBS News special reports that take a deeper dive into the key issues driving the national and global conversation delivered in various formats, including CBS News specials. The first edition of CBS REPORTS will premiere on Feb. 25 and feature CBS MORNING's co-host Gayle King anchoring a special produced by the CBS News Race and Culture Unit, "Trayvon Martin: 10 Years Later," which explores the impact of the death of Martin, a teenager shot dead in Florida.

Additionally, Wasteland is a four-part series with CBS News correspondent and executive producer Adam Yamaguchi that examines the terrible impact waste and garbage are having on America's waterways.

EYE ON AMERICA – Michelle Miller, co-host of CBS SATURDAY MORNING, will anchor a half-hour series highlighting storytelling that spotlights the fabric of America and the diverse perspective that shapes the American experience. Miller's reporting for EYE ON AMERICA each week will go beyond the headlines and take a deeper look at life across the country. The series will explore stories where people are finding real solutions to the problems in their communities. EYE ON AMERICA, which first aired on CBS News in April 1991, will also include segments from CBS stations around the country.

THE UPLIFT – Tony Dokoupil, co-host of CBS MORNINGS, will anchor a new weekly series spotlighting stories that inspire, motivate and move viewers. The show features content from CBS MORNINGS that captures attention across social media. THE UPLIFT has become one of CBSNews.com's most popular digital destinations. THE UPLIFT began as a good news segment that aired on CBS News Streaming and Facebook Watch in 2018. It hit a billion views in less than a year of its creation and has amassed more than 4.4 billion views since. The new series will feature meaningful profiles of people who overcome the odds, make their communities better and simply put a smile on our faces and give viewers faith in humanity.

ON THE ROAD WITH STEVE HARTMAN – This new series hosted by award-winning CBS News correspondent Steve Hartman brings viewers moving stories from incredible unique characters he encounters and the special places he visits. Hartman's moving stories air weekly on the CBS EVENING NEWS WITH NORAH O'DONNELL and CBS SUNDAY MORNING. Each show will highlight the best of the human spirit by showcasing unique personal stories and acts of kindness, with each episode focusing on a timely and resonant theme. ON THE ROAD WITH STEVE HARTMAN is modeled after the long-running series started by legendary CBS News newsman Charles Kuralt. Hartman revived the storied franchise in 2011 for CBS News.

THE DISH – The new half-hour program hosted by CBS SATURDAY MORNING co-hosts Michelle Miller, Dana Jacobson, and Jeff Glor offer viewers a second helping of the James Beard Award-winning food segment produced for CBS SATURDAY MORNING. The special series highlights chefs and culinary icons from around the world that present their unique cuisines and mouth-watering dishes from epic eateries around the world in the context of their life stories.

CLIMATE WATCH – CLIMATE WATCH will offer segments focused on the impact of climate change from a team of CBS News journalists, including CBS News senior national and environmental correspondent Ben Tracy. CLIMATE WATCH will feature stories that examine the devastating effects of extreme climate change, while also telling the stories behind advances to safeguard and improve the environment.

MONEYWATCH – CBS News MoneyWatch experts will deliver segments throughout the day discussing the latest financial and market news. The segments will run at 7:00 AM, ET; 12:00 PM, ET and 4:00 PM, ET.

CBS SPORTS HQ - CBS Sports HQ "News in 90" updates will air throughout the day. CBS Sports HQ is CBS' 24/7 streaming sports network that offers sports news, highlights and analysis streamed on connected devices.
The CBS News Streaming Network rebrand also includes a new look and sound, including a new graphics package and music for the newly unveiled streaming lineup.
The newly completed, state-of-the-art studio includes 4,000 square feet of space, three pedestal robotic cameras, four main LED walls, four LED columns and numerous display and touchscreen monitors. This will be the base of operations for new and existing programming that delivers unparalleled news and analysis, compelling interviews, and feature storytelling to audiences on all devices, wherever they are.
CBS STATIONS LOCAL STREAMING CHANNELS:
Following a year where CBS News local channels streamed 30,000 hours of premium news content and drove a historic 5 billion minutes consumed, CBS Stations is significantly increasing its commitment to local news streaming.
In 2022, the Stations will launch two additional streaming channels: CBS News Miami which debuts today and CBS News Detroit which launches later this year, resulting in 14 streaming channels in the top markets in the country.
Also, by the end of 2022, CBS Stations will introduce another 15,000 annual hours of live news programming resulting in 45,000 total hours of live local news and weather coverage.
Additionally, CBS Stations will continue to increase streaming offerings that are locally relevant and nationally resonant. As big stories break across our communities, Stations will deliver expanded, trusted breaking news and original storytelling from local news anchors and reporters to both local and national streams. For example, CBS News Dallas' coverage of Hurricane Ida and CBS News Minnesota's gavel to gavel trial coverage and analysis of the Kim Potter trial were streamed live locally and nationally.
CBS (now part of ViacomCBS) became the first major media company to launch a local OTT news service when CBSN New York debuted in December 2018. Since then, the company has launched local services in Los Angeles, Boston, San Francisco Bay Area, Minnesota, Philadelphia, Denver, Pittsburgh, Chicago, Dallas-Fort Worth, Sacramento and Baltimore.
ABOUT CBS NEWS STREAMING:
CBS News Streaming Network is the premier 24/7 anchored streaming news service from CBS News and Stations that is available free to everyone with access to the internet. The CBS News Streaming Network is the destination for breaking news, live events, original reporting and storytelling, and programs from CBS News and Stations' top anchors and correspondents working locally, nationally and around the globe. CBS News' streaming services, across national and local, amassed more than 1.01 billion streams in 2021. Launched in November 2014 as CBSN, the CBS News Streaming Network is available on 30 digital platforms and apps, as well as CBSNews.com and Paramount+. The service is available live in 91 countries.
ABOUT CBS STATIONS STREAMING:
In 2018, CBS News Streaming expanded to local news streaming services with the launch of CBS News New York (then CBSN New York) and has grown with local digital news services in Los Angeles, Boston, San Francisco Bay Area, Minnesota, Philadelphia, Denver, Pittsburgh, Chicago, Dallas-Fort Worth, Sacramento, Baltimore, Miami and, later in 2022, Detroit. CBS News Streaming's local news services amassed more than 215 million streams and 5 billion minutes of viewing in 2021.
CBS News Streaming's local news services deliver more than 30,000 hours of news each year. CBSNews' local streams have grown dramatically, with audience levels increasing 37% in 2021 vs. 2020, to their highest levels on record.
* * *
Press contact:
Christa Robinson robinsonc@cbsnews.com
April Andrews april.andrews@viacomcbs.com
Lance Frank frankl@cbsnews.com