Release
GEORGE STEPHANOPOULOS WRAPS 'JEOPARDY!' GUEST HOST TURN WITH $147,396 DONATION TO NO KID HUNGRY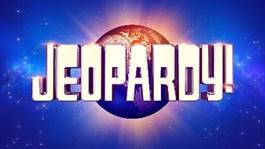 FOR IMMEDIATE RELEASE
GEORGE STEPHANOPOULOS WRAPS 'JEOPARDY!' GUEST HOST
TURN WITH $147,396 DONATION TO NO KID HUNGRY
Robin Roberts to Guest Host July 19-23
CULVER CITY, CALIF. (July 16, 2021) ­– George Stephanopoulos signs off as guest host of JEOPARDY! today, and as he departs, the show will make a $147,396 contribution to No Kid Hungry.
Stephanopoulos selected No Kid Hungry to receive a matching donation equal to the total contestant winnings during his guest host appearance. No Kid Hungry is a campaign of Share Our Strength, an organization committed to ending childhood hunger and poverty in America. It supports programs like school meals, food banks, and other community groups feeding kids, and pushes for legislation to help feed more kids.
"Good Morning America" co-anchor Robin Roberts takes over as guest host for a week of shows starting Monday, July 19. Roberts selected Be The Match®, the National Marrow Donor Program®, as her chosen charity. Be The Match helps patients battling blood cancers like leukemia and blood diseases like sickle cell get a second chance at life through life-saving blood stem cell or marrow transplants. The organization also provides guidance, support and funds to help patients before, during and after transplant. Roberts was diagnosed with breast cancer in June 2007, and five years later, she was diagnosed with MDS. Roberts underwent a bone marrow transplant, and her sister Sally-Ann was a perfect match. She joined forces with Be The Match to inform the public about the need for more donors.
Roberts is a recipient of the Walter Cronkite Award for Excellence in Journalism, a George Foster Peabody Award, a Gracie Award, and a member of the Broadcasting & Cable Hall of Fame, as well as the Sports Broadcasting Hall of Fame. She is the author of "From the Heart: 7 Rules to Live By" and her memoir, "Everybody's Got Something." Roberts is also the founder of her own production company, Rock'n Robin Productions, which creates original broadcast and digital programming.
To watch JEOPARDY!, check local listings or visit Jeopardy.com for show times and stations.
To learn more about the benefitting charities, please follow the links below:
Share Our Strength – No Kid Hungry: www.nokidhungry.org
Be The Match: www.bethematch.org
JEOPARDY!, America's Favorite Quiz Show™ is in its 37th season in syndication. With a weekly audience of 24 million viewers, JEOPARDY! is the top-rated quiz show on television, and has received numerous awards and honors. The show holds the Guinness World Records® title for the most Emmy® Awards won by a TV game show, and it received a Peabody Award for "celebrating and rewarding knowledge." JEOPARDY! is produced by Sony Pictures Television, a Sony Pictures Entertainment Company; it is distributed domestically by CBS Media Ventures and internationally by ViacomCBS Global Distribution Group, both units of ViacomCBS. For more information, please visit Jeopardy.com.
Follow JEOPARDY!: Jeopardy.com | Facebook | Twitter | YouTube | Instagram
# # #
Press Contacts:
Alison Shapiro Cooke
Director of Communications | JEOPARDY!
(310) 244-6514
Susie Eun
Senior Publicity Manager | JEOPARDY!
(310) 244-6517