Release
KRISTIN SAUSVILLE COMPLETES 5-DAY 'JEOPARDY!' STREAK, FINISHES WITH $94,201 IN PRIZE MONEY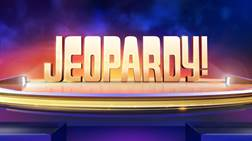 www.jeopardy.com | Facebook.com/Jeopardy | Twitter: @Jeopardy
CULVER CITY, CALIF. (March 18, 2015) – Kristin Sausville, a 34-year-old stay-at-home mom from Newark, Del., ended her five-game JEOPARDY! winning streak today, finishing with $94,201 in total prize money.
"I was trying to keep my focus on the game and not the money while I was playing, and was shocked when I was done to realize that I had won over $94,000," Sausville said. "It still doesn't seem real. I've been a stay at home mom for over seven years – it's been a while since I've earned money!"
Sausville wanted to be on JEOPARDY! since she was young, and she watched with her family every night.
"I remember my mother telling me what a big deal it was to be a five-time JEOPARDY! champion," she said. "Now I'm one too!"
Performing well on JEOPARDY! runs in Sausville's family; her husband, Justin Sausville, won six games in 2011 and was a semifinalist in that year's Tournament of Champions.
"I felt more confident with each game that I won," she said. "I wouldn't say that I expected to do so well, but I saw what a wonderful experience my husband Justin had at his Tournament of Champions, so it was very much on my mind that I wanted to put myself in a position where I'd have the potential of having that for myself."
Sausville says she initially planned to use her winnings for various home improvement projects, however, the amount of money she won has her "considering some bucket list travel ideas, like Antarctica or the South Pacific."
JEOPARDY!, America's Favorite Quiz Show® and its host, Alex Trebek, began their 31st season September 15, 2014. The top-ranked quiz show, with 25 million viewers each week, JEOPARDY! holds the Guinness World Records® title for the most Emmy® Awards won by a TV game show (31 Emmys), including the 2014 Emmy® for Outstanding Game Show. In 2014, JEOPARDY! won the inaugural Writers Guild of America award for Outstanding Writing for Quiz and Audience Participation; it is also the recipient of a 2011 Peabody Award. JEOPARDY! is produced by Sony Pictures Television, a Sony Pictures Entertainment Company; it is distributed domestically by CBS Television Distribution and internationally by CBS Television International, both units of CBS Corp. For more information, please visit Jeopardy.com.
# # #