Storyline
THE SWAT TEAM RACES TO LOCATE A DANGEROUS HACKER WHO IS COMPROMISING THE IDENTITIES OF UNDERCOVER OFFICERS, ON "S.W.A.T.," SUNDAY, JAN. 23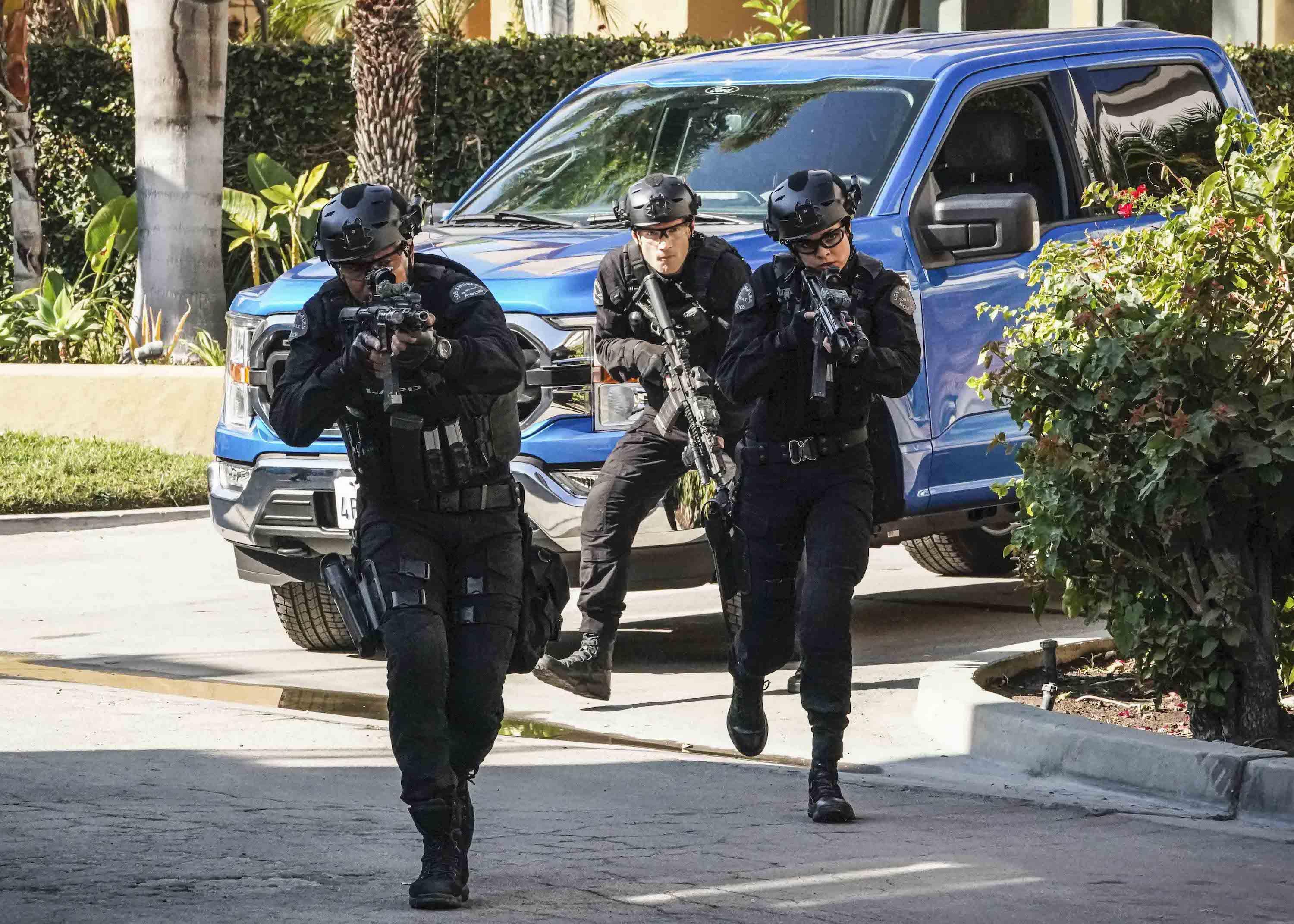 "Old School Cool" – Hondo and the team race to locate the hacker responsible for accessing LAPD's computers and revealing the identities of undercover officers before the leaked intelligence has fatal consequences. Also, Street is forced to reckon with past misdeeds, on the CBS Original series S.W.A.T., Sunday, Jan. 23 (10:00-11:00 PM, ET/PT) on the CBS Television Network, and available to stream live and on demand on Paramount+*.
REGULAR CAST:
| | |
| --- | --- |
| Shemar Moore | (Daniel "Hondo" Harrelson) |
| Alex Russell | (Jim Street) |
| Jay Harrington | (David "Deacon" Kay) |
| Lina Esco | (Christina "Chris" Alonso) |
| Kenny Johnson | (Dominique Luca) |
| David Lim | (Victor Tan) |
| Patrick St. Esprit | (Commander Robert Hicks) |
WRITTEN BY: Amelia Sims
DIRECTED BY: Paul Bernard
GENRE: Drama
Click here for photos:
https://www.viacomcbspressexpress.com/cbs-entertainment/shows/swat/photos
Official CBS website: http://www.cbs.com/shows/swat/
*Paramount+ Premium subscribers will have access to stream live via the live feed of their local CBS affiliate on the service as well as on demand. Essential-tier subscribers will have access to on-demand the day after the episode airs.
CHEAT TWEET: SWAT races to locate a dangerous hacker compromising the identities of undercover cops, on an all-new @SWATCBS 1/23 10pm ET/PT @CBS @shemarmoore https://bit.ly/33uXlJ6
Facebook: https://www.facebook.com/SWATCBS/
Twitter: https://twitter.com/swatcbs
Instagram: @SWATCBS
CBS Twitter: @cbstweet
CBS Instagram: https://www.instagram.com/cbstv
CBS TikTok: https://www.tiktok.com/@cbs
Cast and crew on social:
| | | |
| --- | --- | --- |
| Shemar Moore | Twitter: @shemarmoore | Instagram: @shemarfmoore |
| Alex Russell | Twitter: @alex_russell | Instagram: @alexrussell |
| Jay Harrington | Twitter: @jayharrington3 | Instagram: @jayharrington3 |
| Lina Esco | Twitter: @linaesco | Instagram: @linaesco |
| Kenny Johnson | Twitter: @thekennyjohnson | Instagram: @thekennyjohnson |
| David Lim | Twitter: @davidbradleylim | Instagram: @davidbradleylim |
| Patrick St. Esprit | Twitter: @patrickstesprit | Instagram: @patrickstesprit |
| SWAT Writers' Room | Twitter: @SWATWritersRoom | Instagram: @swatwriters |
| Shawn Ryan | Twitter: @ShawnRyanTV | Instagram: N/A |
| Otis "Odie" Gallop | Twitter: @odiegallop | Instagram: @odiegallop |
* * *
Press Contacts:
| | | |
| --- | --- | --- |
| Noelle Llewellyn | 212-975-4574 | |
| Shawna Malcom | 818-655-1589 | |
Photo Contacts:
| | | |
| --- | --- | --- |
| Gaye Ann Bruno | 818-655-1542 | |
| Gail Schulman | 212-975-0897 | |