Storyline
THE TEAM SEARCHES FOR A MURDER SUSPECT LINKED TO THE DRUG TRADE, WHEN A YOUNG COUPLE IS FOUND DEAD IN A NEW YORK CITY PARK AFTER RETURNING FROM AN INTERNATIONAL TRIP, ON "FBI," TUESDAY, APRIL 12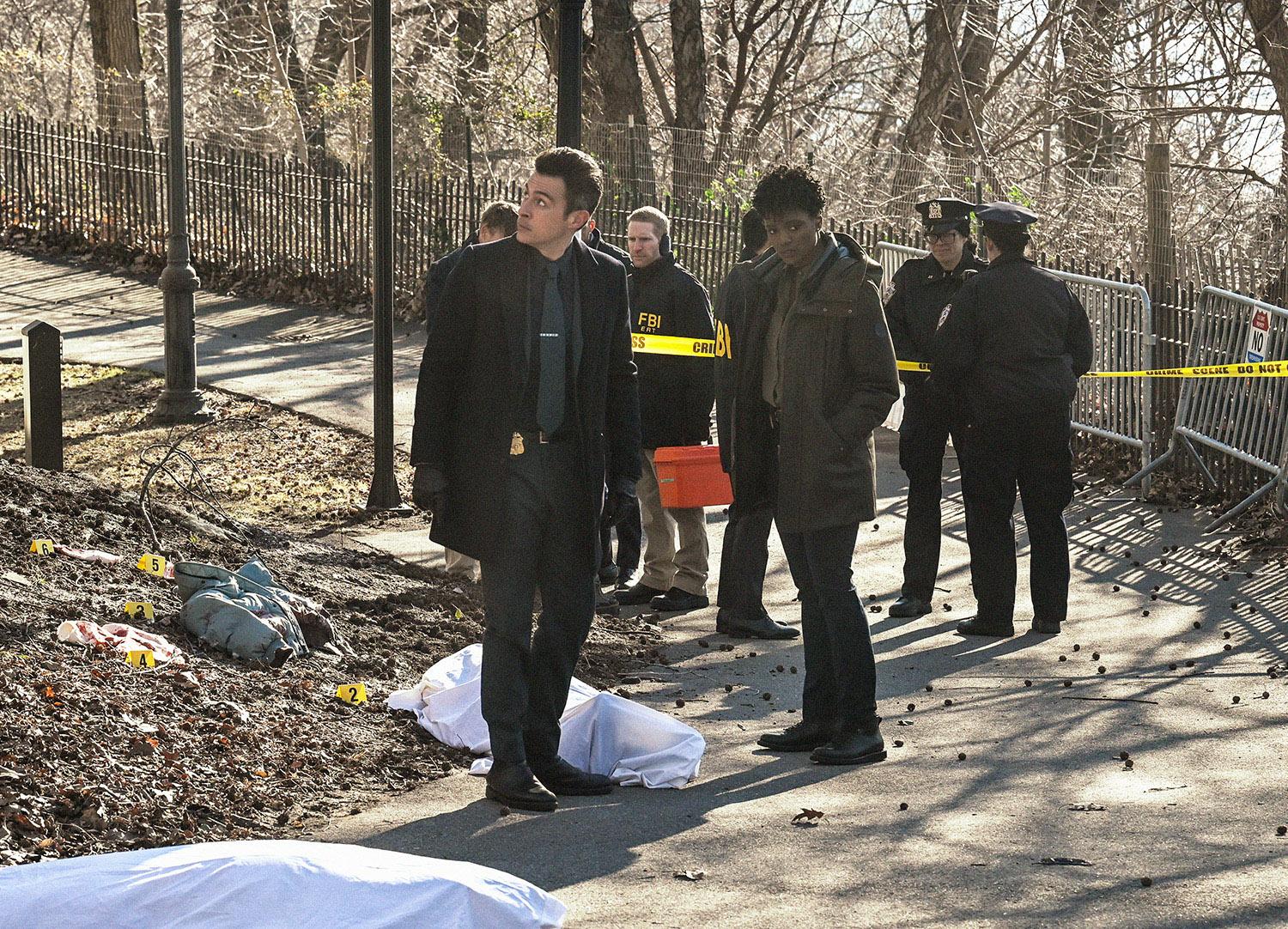 "One Night Stand" – When a young couple is found murdered in a New York City park after returning from vacation, the team searches for a suspect linked to the drug trade. Also, Scola turns over a new leaf when it comes to his relationships, on the CBS Original series FBI, Tuesday, April 12 (8:00-9:00 PM, ET/PT) on the CBS Television Network, and available to stream live and on demand on Paramount+*.
REGULAR CAST:
| | |
| --- | --- |
| Missy Peregrym | (Special Agent Maggie Bell) |
| Zeeko Zaki | (Special Agent Omar Adom "OA" Zidan) |
| Jeremy Sisto | (Assistant Special Agent in Charge Jubal Valentine) |
| Alana De La Garza | (Special Agent in Charge Isobel Castille) |
| John Boyd | (Special Agent Stuart Scola) |
| Katherine Renee Turner | (Special Agent Tiffany Wallace) |
RECURRING CAST:
| | |
| --- | --- |
| Taylor Anthony Miller | (Kelly Moran) |
| Vedette Lim | (Elise Taylor) |
| Roshawn Franklin | (Agent Hobbs) |
| Thomas Philip O'Neill | (Dr. Neil Mosbach) |
| Talia Thiesfield | (NYPD Rep Maya) |
GUEST CAST:
Shantel VanSanten

Danny Garcia

(Nina Chase)

(Benny Gomez)

E. Ambriz DeColosio

(Octavio Lopez)

Monica McCarthy

(Beth Miller)

Jose Eduardo Ramos

(Lawyer)

Alexa Shae Niziak

(Julia Miller)

Daniel Lopez

(John Kraus)

Hans Marrero

Tracey Conyer Lee

(Detective Ross)

G-Rod

(Marquez)
WRITTEN BY: Rick Eid & Joe Halpin
DIRECTED BY: Alex Chapple
GENRE: Drama
Click HERE for photos
Official CBS website: https://www.cbs.com/shows/fbi/
*Paramount+ Premium subscribers will have access to stream live via the live feed of their local CBS affiliate on the service as well as on demand. Essential-tier subscribers will have access to on-demand the day after the episode airs.
CHEAT TWEET: The @FBICBS team searches for a suspect in the murder of a young couple who just returned from an international vacation, Tuesday, April 12, 8/7c @CBS https://bit.ly/36ROhjz
Twitter: @FBICBS, @CBS, @CBSTweet
Instagram: @FBICBS, @CBSTV
Facebook: @FBICBS
CBS TikTok: https://www.tiktok.com/@cbs
Cast on social:
| | | |
| --- | --- | --- |
| Missy Peregrym | Twitter: @mperegrym | Instagram: @mperegrym |
| Zeeko Zaki | | Instagram: @zeekozaki |
| Jeremy Sisto | | Instagram: @sistosistosisto |
| Alana De La Garza | Twitter: @Alana_DeLaGarza | Instagram: @alana_delagarza |
| John Boyd | Twitter: @johnny_boyd | Instagram: @johnny_boyd |
***
Press Contact:
| | | |
| --- | --- | --- |
| Barbara Abseck | 212-975-4637 | |
Photo Contact: