Release
EIGHTH SEASON OF "LUCKY DOG," PART OF THE "CBS DREAM TEAM" SATURDAY MORNING LINEUP, TO INTRODUCE NEW HOSTS ERIC AND RASHI WIESE IN NEW EPISODES PREMIERING JAN. 2, 2021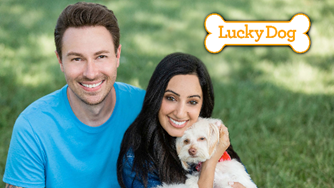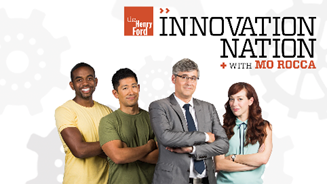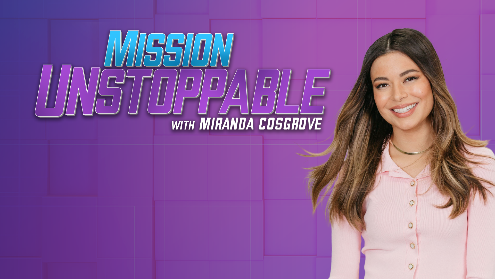 The Three-Hour Saturday Morning Block Will Also Debut New Episodes of the
Multiple Emmy Award-Winning "The Henry Ford's Innovation Nation" and the
Emmy Award-Nominated "Mission Unstoppable," Hosted by Miranda Cosgrove
on Jan. 2
CBS announced today that the eighth season of LUCKY DOG, part of the CBS DREAM TEAM Saturday morning lineup, will introduce new hosts, the husband and wife team of Eric and Rashi Khanna Wiese, when new episodes launch Saturday, Jan. 2, 2021 (9:00 AM-12:00 PM, ET/PT) on the CBS Television Network. LUCKY DOG continues its purpose of rescuing shelter dogs and finding them forever homes.
Eric Wiese is an American Kennel Club Canine Good Citizen Evaluator, a member of the Association of Professional Dog Trainers (APDT) and the International Association of Animal Behavior Consultants (IAABC). Eric began his career volunteering at a local boarding kennel in St. Louis, Mo. when he was 15 years old and instantly fell in love with dog training. Eric went on to study Animal Behavior and devoted himself to shedding light on a more positive, humane and scientific way to train dogs. Eric also devoted his time to rehabilitate dogs in need, specifically German Shepherds at the Westside German Shepherd Rescue in Los Angeles. As a foster parent, he found great joy helping dogs that displayed fearful and/or aggressive behavior to improve their temperament so they could be placed in welcoming homes.
Rashi Khanna Wiese has a degree in psychology and a master's degree in social work. In 2014, Rashi met Eric and learned about the positive reinforcement training methods he used with dogs. She discovered that the logic behind these methods were similar to those she learned throughout her studies and became fascinated with dog psychology and how it could be applied to human psychology. She then decided to combine her passions for human and canine behavior and work with Eric.
In each episode of LUCKY DOG, Eric takes viewers on a journey of rescuing previously hard-to-love, out-of-control, untrained dogs and making their futures bright. At Eric's training facility, with the help of his wife, Rashi, he embarks on the seemingly impossible task of turning rescues into loving pets with sound training methods that viewers can use at home to train their own dogs. In the end, a lucky family will adopt an even luckier dog. With dog adoptions soaring during the pandemic, many by first-time dog people, Eric and Rashi's expertise comes at the perfect time to help people train their new pets.
Also debuting on Jan. 2 are new episodes of the multiple Emmy Award-winning THE HENRY FORD'S INNOVATION NATION and the Emmy Award-nominated MISSION UNSTOPPABLE.
THE HENRY FORD'S INNOVATION NATION, hosted by Mo Rocca of CBS SUNDAY MORNING and recipient of its third Daytime Emmy Award in 2020, will continue to tell inspiring stories of life-changing innovation – from historic scientific pioneers throughout past centuries, to the forward-looking visionaries of today. Each episode tells the dramatic stories behind the world's greatest inventions – and the perseverance, passion and price required to bring them to life. Upcoming stories this season include pieces on synchronized drones that have become the new fireworks displays, lighting the skies with incredible images and messages, and a walking and swimming robot that can someday help rescuers find victims in need of aid.
MISSION UNSTOPPABLE, hosted by Miranda Cosgrove and a team of traveling correspondents, showcase incredible women on the cutting edge of science and technology including: roboticists, zoologists, engineers, astronauts, physicists, mathematicians, archaeologists, astrophysicists, mechanical engineers, codebreakers and oceanographers. Young viewers can find inspiration through female STEM superstars in leading fields, such as social media, entertainment, animals, design and the internet – all categories that are key to the teen experience. Compelling stories that will be featured this season include a 19-year-old student at Cornell University who's creating much needed PPE using 3D printing technology in her dorm room and an immunology Ph.D. and COVID-19 survivor who donates her plasma while breaking down the virus and our immune system at work.
The CBS DREAM TEAM Saturday morning lineup is a diverse, family-friendly schedule featuring compelling shows and stories of hope and compassion designed to enlighten, teach and inspire viewers to make a greater commitment to themselves, their families and their communities. The block is FCC educational/informational compliant, targeted to 13- to 16-year-olds and appealing to all viewers. All of the programs are specifically designed to further the educational and informational needs of children, has educating and informing children as a significant purpose and otherwise meets the definition of Core Programming as specified in the Commission's rules.
The following is the CBS DREAM TEAM Saturday morning lineup for the 2020-2021 season, as of Jan. 2, 2021. The schedule's day and time may differ market-to-market. Check local listings.
| | |
| --- | --- |
| 9:00-9:30 AM, ET | LUCKY DOG (8th Season) |
| 9:30-10:00 AM, ET | THE HENRY FORD'S INNOVATION NATION (7th Season) |
| 10:00-10:30 AM, ET | MISSION UNSTOPPABLE (2nd Season) |
| 10:30-11:00 AM, ET | HOPE IN THE WILD (3rd Season) |
| 11:00-11:30 AM, ET | PET VET DREAM TEAM (rebroadcasts) |
| 11:30-12:00 PM, ET | ALL IN WITH LAILA ALI (rebroadcasts) |
About Litton Entertainment
Litton Entertainment, a division of Hearst Television, is the preeminent independent producer and distributor in the U.S. television industry, creating quality programming for over 20 years with distribution across linear, cable, streamers, digital and social platforms. Producing more than 800 hours of programing a year across genres and demos, Litton talent and crews can often be found traveling the globe producing Emmy-winning, content distributed worldwide. Litton's Weekend Adventure, produced by Litton Studios, was the first program block of its kind and airs Saturdays on ABC stations nationwide. Litton Entertainment provides CBS Network with six original programs for Saturday mornings called CBS Dream Team; The CW Network with One Magnificent Morning, a three-hour destination featuring E/I programming; NBC stations with six original E/I series under the iconic brand The More You Know; and Telemundo with the three-hour Mi Telemundo block of programming. Litton's syndication and news division distributes a diverse slate of programs including Law&Crime Daily, the E/I block Go Time!, and Consumer Reports TV. Litton offers the The Daily Splash, an online hub and newsletter featuring Litton's award-winning programming. For more information, visit http://www.litton.tv. Litton is majority-owned by Hearst: http://www.hearst.com.
* * *
Press Contacts:
| | |
| --- | --- |
| Diane Ekeblad (CBS) | |
| Sara Krajewski (Litton) | sara@litton.tv |